Sierra Leone's Minister of Foreign Affairs and International Cooperation , Dr. Samura Kamara, who is in New York to attend the United Nations Security Council Meeting on the completion of the Unted Nations Integrated Office ( UNIPSIL ) mandate in Sierra Leone, took his time to travel all the way to New Jersey yesterday to sympathize with the Publisher of the Cocorioko Group of Newspapers, Rev. Leeroy Wilfred Kabs-Kanu, who is recuperating at home after a recent heart surgery.
The Publisher , who is also Sierra Leone's Minister Plenipotentiary to the UN and Coordinator of the African Union Committee of 10 ( C-10 ) on UN Security Council Reform, on Wednesday February 26, 2014  underwent a critical heart surgery at the RobertWood Johnson University Hospital in New Brunswick, New Jersey.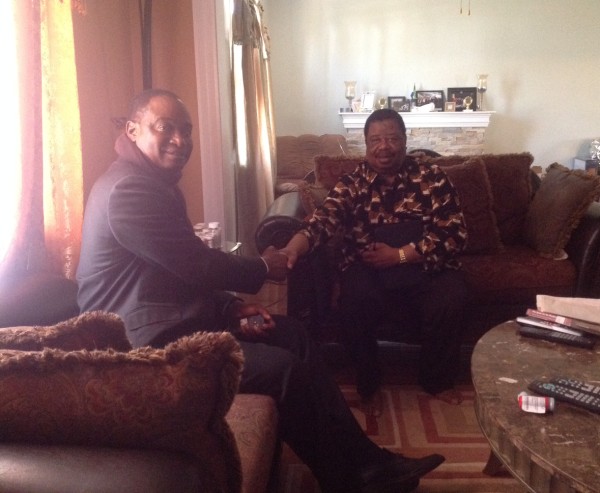 FOREIGN MINISTER SAMURA KAMARA SHAKES HAND WITH THE PUBLISHER
Dr. Samura Kamara was accompanied by the two Deputy Permanent Representatives –DPR ( Legal) Ambassador Osman Keh Kamara ;  DPR (Political ) Ambassador Amadu Koroma and  Counselor Saidu Nallo.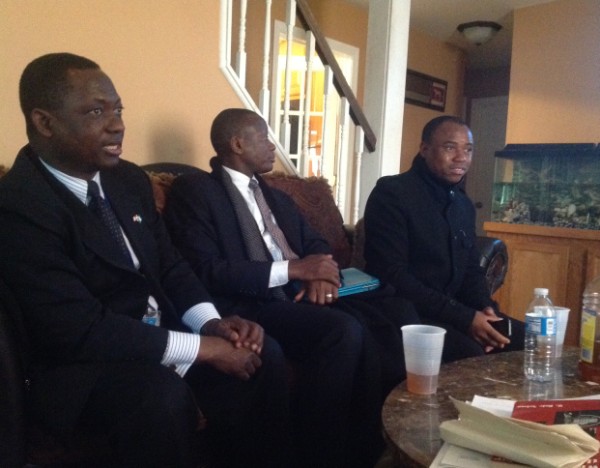 FROM LEFT–AMBASSADOR KOROMA, COUNSELOR NALLO AND AMBASSADOR KAMARA
Minister Samura expressed sympathy to Rev.Kabs-Kanu and wished him a speedy recovery. He is the second cabinet minister in the ruling government of President Ernest Bai Koroma to have visited the Publisher to sympathize with him.  Last week, the Minister of Social Welfare, Children's and Gender Affairs, Hon. Moijueh Kai-Kai also travelled all the way from New York to New Jersey to see the Minister Plenipotentiary. He was accompanied by Ambassador Keh Kamara and the Head of Chancery, Mr. Alhusine Sesay.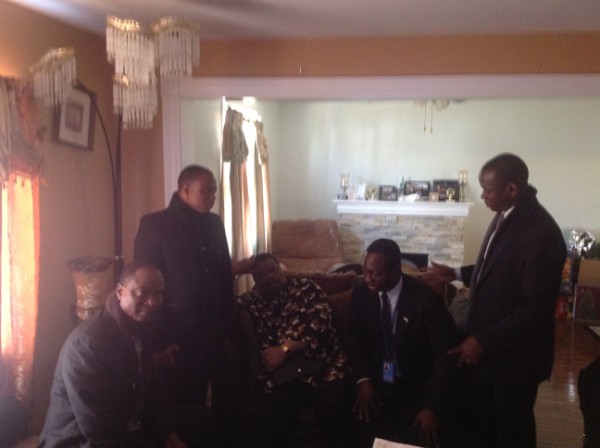 THE FOREIGN MINISTER AND DELEGATION COMFORTING THE PUBLISHER
Before that, Sierra Leone's Ambassador to the U.S, H.E. Bockarie Stevens, also paid a  visit on the publisher , accompanied by the opposition leader of the United Democratic Movement, Mr. Mohamed Bangura and the Spokesman of the Government and Outreach Coordinator, Mr. Abdulai Bayraytay.
Rev. Kabs-Kanu thanked the Foreign Minister and the ambassadors ( who were making their third visits ) and Counselor for coming to see him as he recuperates from a difficult surgery and noted that it was a demonstration of the commitment of the President Ernest Koroma Government to care for one of its own in distress.