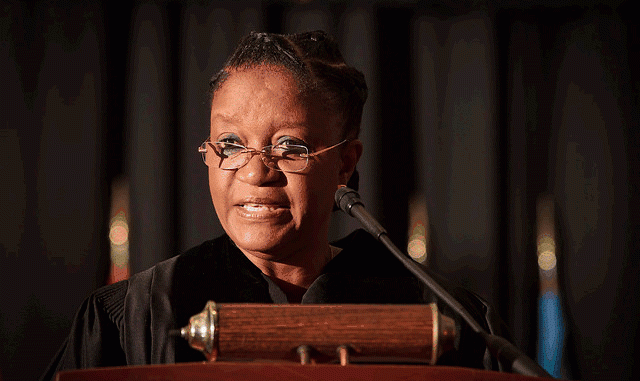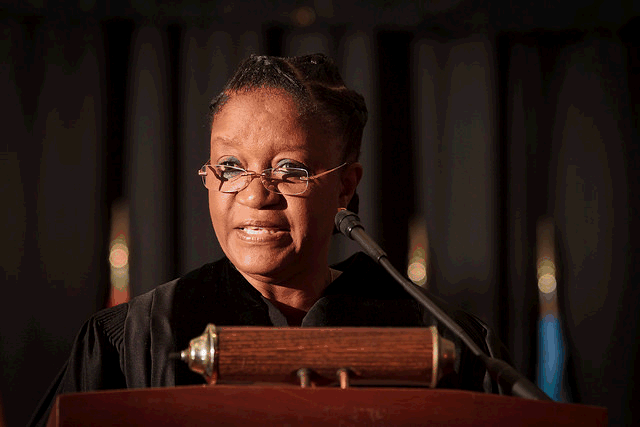 Sierra Leone's Former Minister of Foreign Affairs and International Cooperation who  later became Minister of Health before her international appointment as the Special Representative of the United Nations Secretary General on Sexual Violence in Conflict , Mrs. Zainab Bangura,  was last Friday , conferred the honorary  degree of Doctor of Laws  by Ursinus College, during the institution's Commencement Program at Collegeville in Pennsylvania , USA. The SRSG is now officially Dr. Zainab Bangura. 
Dr. Bangura delivered the commencement address at the august ceremony.
WE BRING THE ADDRESS , WHICH WAS WELL-APPLAUDED BY THE AUDIENCE .
[Commencement Address Ursinus College]
Education in Service of a Greater Good
(Collegeville, PA 15 May 2014)
Good afternoon Class of 2014!  I would like to give my sincere thanks to you, the graduates, President Fong, Ambassador Melrose, and Ursinus College for inviting me here to share this important and memorable day with you.  I also want to thank this opportunity to thank the parents, grandparents, family, friends, teachers and mentors who have invested their time, energy, caring and compassion to help you reach your goal.  This is a great day for them as well.
You have spent the last four years in classrooms and lecture halls discussing new ideas and asking difficult questions.  In that time you have grown as students and as people, and that learning process has brought you to this exciting day and for that you can be very proud.  Let me be one of the first to congratulate you on a job well done and wish you well as you take your first steps on your next great journey.
You are facing a future filled with possibilities and promise, and as you sit here I'm sure you have many questions in your hearts.  There are immediate questions, such as where to work and live, as well as more profound questions that will guide your important decisions and have a lasting impact on your life.  How does one live a meaningful, worthwhile life?  A meaningful life is not a destination, it is a journey, and with each step you take you have the opportunity to add or detract from your sense of purpose.
As you travel this path, remember to take with you the lessons you have learned here at Ursinus, not just those taught in the classroom, but also the spirit of egalitarianism and humility with which this campus was founded.  Today you are graduating from college, but your education does not end here.
Always remember that you are part of a global community that is greater than any one of us.  Using your unique gifts given to you by Ursinus to contribute to the wellbeing of your communities will teach you more about yourself than you could ever hope to learn alone.
You will learn there is great strength in selflessness.  You will learn how to cultivate this strength in yourself.  It does not have to be a grand gesture; you do not have to set out with an ambition to change the world; but if you can change just one person's life for the better, you have made a difference, and there is no telling how far this ripple effect will carry us.
I see each one of you as an agent of change, and now more than ever we are living in a world that needs your special talents and skills.  We are an increasingly globalized society and that means that we reap the rewards of this interconnectedness together, but we must also share the burden of the challenges that come with a global community.    When people are suffering from natural disasters in Asia and the Pacific, this has an impact on your life.  When political unrest erupts in Europe this should concern you.  When a woman is the victim of sexual violence in conflict in Africa or the Americas you should be outraged.
As I look out at all of you I know all too well the world you are heading into and the challenges you will face.  But I am filled with hope because I know each and every one of you is capable of making this world a better place, and you remind me of the enormous impact that has been made in my life because of one person who decided to make a difference.
I was born in a village in Sierra Leone, the only child of a woman who had no formal education.  I come from a traditional family in which men were the heads of households and women were considered their property.  In my village girls were not expected or required to go to school, but my mother insisted that I would not be denied an education because of my gender.
My father wanted me to be married at age 12, and when my mother refused he threw us out of our home and out of his life.  My mother stood up against years of tradition and broke cultural norms because she knew that education was a golden key – a key that can open doors to a whole world of possibility and hope, or a key that can be used to lock people out of opportunities and confine them to a prison of poverty and marginalization.
By virtue of the schooling that I received, I am now considered the head of my family.  When decisions need to be made people in my village, both men and women, look to me.  This is the transformative power of education – that in one generation a woman can go from being considered chattel to being in charge.
More importantly, my mother, a woman who could not read and write, taught me the valuable lesson that education is not an end in itself, but when coupled with commitment, courage, integrity and humility it is a gift that allows you to make a difference in one person's life, and this difference can affect a community and a nation.
All of us have someone like this in our lives.  We see new possibilities because we are standing on the shoulders of those who came before us allowing the next generation to see a little farther than the last and to learn from the mistakes of the past.
Throughout my life I have witnessed the power of education and the difference it can make when people use the lessons they have learned in the service of a greater good.  The country I come from, Sierra Leone, is a testament to the capacity of the world to change.
Sierra Leone was a country devastated by decade long civil war.  Half of the population was displaced and 50,000 people were killed.  It was called a failed state, a collapsed state.  Many people believed there was no hope for peace.
Today, Sierra Leone is one of the fastest growing economies in West Africa, attracting foreign investment and trade.  We've had several free and successful elections, and just a few months ago the UN closed its special political mission office there after more than 15 years of engagement in the country.
Sierra Leone is building peace because there were people who believed in its recovery; creative, courageous thinkers who believed they could rebuild our country in spite of the destruction.
Sierra Leone is now sharing the lessons it learned with other countries emerging from conflict.  The civil war in my country taught us many things: about the cost of corruption; man's inhumanity to man; and the difficult road to peace and reconciliation.  This was a dark time in our history, but we are using this hard won knowledge to help other countries avoid the mistakes we made.
Our recovery from the war proves that violence is never unstoppable; reconstruction is always possible.  The road is long and hard, but educated, brave thinkers guide our steps.  These thinkers courageously challenged common assumptions about the world.
Even when they were told their efforts were useless, they continued to search for the right policies to get Sierra Leone back on track.  Now it is our obligation to share what we have learned with others and make a difference in the world using the knowledge we have gained.
The successes of my country remind me that education can always be used in service of a greater good beyond ourselves.  The path my country has taken reminds me to be strong in my own work.  Many people would tell me that the task I have been given to end sexual violence in conflict is admirable but impossible.
Sometimes my work feels exhausting.  When you speak to a woman who has been raped, her pain is tangible.  When you speak to thousands of people who have been raped, you can feel as if you are drowning under the weight of this suffering.
Some people may grow complicit or cynical in the face of this violence because they feel they cannot make a difference.  They may feel there is nothing they can do.
But the truth is every single one of you has the power to positively impact the life of another person.  Do not be afraid of the sound of your own voice.  Do not be afraid to demand justice on behalf of someone who has been wronged.  Do not be afraid to speak out in defence of the rights of others.  Do not be afraid to speak up for yourself and what you deserve.  Even when we feel our voices are not being heard, we must keep shouting.
Your lives and your education have a higher calling.  You are more than college graduates, you are more than employees, and you are more than profit-makers.  You are truly members of a global village, and you can use your education to improve your communities and your societies.  Even if you share your hearts through a simple, random act of kindness, you are positively impacting those around you.
Education is our most valuable tool in the fight against injustice and violence throughout the world.  Education can help us challenge assumptions about the world.  It allows us to identify dogma and cast it aside in our own search for the truth.  Never lose the courage to believe in the possibility of the world to change for the better, and never doubt your own power to help manifest this change.
Congratulations and good luck.
******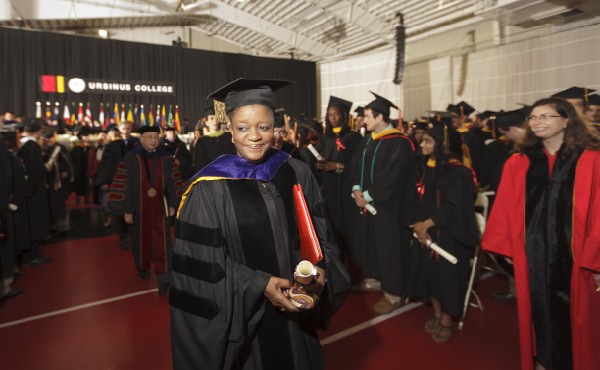 DR. ZAINAB BANGURA AFTER THE OCCASION