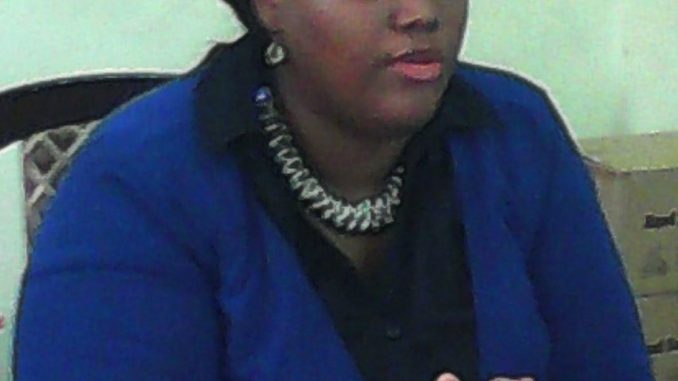 By: Mamadi M. Khonte
Freetown, June 22, 016 (MOHS) – Addressing Journalists at a press briefing held at the Ministry of Health Conference room Youyi Building Freetown, the Deputy Programme Manager, Child Health/Expanded Program on Immunization. Dr. Mariama Murray disclosed that the launching of this year's Maternal and Child Health Week will be held in Kabala Town, Koinadugu district targeting over 1.5 million children between 0-5 months.
Cross section of the audience
She disclosed that defaulter tracing and vaccination of children 0-23 months, Vitamin A supplementation for all children from 6 to 59 months, Deworming with Albendazole for children 12 to 59 months and focused Anti Natal Care for pregnant women would be administered.
Deputy Programme Manager, Child Health/Expanded Programme
on Immunization. Dr. Mariama Murray
Dr. Murray said as a Ministry, they aim at increasing the coverage for various lifesaving interventions, that impact on the welfare of women and children, thereby reducing morbidity and mortality.
She reiterated that the focus of Maternal and Child Health Week is to reach every child and provide another opportunity for reaching missed children, as an effort to complement the facility based health service delivery.
Dr. Murray mentioned that as part of the country's effort in preventing vaccine preventable diseases, for polio eradication and measles elimination, three rounds of nationwide Supplementary Immunization Activities (SIAs) were conducted, adding that the SIAs was integrated with other health interventions due to the Ebola outbreak.
She thanked the Government, UNICEF, Helen Keller International, WHO and other Health Partners for their support in rebuilding a resilient health system, and called on all parents and care givers to take their children under five years to the nearest health facility or stay at home to benefit from the services provided.
Nutrition Specialist, Mrs. Feamah Russel said the campaign will improve under immunization, reduce anemia, malnutrition, and reduce cases of severe illness like blindness. She added that the campaign will incorporate hygiene and hand washing measures, as proper hygiene is a disease prevention measure.
The Nutritionist disclosed that Anti-natal care for pregnant women such as issuing of bed nets, HIV counselling and drug administration would also be carried out.
The UNICEF Immunization Specialist, Victor Sule commended the Ministry for providing the enabling environment for partners to participate.
He disclosed that 1.4 million worth of Albendazole tablets, 1.6 million worth of Vitamin A Capsules and $600,000 was donated by UNICEF to support the process as a way of reaching children to ensure they are healthy.
Programme Manager, Health Education Division, Lansana Conteh admonished members of the press to contribute in popularizing the campaign by disseminating the right information to the public.  
He disclosed that 3,834 teams and 11,102 Health Workers have been trained throughout the country to ensure the process is effectively