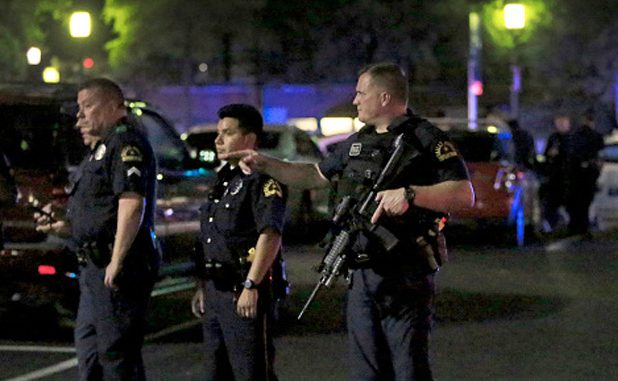 Five police officers have been killed and six more injured after shots were fired during an anti-violence protest in Dallas, Texas, on Thursday evening. One of the dead officers has been named as Brent Thompson, 43. He is the first Dart (transit) officer to be killed in the line of duty. Another was identified by his family as Patrick Zamarripa.
Barack Obama condemned the killings as "a vicious, calculated and despicable attack on law enforcement". Speaking in Warsaw where he is attending a two-day Nato summit, Obama again called for gun control. "When people are armed with powerful weapons unfortunately it makes attacks like these more deadly and more tragic," he said.
Three people have been detained by police: a woman who was stopped close to the garage, plus two people who were stopped in a dark Mercedes.
An armed standoff with a fourth suspect on a second-floor parking lot close to El Centro college, ended after local reports that the suspect killed himself. The suspect was said to have fired at police and claimed to have placed bombs in the city. Police chief David Brown said: "The suspect we are negotiating with … has told our negotiators that the end is coming and he's going to hurt and kill more of us … and that there are bombs all over the place, here and downtown."
No bombs have been found after two police searches. Maj Max Geron of Dallas police tweeted: "Primary and secondary sweeps for explosives are complete and no explosives found."
Brown said police believed the four suspects had worked together to launch the attack, but he did not speculate on a motive for the shootings. He said the people in custody were not cooperating. "We are waiting for the suspects to break," he said.
One civilian was also wounded: Shetamia Taylor, who was attending the protest with her sons, was shot in the leg but her injuries are not thought to be life-threatening.
Mark Hughes, who was pictured holding a long rifle in a photo circulated by the police department, has been released after turning himself. "I could easily have been shot," he told CBS adding that he was not satisfied with a police apology after getting death threats on social media.
The motive for the killings is not known. The shootings came at the end of a peaceful Black Lives Matter protest sparked by the killing of two black men by police officers in separate incidents earlier this week. Obama said: "We will learn more about their twisted motivations, but let's be clear; there is no possible justification for these kinds of attacks or any violence against law enforcement."
THE GUARDIAN