By State House Communications Unit :
President Dr. Ernest Bai Koroma on the 19th August 2014, received the sum of Le.50 million (Fifty Million Leones) from the United States chapter of the ruling All People's Congress party as part of their contribution to helping government in the fight against the deadly Ebola Virus.
President Koroma in his opening remarks thanked the APC, USA Branch and stated that the Branch has been very responsive on issues of national importance as they have indicated their responsiveness at such a trying moment. The President said that with such donations, it yields encouragement that our brothers and sisters in the Diaspora are sympathetic and appreciate the efforts of government.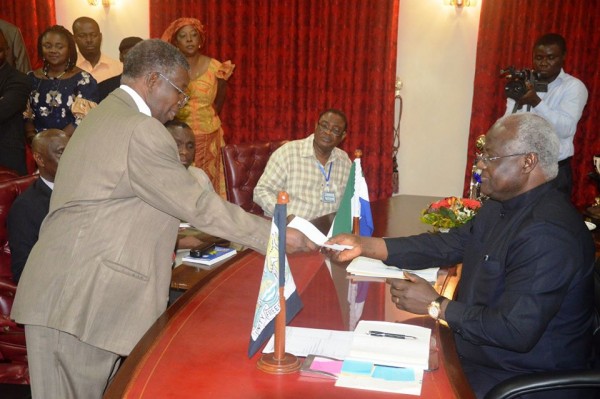 Acknowledging the challenges facing the Health sector at such a crucial moment in the country's history, President Koroma said he was saddened owing to the fact that the country has lost quite a number of health workers and professionals. "We know we have spent resources and time to train our people, to lose them in such a number, I think it is a serious thing for this country."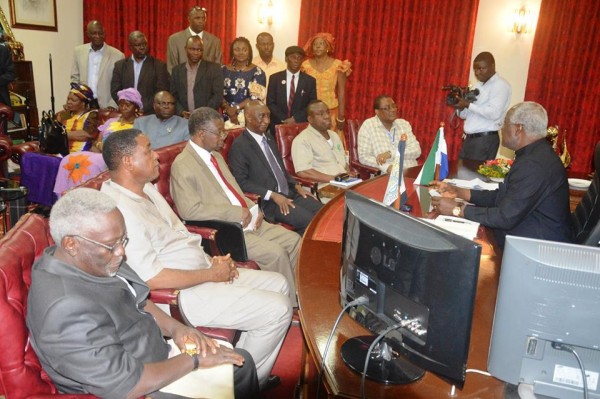 He also reaffirmed government's continued commitment to addressing this scourge. As a government, the President said, they will continue to do what it takes to address the issue and appealed to all Sierra Leoneans to come together in enhancing a collaborative approach in the fight against the Ebola epidemic.
Even though the Ebola outbreak has put on hold all other activities including the development programmes, President Koroma strongly believes that if the Ebola issue is left unattended, it will have an adverse effect on the overall economy. This, he said government is aware of the post Ebola challenges that will be address accordingly.
The Secretary General of the All Peoples Congress, Mr. Osman Foday Yansaneh made the presentation on behalf of the APC Chapter in the United States of America.
It could be recalled that the APC Chapter in the United States had earlier made similar contributions to the Ministry of Health and Sanitation by providing thousands of gloves as a proactive step to help combat the disease in April this year. The Secretary General, Mr. Yansaneh during his presentation commended the efforts of the government, stakeholders and individuals who have contributed in diverse ways to fight the disease. He further appreciated the efforts of international partners such as WHO, UNFPA, MSF and Red Cross for responding to the clarion call of the President.
In a similar engagement, Vinod Khatumal donated Le.100 million (One Hundred Million Leones) and one hundred thermometers to President Koroma as a way of contributing to the fight against the Ebola epidemic.