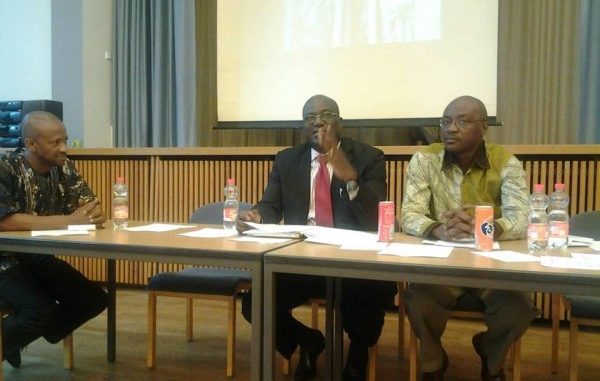 By Umaru S. Jah-IA,Germany :
As efforts to contain the Ebola Virus Disease (EVD) continue to gain momentum and urgency, the Embassy of Sierra Leone in the Federal Republic of Germany has assembled compatriots and friends of Sierra Leone to map out strategies on how they could contribute to the fight against the deadly virus.
On Sunday August 17, a well attended church service was held at the United Brethren in Christ Church (UBC) in Berlin with Pastor Anthony Senesie in charge.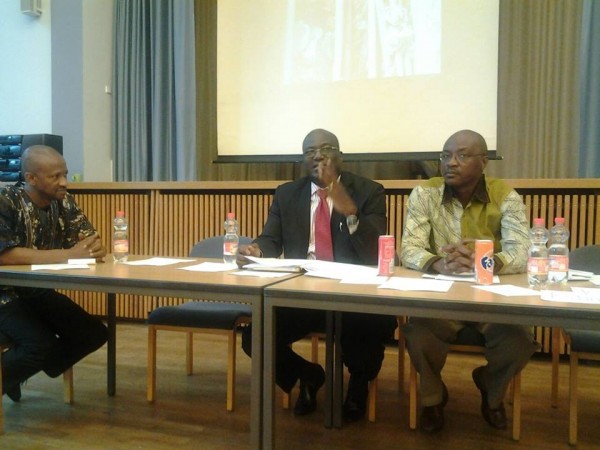 Sierra Leoneans and friends including an NGO network for Sierra Leone in Germany graced the occasion and offered prayers for Sierra Leone and her people.
Delivering his keynote address, Sierra Leone's Ambassador to the Federal Republic of Germany, H.E. Jongopie Siaka Stevens said: "the disease is reminiscent of the civil war which claimed thousands of innocent lives in the country."
Since the outbreak, no specific treatment has been identified to fight the virulent disease thus creating panic and fear among the people .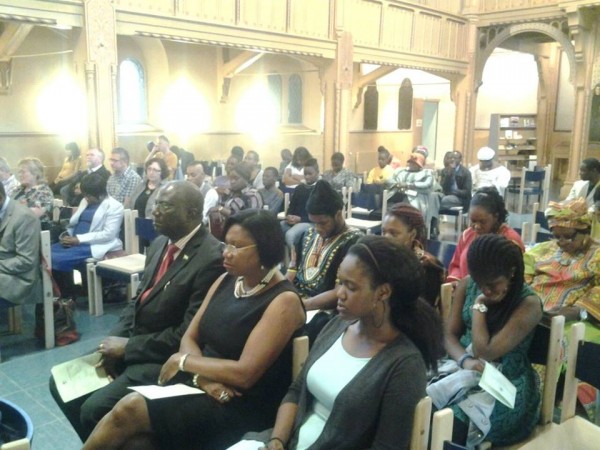 He expressed heartfelt sympathy to the families of those killed by the disease and further emphasised that such catastrophic consequences can only be controlled by effective public education, good sanitation and medical science.
He encouraged his audience to put all hands on deck to wage a war against Ebola: "This is a clarion call for all Sierra Leoneans and friends of Sierra Leone to come together, brainstorm, pull resources together and join the fight against this plague. We cannot afford to sit back and do nothing while our people and in effect our nation are dying."
He said support from Sierra Leoneans can be in the form of providing protective gears like gloves, sanitizers, gowns, body suits, and goggles to complement government´s efforts in the fight against the dreadful disease.
Ambassador Stevens said the unprecedented scale of the outbreak has triggered public attention thus the need for collaborative efforts from all Sierra Leoneans to come together and design a common approach to help the Government and people.
While noting that combating the spread of the virus is the biggest challenge facing the country, Ambassador Stevens stressed that it is no longer a time for blame casting but time to deliberate how people can raise funds to fight this common enemy.
"A country without healthy people cannot progress and such disease like Ebola has a debilitating consequence on the growth of our nation," he affirmed.
In his opening remarks, Chairman of the occasion, Ag. Minister Councillor and Head of Chancery of the Sierra Leone Embassy in Germany, Mr. Al-Hassan K. Kondeh, informed the audience about the devastating effects Ebola has had on the people of Sierra Leone and across the West African sub-region. He said such alarming situation warrants an urgent need for Sierra Leoneans at home and abroad to come together and brainstorm on possible areas of intervention.
With the death toll rising, Mr Kondeh said it is high time Sierra Leoneans in Germany started mobilising resources, medical supplies and protective gears which could be used by medical workers and the general public in Sierra Leone.