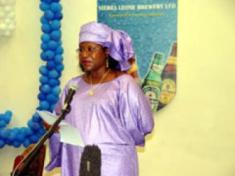 Cost of living to soar further, as price of fuel spins out of control
Sunday April 3, 2005
Petrol filling stations had a break from the long lines of the past weeks as fuel flowed freely once more in Sierra Leone . However, the socio-economic woes of the people may deepen with the wide-ranging increases in the price of fuel announced later by the SLPP government.
Traffic in the capital, Freetown was flowing smoothly once again at the weekend , but the increase in the price of fuel is the talk of the town presently. Petrol was increased from Le. 8, 000 to Le. 9, 500.Deisel went up from Le. 8, 650 to Le, 9, 500 while Kerosine price increased from Le. 7, 200 to Le. 8, 500.And fuel oil was upped from Le.3, 515 to Le. 4, 600.
According to reports, the increases were necessitated by the fact that the oil companies lost Le.6 billion lasy year.
Sierra Leoneans are bracing up for further escalation of the cost of living as the price of Petrol often control the prices of other basic commodities. Soon, poda-podas, taxis and other public transportation will increase their fares , followed by  traders and other business people , who will push the costs of basic commodities further up, with the excuse that the cost of transporting their wares had become prohibitive.
During the petrol crunch, tricksters had a field day as they duped many unsuspecting people who were anxious to refuel their vehicles or lay hands on other fuel products for domestic use.
Many citizens are calling on the Ministry of Trade and Industry to impose price control to stop unscrupulous business people from cashing in on the situation to fleece  and ripoff the hapless public.
PHOTO ; Dr. Kadi Sesay, Minister of Trade and Industry.