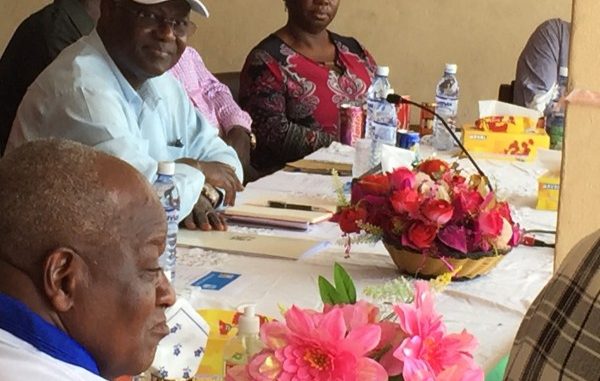 Kingsley Ighobor
UNMEER PIO
President, Ernest Bai Koroma last Friday visited some of those quarantined in Aberdeen village, central Freetown and Tombo fishing village, in the outskirts of the city, to mobilize inhabitants for the Ebola fight.
The President was accompanied by the newly appointed UN Mission for Ebola Emergency Response (UNMEER) Sierra Leone's Crisis Manager, Bintou Keita, the Chief Executive Officer of the National Ebola Response Centre, Paolo Conteh, and other top government officials.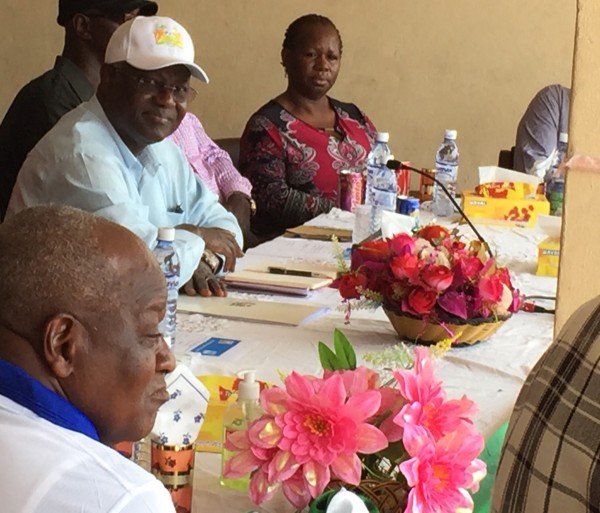 In Aberdeen village, quarantined persons informed the president that they were receiving adequate food supplies. In Tombo, President Koroma introduced Ms. Keita to hundreds of citizens who attended a sensitization event.
"I would like to use this opportunity to introduce our sister from Guinea, Bintou Keita, who has come to join us to end Ebola," said the President. He added that Ms. Keita, who had been in Sierra Leone before, understands the challenges in the Ebola fight.
President Koroma said that a reinvigorated social mobilization effort was necessary to bring transmission to zero. He mentioned the agreement he signed with his Guinean, Liberian and Ivorian counterparts on 15 February to work to achieve zero transmission within 60 days.
"If we discipline ourselves, we can do it within the 60 days we had set ourselves as MRU heads of state to fend off the virus,""If we are disciplined, we can do it within the 60 days we have set for ourselves… We have made some improvements but the battle is not yet over. And if the battle is not over, we cannot be free," President Koroma said. He implored everyone – security service, contact tracers, social mobilizers, frontline workers and communities – to redouble efforts.
"For an outbreak in Aberdeen to move to Bombali and Kono means that we are not doing certain things right. It should have been intercepted. We cannot continue like this."
The President warned those taking sick people to herbalists to desist immediately. "Herbalists have themselves died of Ebola. Let me be clear: they cannot treat Ebola." Also, those who hide the sick instead of reporting so that they can be isolated until Ebola tests results are known, are not helping the patients, themselves, their communities and their country, he added.
He said that travel restrictions were still in force, including that passenger vehicles should not enter the city after 6 pm. Canoes and boats will no longer be allowed to operate at night while taxis must not carry more than three passengers – one in front and two in the back seat.
The President insisted that the body temperatures of everyone must be checked at designated checkpoints. "Everyone must be checked. No one is above the law." He said that he usually allowed himself to be checked and as such, there should be no exemption for anyone else. The current restrictions will remain in force until Ebola is defeated, he said.
He acknowledged that everyone was eager to get back to normal life. "How soon we do that is in our hands. We must take up the ownership and responsibility. We can bounce back; development can sprout left, right and centre, but Ebola must first end."
The visits to both villages underscore the renewed efforts to shake off complacency following an increase and spread in transmission lately. The World Health Organization reported last week that, "A spike of 20 new confirmed cases in Bombali is linked to the previously reported cluster of cases in Aberdeen fishing community of the capital, Freetown."