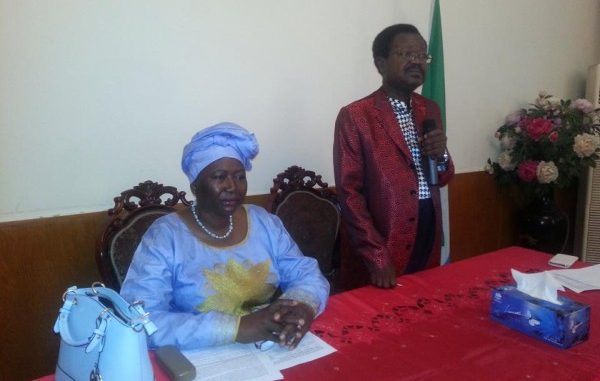 Sierra Leone's first female Deputy Ambassador to the People's Republic of China, Madam Kumba Alice Momoh was on Wednesday, 4th June given a rousing and befitting welcome by staff of the Mission, including His Excellency Ambassador Victor Bockarie Foh and dozens of Sierra Leoneans in Beijing and Chinese nationals.
Madam Momoh arrived in Beijing to take up duty on the 19th.of May, this year following herappointment as Deputy Ambassador by President Koroma in March, 2014.
Speaking on the appointment of Kumba Alice Momoh as Deputy Ambassador to China,Ambassador Victor Bockarie Foh said, "this is the first time in forty three years of diplomatic ties with China that a woman has been appointed as Deputy to the Mission".
The Deputy Ambassador, HE Foh said has a respectable presence and has come in with a wealth of experience in the field of Education and Administration from the United Kingdom. "For a political appointment like this, it is purely the prerogative of the President and assured all that Madam Deputy Ambassador appropriately merits the appointment. Before her appointment, Mrs. Momoh was Chair Person of the All Peoples Congress (APC) Branch, Britain and Northern Ireland. Mrs. Momoh held this position with distinction notwithstanding the turbulence that normally goes with Senior Political Offices everywhere.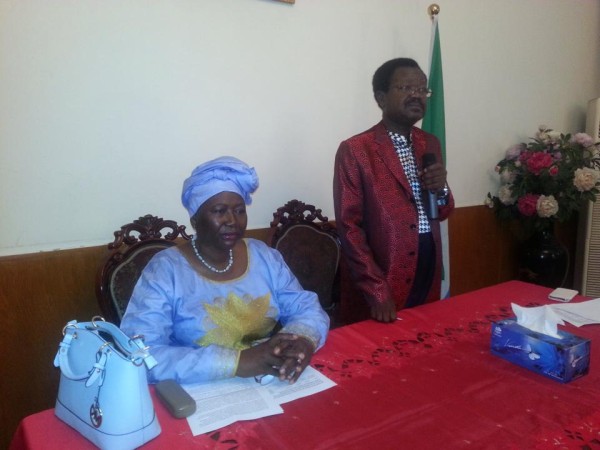 He appealed for solid support to be given to the new Deputy "so that she could enjoy her job". Ambassador Foh called for teamwork amongst staff of the Embassy and reminded Madam Momoh that she is coming in not just as a representative of Sierra
Leone in general, but that she was particularly representing Sierra Leonean women.
"You should take into account gender related issues at all times, more especially because both Sierra Leone and China are currently positioning women in high level and sensitive decision making governmental and private sector positions.
Addressing Sierra Leoneans in Beijing, Ambassador Foh said, the Embassy is a representation of the Government of Sierra Leone in China and that he will be pleased to welcome Sierra Leoneans into the Embassy which is Sierra Leone territory. "I appeal to all Sierra Leoneans to take this Mission as their own. I invite every Sierra Leonean to engage the Mission without any political bias."
According to Ambassador Victor Bockarie Foh, the success of the Mission depends on many factors including performance as a Mission and requisite support it gets from Sierra Leoneans from all shades of political divide.
Speaking on Sino-Sierra Leone friendship, Ambassador Foh said, this friendship has been in solid, meaningful, continuous and unbroken existence for over forty years. "It was the late Chairman Mao Zedong of China and late President Siaka Stevens of Sierra
Leone who started the friendship between the two peoples and countries and that friendship eventually saw exchanges of visits between the two countries and a host of development across all Regions of Sierra Leone."
In the words of Ambassador Foh, "The Chinese are our friends. They are giving us more development aide than any other country in the world. As our country's representatives here in (China), we are fortunate to be in the territory that is currently propelling development of the whole world. We should must maintain the friendship and build upon it."
Ambassador Foh also highlighted the crucial role played by Sierra Leone in getting China into the United Nations Security Council; at a time when few countries could image that China could be a leading world economy.
Responding, Madam Kumba Alice Momoh extended thanks and appreciation to His Excellency President Ernest Bai Koroma for appointing her. She expressed optimism that the President's "leadership and vision for Sierra Leone will continue to bear positive outcomes for the benefit of all Sierra Leoneans."
Madam Momoh paid special tribute to Ambassador Foh for his "steadfastness, hard work and love for the ruling party" especially taking cognizance of the role Ambassador Foh played in ensuring APC victories in 2007 and 2012 general elections in Sierra Leone.
She said, she was coming in post with a mind set to see a successful Sierra Leone which "is pivotal because of the person that is in the driving seat, Ernest Bai Koroma. We want a Sierra Leone that could and will meet the primary needs of its citizens."
To Embassy staff, Madam Momoh said, Sierra Leone comes first and that "our role in the Mission is to represent every Sierra Leonean in China and all other countries the Beijing Mission is accredited to", whilst committing herself to working with everyone collectively for the good of our country and China.
Madam Momoh also joined Ambassador Foh in commending China for their support to Sierra Leone. "Our relationship with China has been going from strength to strength as this is manifested in the numerous development projects currently going on in Sierra Leone and undertaken by China. The Government and people of China have been very supportive of Sierra Leone over the years and we are therefore grateful to have china as our major development partners."
She also encouraged her compatriots, all Sierra Leoneans to be coming to the Mission and to be law abiding. "The development currently taking place in Sierra Leone is for all Sierra Leoneans so let us don't play politics with that", she cautioned.
Chairing the programme was Madam Madelyn Well, a member of the Sierra Leonean Community in Beijing, China. Side shows included performance by Presidential Gold Medalist, the great Artist Mariatu Kargbo.
Madam Kumba Alice Momoh is coming in as Principal Assistant to the Ambassador.