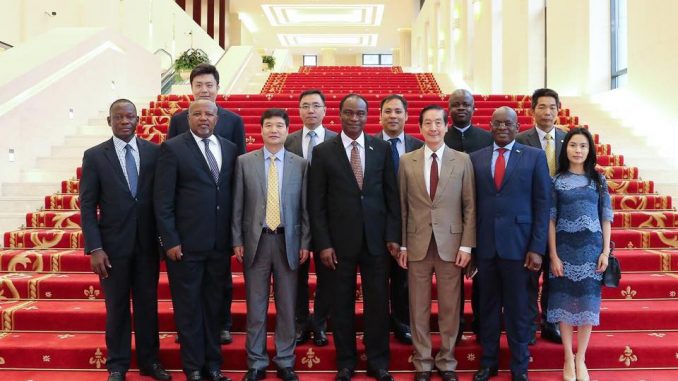 Sierra Leone's Foreign Affairs and International Cooperation Minister, Dr. Samura Mathew Wilson Kamara, on 13th June, 2016, arrived in Beijing, China's capital on the invitation of his Chinese counterpart, Wang Yi.
On the sideline of his visit, accompanied by Ambassador AP Koroma and the Chinese Ambassador to Sierra Leone, Minister Samura Kamara visited Huawei Research Center, a leading global ICT company, where he was briefed by the company's management on its operations in Sierra Leone and possible areas of further cooperation.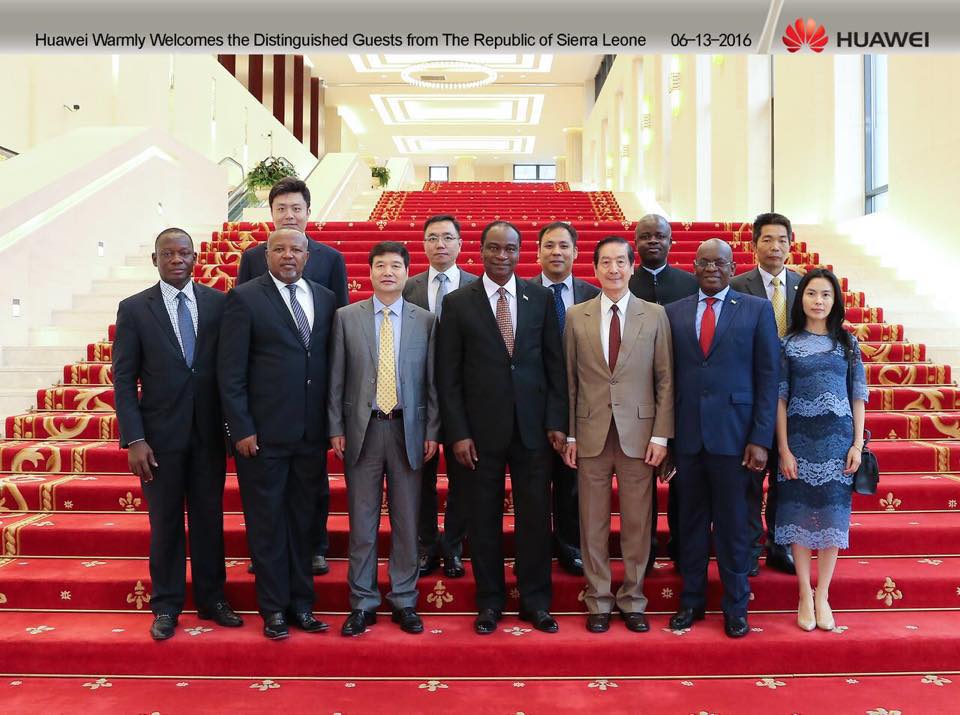 Briefing the Minister, Guo Tianmin, Huawei's Senior Vice President said, with over 170,000 employees worldwide, and 79,000 of that engaged in Research and Development, the company in 2015, generated in revenue, US$60.8bn, providing professional services for over 1,500 networks in over 170 countries and regions, serving one-third of the world's population.
Huawei's global value chain, he said, allows fluid capability transfer across the globe, and helps develop and retain talent in local countries, and creates jobs and economic opportunities.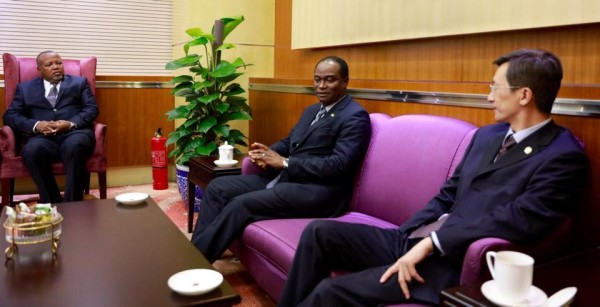 On their Long-term investment in innovation, the Vice President said, the company continues to invest over 10% of revenue into Research and Development, "which enhances our competitiveness while propelling the industry and advancing technologies", disclosing that total R&D investment in the past decade amounted to over CNY240billion (US$38 billion).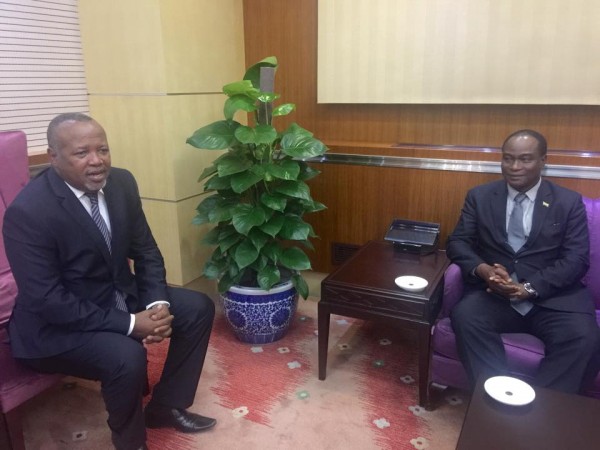 With a goal of ensuring connectivity and broadband inclusion for all, the company, the Vice President said, works with carriers to provide wide coverage, providing billions of people with access to communication services.
On their operations in Sierra Leone, Sunfy Li, Managing Director, Huawei Sierra Leone said, they entered the Sierra Leonean market in 2004, now serving over 60% of the country's population.
The company was the main contractor for the completion of Phase 1 of the National Backbone Transmission Project, and now is looking forward to Phase 2, expected to complement Phase 1.
Minister Samura Kamara, in his statement said, Sierra Leone will continue to give the company the needed support in its operations, wishing them successes in their undertakings. One possible area of further cooperation, he said, could be in the area of e-governance, giving the relevance of ICT in the process.
The National Optical Transmission Backbone Project is an important project to Sierra Leone's development trajectory as it can generate revenue for Government.
It is also expected to provide reliable transmission vehicle to all the telecom operators in the country to handle the challenges of big traffic and customer experience, given also the much-needed infrastructure for the future of ICT developments in the country including as in e-government, digitalization, migration and e-education.
In another development, Minister Samura Kamara met with staff of the Embassy and updated them on development efforts back home. He was visiting, he said, to amongst other things, discuss with his Chinese counterpart ways of fostering the bars of Cooperation ties between the two countries especially as this year marks 45 years of diplomatic relations.
He called on the workforce to "use diplomacy to improve yourselves and the country", whilst assuring to explore the possible of further institutional supports from the Chinese to Sierra Leone.
Receiving the Minister, Ambassador Alimamy P. Koroma amongst other issues, said he was impressed with the team of committed staff he had met, further stating that he has so far enjoyed a cordial working relationship.
Dr Samura Kamara is slated to meet with his Chinese counterpart, Wang Yi on Wednesday, 15th June, 2016, and the Vice President of China Li Yuanchao in the afternoon hours of the same day.
Accompanying the Minister is the Director of Multilateral Division, Ministry of Foreign Affairs and International Cooperation, Saidu Nallo.
John Baimba Sesay
Information/ Press Attaché
Sierra Leone Embassy
People's Republic of China