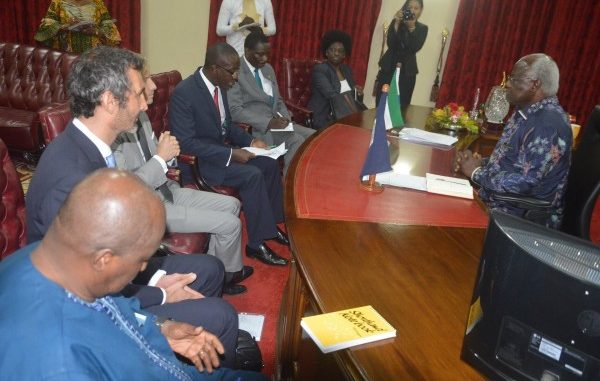 By State House Communication Unit
President Dr Ernest Bai Koroma Friday 29 April, 2016 received a high-powered delegation from the Global Fund International at State House in Freetown.
According to the Minister of Health and Sanitation, Dr Abu Bakarr Fofanah, who led the delegation, Global Fund has been providing great support to addressing tuberculosis, HIV and malaria in Sierra Leone since 2002. He disclosed that the Fund has a current portfolio of 103 Million United States Dollars to help address health issues in the country.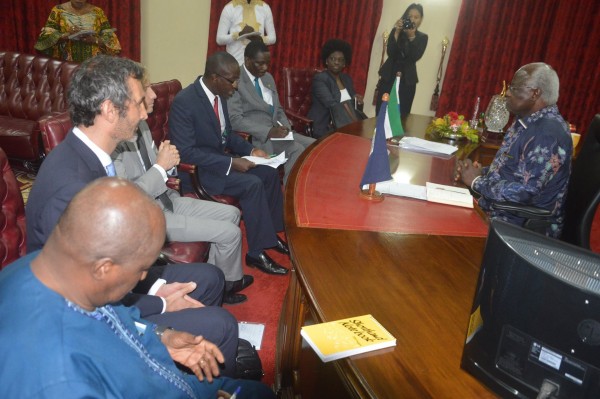 Welcoming the delegation, President Koroma thanked the Executive Director of Global Fund Mark Dybul and delegation for the support they have been rendering to address tuberculosis, HIV and malaria, but however called for holistic support in the health sector. "Our focus is to build a robust health system that will effectively address all health issues," he said.
The president highlighted some of the outcomes of the 6-9 month recovery programme which he described as good, although he noted that "we still have challenges in the health sector which need financial support to addressing them."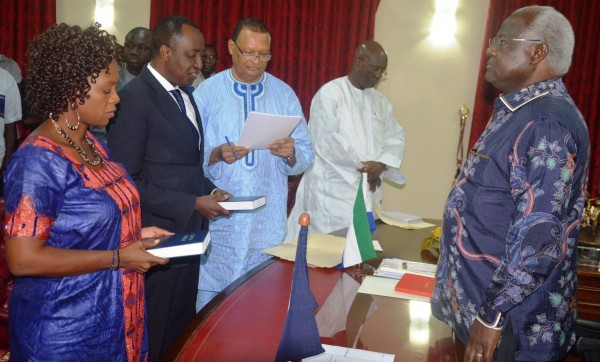 In his response, Mark Dybul thanked the leadership of President Koroma, saying that before the Ebola outbreak Sierra Leone had an 'economic miracle' which was impressive. The Executive Director assured of Global Fund's continued support to Sierra Leone's health sector to help address health issues across the board. He also promised to establishing offices in the country to provide effective support to the sector.
In another engagement, President Koroma sworn in two deputy ministers following their parliamentary approvals respectively. The two ministers include Momoh Vandi, Deputy Minister of Finance and Economic Development and Madam Rugiatu Neneh Turay, Deputy Minister of Social Welfare, Gender and Children's Affairs.
Congratulating the new ministers, the president said the two have been selected due to their experience. He urged them to continue with the strides government had embarked on and admonished them to work as a team in their various ministries in the best interest of the nation.
Speaking on behalf of himself and colleague, Mr Momoh Vandi thanked the president for the trust reposed in them, saying that they were fully aware of the challenges facing the country and promised to do their best.