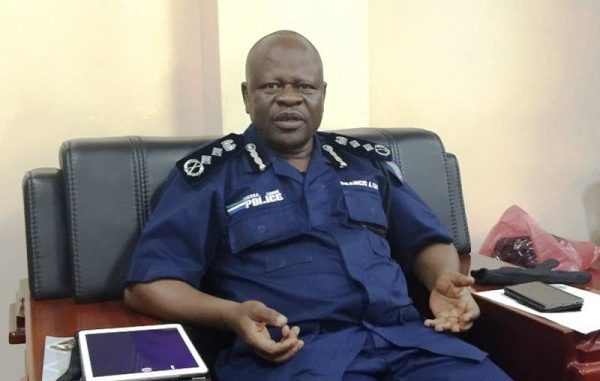 The Sierra Leone Police Force continues to play a crucial role in Sierra Leone's growth trajectory from the perspective of providing national security. In the last couple of years, its contributing role to Regional Peace and Stability has been extremely great with personnel deployed to AU Peacekeeping Mission.
The Police Force was also strategic in battling the Ebola scourge in Sierra Leone, which, following its outbreak, did kill thousands of citizens.  The force has also achieved tremendous progress especially in the areas of infrastructural development and in building its human resource capacity. What is also significant to note is the level of political support that it has been receiving from the Executive Arm of Government, which in the words of the Police Chief, FA Munu, "the government of HE Dr. Ernest Bai Koroma is doing very well"
In this interview, Francis Allieu Munu, Sierra Leone's Police Chief opens up on a range of issues, not least, how the force is now saving  billions of Leones annually following the setting up of a garment factory for the production of police uniforms;  progress made so far in the areas of infrastructural growth  and the challenging  moments  in the force.  First, he spoke on how Police Operations have been like, more so from the front of police operations and Ebola outbreak.
IGP: Well, it was tough especially with the outbreak of Ebola as there were a lot of demands made on Police Officers not only in carrying out daily Police Operations but also the additional burden of policing some of the strategies developed to deal with the issue of Ebola most of which had to do with the Quarantined Homes, manning Ebola Checkpoints, and providing responses to the Burial Teams.
JBS: Did that in anyway affect normal Police Operations across the country?
IGP: Yes it did. Apart from the fact that Police Personnel's strength is not enough for even the normal operations, we had to cut some of the personnel numbers to police the Ebola responses and we also had to divert some of the funds we had for normal policing into managing Ebola responses.
JBS: Let us look at general development like infrastructural growth and building the human resource capacity of the force. Where do you stand at the moment?
IGP: We are building the long term human capacity of the Sierra Leone Police for us to be able to manage the peace and ensure that we provide a secure atmosphere that will support the Agenda for Prosperity. Before the outbreak of Ebola, we had a very prosperous economy that was growing at a very satisfactory rate and we needed to provide the level of security in terms of providing personnel to secure mining operations and road construction sites thereby ensuring security of their equipment storage sites and so many other things associated with a growing economy. We therefore, needed to ensure we built the capacity of the force in terms of both logistic and human resource development.
In terms of logistics, we also looked at infrastructure because the force is growing. To meet growing challenges and growing economy, we realized that infrastructure was not growing correspondingly. Therefore, we took effort to ensure we grew our infrastructure in terms of building office accommodation, and in terms of improving the welfare of our force.  In the area of cutting cost, we set up a garment factory which was purely aimed at reducing high cost in importing police uniforms. We now prepare our own uniforms as we have set up our own factory and through that we have been able to save a little over 5 billion Leones annually as we used to spend about 8 billion Leones in importing police uniforms. We need to cut cost so that the amount of money we have as remaining can be used to support other infrastructural development.  We have a magnificent building at Lumley; we have a similar one at Ross Road; we have one at Kissy Old Road and; we have a number of them upcountry so that the expanding economy will see an expansion in police deployment across the country and we needed to provide those infrastructures.
We also needed to build the human resource capacity of the force. We are in the process of establishing an International Law Enforcement Academy where Academic and Professional Training Courses will be provided so as to enhance the human resource capacity for long term needs of the country and to be able to provide training opportunities for other members of MRU and even ECOWAS and other international students who may wish to take part in some of the training programs we are designing. We have secured services of Academic Consultants who are doing the academic work in relation to preparing documentation, developing the curriculum including the legal framework. We have also secured the services of Architectural Engineers who will provide architectural drawings. We have further recently advertised the construction of the administrative building for prospective construction firms to do it. We have secured 200 acreage of land; we have set up a Research Unit which will form part of the University where Academic Staffs can embark on Research Programs.
We have established a partnership with the University of Sierra Leone, and we have already signed a Memorandum of Understanding (MoU) with it. We are in the process of signing another MoU with the University of Bradford particularly in the area of Peace and Development. We have just sent 4 of our Officers to pursue tertiary education at Bradford University so that they will be part of the Core Staff of the Police Academy. We have completed training of trainers for other potential staff members of the Academy.  We are embarking on all-round capacity building so as to provide the basis for the long term security needs of the country.
JBS: Fantastic development. But you will agree with me, in all of this, what appears crucial is the political support from the Executive, with a new Police Council Chairman in the person of the Honorable Vice President, Victor Bockarie Foh. How has that support been coming?
IGP: We are very grateful, that the government of HE Dr. Ernest Bai Koroma is doing very well in supporting our development aspirations probably on the recognition that security is very key to the development aspirations of the country, and again, with that fact that we need to provide the security that will support the prosperity agenda of the government. We receive moral and financial supports to enable us accomplish our objectives.
JBS: Elections are pending, call it in 36 months. What is your level of preparedness?
IGP: Well, this is all part of the preparations we are presently embarking on. Very soon we will have two patrol boats so that our policing will not only be limited on land. We will be conducting sea patrols to ensure that we provide protection for our marine resources amongst others.
JBS: You kept been punched by especially opposition parties when it comes to electioneering periods.  Has that in anyway been normally affecting your spirit?
IGP:  Normally it keeps us on our toes. When you know that whatever you do is likely to be misconstrued, you take special care to ensure you act within the law and make sure your actions are beyond reproach. People who make allegations never had the opportunity to prove them because it is easy to make allegations but never easy to prove them. So we make sure we train our forces and provide them with relevant briefings for them to be able to act in a professional manner. Wherever there is a contest people will always cry foul especially when the odds are against them but it is part of our discipline not to get annoyed but to listen, learn from them and see how we can improve on our performance based on people's varied expectations on performance of the police.
JBS: IGP, it has been a pleasure talking to you.
IGP: Thank you very much.