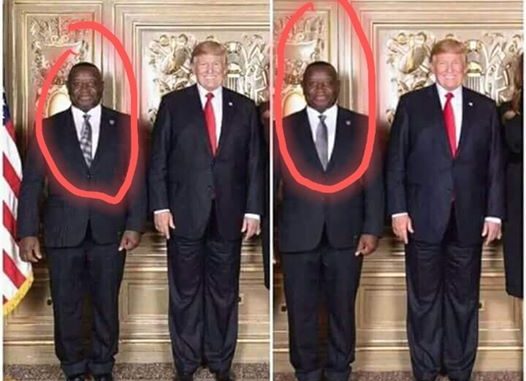 President Maada Bio's U.S.  trip got even worse and humiliating . After news went viral on social media that the President was not invited to the state dinner for world leaders staged by U.S. President Donald Trump on the margins of the UN General Assembly, President Bio's media team sought to counter the speculation a whole one week afterwards , after the President had even departed from the U.S, by belatedly producing a photo that showed the President and his wife, Fatima Bio posing with the U.S. President and his wife. The only problem was that many Sierra Leoneans on Facebook rejected the picture as a photoshop. And they had a field day spotting out the inconsistencies in the photo in comparison with pictures of Trump with other African leaders.
Our sources at the UN  who always provide us photos of such grand events told us that they did not have pictures of Bio and his wife at the dinner at a time when supporters of presidents of other African nations were surfacing with photos of their heads of state and wives posing the first couple of America. To many people , this was suspicious and the President Maada Bio Team confirmed the doubts by not producing any photo of Bio at the dinner at a time they had been gladly displaying all over social media  photos of Bio at the UN General Assembly , side events and his trips to Washington DC and California.
Meanwhile, journalists in America and social media political commentators like Mohamed Kutubu Koroma had reported that President Bio did not attend the dinner because he was not invited , on account of his travel ban to the U.S. and his being admitted only to attend the UNGA. When the photos of Bio and Trump were posted at last, it therefore drew lots of suspicions .
These are the reasons why Sierra Leoneans thought it was a photoshopped picture.
REASON NO.1 Some Sierra Leoneans said they checked and found out that President Bio did not attend the dinner . Not all leaders are invited to this yearly dinner and because President Bio was not on good diplomatic terms with the U.S,  he was not invited. One of the doubters  , Daniel MBompa Turay , even suggested : "For independent verification that the Bio picture is fake, You are also free to contact the White House to ascertain if such event as described herein took place. You can reach the White House via phone @ +12024561111 or via visiting www.whitehouse.gov and click the contact section.
REASON NO.2
There were variants of the same photo floating around and in two of them , President Bio was wearing two different ties
THIS IS THE UGLIEST PROPAGANDA OF ALL TIME. SLPP/PAOPA DESPERATE TO RUB POWDER ON A PIG. WHEN YOU WASH YOUR HANDS CLEAN YOU WILL EAT WITH KINGS – NOH TO PHOTOSHOPPING. FAKE PHOTO!!!!!!!
REASON NO. 3 . Amadu Lamrana Bah
Quick one, I noticed something with the Trump photos.
Same smile of Trump and his wife as well as position in all the photos with what have seen so far with other African Presidents.
Does anyone noticed same?
Could it be that they just go place a wax statue there for our Presidents to stand and take photos?
Am not discrediting anyone and I careless about who the President visit or who he stands with for a photo but again it just my critical thinking.
REASON NO 4. NO SECONDARY PICTURE , e.g, DINNER TABLE
Good morning all.Why do we always have to make others look better than us?Trump is a president and so is Bio.Why are paopas all over fb posting the picture below to prove a point ?You guys are acting like its a miracle performed to have a picture with Trump.Una make dae guy look so funny now.Was it something impossible to have a picture with Trump?.
I beleive the argument people are having is not posing for a picture with trump,which all heads of states did,but the dinner table pics,that is what they wanr to see
🤣
🤣
🤣
🤣
🤣
REASON NO 5.
If President Bio really attended the dinner, SLPP  spinmasters would have produced more evidence , like the letter of invitation to President Bio, an RSVP and other secondary information.
Abdul Marah is 
feeling sad.
Misdirection in the SLPP Government.
When a Government believed the only way they can gain attention from the people is by faking those who called them supporters of the SLPP Government.
Maada Bio and his ministers went for UN Sumit in America, the only thing they came with is a fake photo of Maada Bio and Trump.
If the SLPP believe that president Bio can go to the US without the UN Sumit,let him go there again after the Sumit
COCORIOKO IS HOWEVER MAKING ITS OWN INVESTIGATION AND WILL BRING YOU OUR FINDINGS SOON.