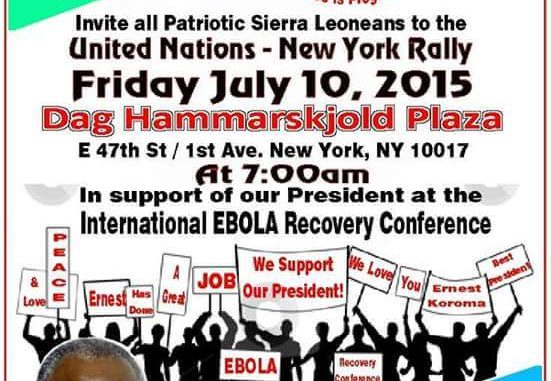 Officials of the SIERRA LEONEANS FOR PEACE Standing With the President are working round the clock to make July 9 and 10 , 2015 two more memorable days in New York.
The organization was formed to promote good governance, peace, stability and the Rule of Law and the core officials living in the United States have been working very hard for the past weeks to make President Ernest Bai Koroma's trip to the U.S. for this week's International Post-Ebola Recovery Conference a huge success.
The officials in Washington DC , Maryland and Virginia ,  New Jersey  and New York  and other states ,  too many to be named here,  are working to ensure that the welcoming ceremony on Thursday July 9 and the rally on Friday July 10 are a big success.
All inquiries about the two programs should be directed to the following officials :
Ibrahim Kamara :  703-862-so94
Beatrice Conteh   : 703-507-1879
Fynda Fillie-Faboe : 202-352-0086
Sanuel Koroma : 917-217-8570
FOR NEW JERSEY RESIDENTS
Leeroy Wilfred Kabs-Kanu
Pavi Jalloh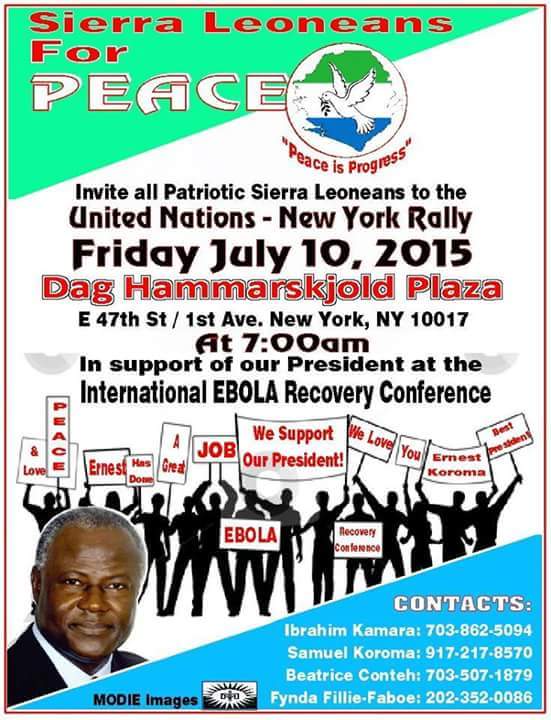 WE WANT TO ASSURE ALL CONCERNED  IN SIERRA LEONE THAT WE HAVE THE CAPABLE AND COMPETENT PEOPLE AND STRUCTURES IN PLACE IN THE UNITED STATES TO ENSURE THE SUCCESS OF THE PRESIDENT'S VISIT TO THE U.S . THIS WEEK