Whatever the facts, the rate of violence and indiscipline in Sierra Leone are becoming very troubling and unacceptable. Within a few days , a young woman was gang-raped to death at the beach, thugs armed with matchets, knives and sticks attacked the home of a politician , Mr. John Benjamin and one of the new buses from China was vandalized in Kambia. These are disturbing signs of a society bursting at the seams with lawlessness and impunity and this is not good for Sierra Leone, a country still recovering from war.
COCORIOKO believes that drastic actions must be taken to teach the culprits a lesson and establish a precedent that we are not ready to see our nation slip into chaos and lawlessness once again. The wheels of justice are grinding in Sierra Leone but it must do so at a faster pace now  to speedily put away for good  or execute  the hardened criminals responsible for  these acts of violence, ruffianism, lawlessness, vandalism, murder  and bestiality.
THIS YOUNG WOMAN WAS GANG-RAPED AND MURDERED AT THE BEACH : HOW CAN PEOPLE BE SO CALLOUS AND WICKED ? 
Admittedly, seven years ago, the All People's Congress ( APC ) Government, under the progressive leadership of President Ernest Koroma,  launched  the Justice Sector Reform Strategy and Investment Plan . So much has changed in the sense of reforms in the justice sector in Sierra Leone .
We at COCORIOKO  believe that  Government has been doing an admirable job to stem the tide of lawlessness in the Sierra Leone.  However, drastic diseases need more drastic remedies . It would appear like despite all the government has done to prosecute the rule of law , disrespect for the law and impunity  by ordinary citizens are increasing at an alarming rate in the country . We are becoming too crude and lawless in Sierra Leone . Our law-enforcement forces must rise to the occasion to build upon the gains so far achieved .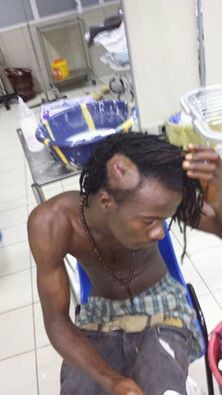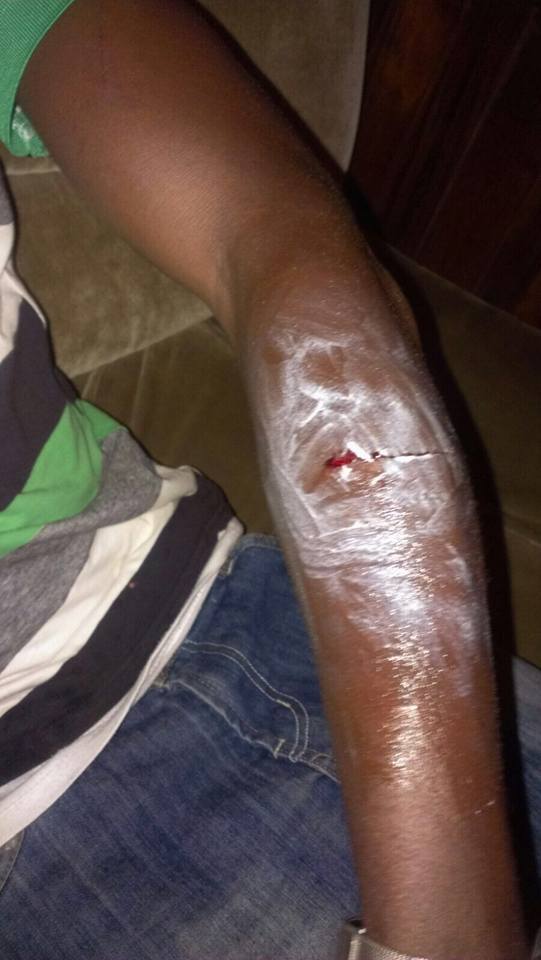 THIS YOUNG MAN WAS INJURED BY LAWLESS POLITICAL THUGS
The young lady raped at the beach and deprived of her life  did not deserve what befell her. She was a human being created by God, like everyone of us and she had a right to live . Nobody has a right to take another's life for no good reason. She was not only murdered in cold blood. Her womanhood and pride were violated before her life was snuffed out. How can man be so inhuman to another man ?
The Police should be more proactive in speedily investigating these crimes and arresting perpetrators with efficient dispatch and the courts of the land should waste no time to dish out very stiff punishments to ensure that other Sierra Leoneans  see and fear. In the case of such uncompunctious murders, speedy executions of the guilty should be the vogue. Let nobody be fooled. The death penalty is the only punishment feared by callous and wicked murderers who have no respect for human life.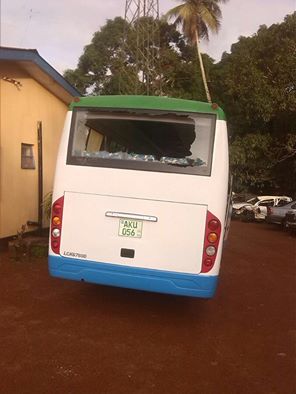 THIS NEW BUS IMPORTED BY THE GOVERNMENT WAS VANDALIZED FOR NO REASON IN KAMBIA
In 1973, the same APC Government, under the late President Siaka Stevens, took robust action to arrest the upsurge of disrespect for human life and senseless murders by executing and publicly displaying in front of the Pademba Road Prisons the corpses of culprits found guilty  of the Mammy Yoko Street and Wellington Street murders . They had  stunned and traumatized the nation by killing innocent citizens with impunity and the law gave them what they deserved.
This action served  as a deterrent and significantly curtailed the problem of willful  murders, which had started taking root in the society . The execution of politician Alimamy Khazali the following year for ritual murder also led to a significant decrease in ritualistic killings in the country. While we are not suggesting that bodies of executed criminals be displayed, we think that those who kill for no reason must face the maximum  penalty . Why should anybody take an innocent life and not face the same fate, if found guilty ? Even the Bible and Quoran preach nowhere that  wicked murderers should be treated with kid gloves. There is not a single Biblical passage advocating for the lives of murderers to be spared.
As for the vandals attacking the new buses the authorities only need to set examples of the perpetrators to put fear in other prospective culprits. Heavy jail terms for destruction of government and public property will send a strong message that Sierra Leone is not ready to go through another trauma of impunity.
The law needs to clamp down on the rising thuggery and violence within the opposition SLPP  as we prepare for the 2018 Presidential and Legislative Elections to avoid creating a recipe for national chaos and anarchy. Maada Bio and his supporters  should not keep getting away with violence. If found responsible for this thuggery, the supporters should be arrested , charged and given  rigid jail terms.
A stitch in time saves nine . For Sierra Leone,  the sooner , the better.