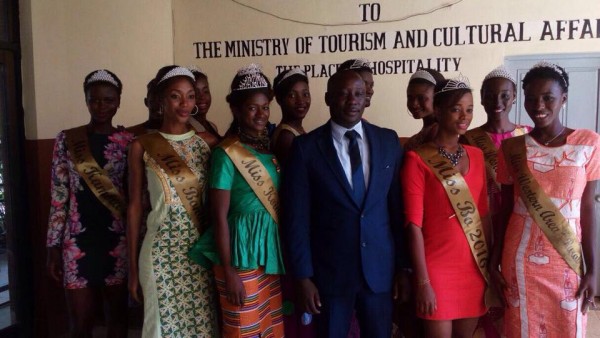 By Abubakarr Kamara :
The Board of Directors for the 2016 Miss Sierrra Leone Beauty Pageant today paid a courtesy call on the Ministry of Tourism and Cultural Affairs their King Hermann Road Office.
The meeting started with opening prayers and introduction of contestants, followed by a brief statement by Dr Adonis Abboud, who is the chairman of the board. Miss Jenneh Amara Bangalie p…resented detailed schedule of events and some of the activities and routine training the contestants go through daily.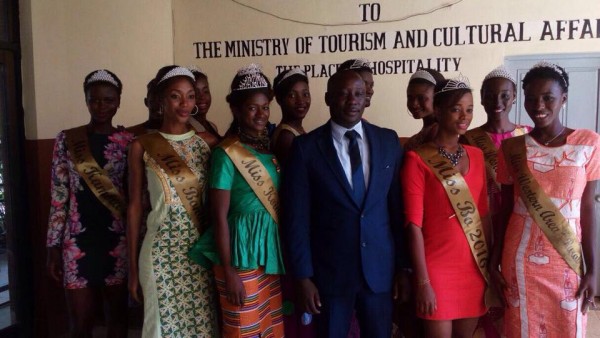 The Minister of Tourism and Cultural Affairs, Mr. Sidie Yahya Tunis thanked the board for what he referred to as a good job done so far. He admonished the organizers to ensure that the event is up to international standards and urged the contestants to treat the event with all seriousness as the winner will have the opportunity to represent the country on the international stage. He said his focus as Minister is to rebrand and project the positive image of the country, thereby increasing investment opportunities in the tourism sector, revenue generation and job creation.
The reigning Miss Sierra Leone Queen, Miss Magaret Murray gave details of some the benefits and activities she has undertaken since her crowning as Miss Sierra Leone. The vote of thanks was given by Mr Denis Streeter, followed by questions from members of the fourth estate.
Communication Office in the Ministry of Tourism and Cultural Affairs