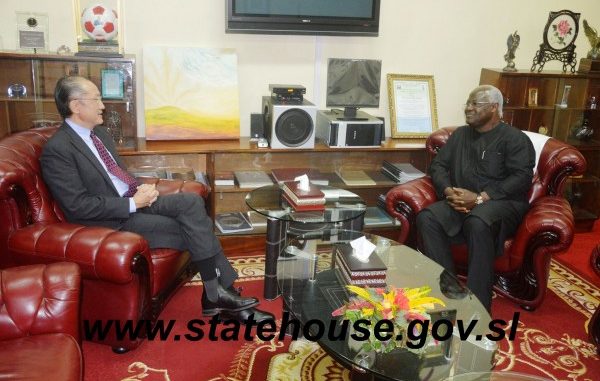 By State House Communications Unit
As part of his tour of the three worst Ebola hit countries of Sierra Leone, Guinea and Liberia, the President of the World Bank Group Dr Jim Yong Kim assured President Koroma of the Bank's continued support to providing the needed response in containing the outbreak. Dr Kim is in the country to show solidarity and commitment to the people of Sierra Leone and finishing the job on Ebola by registering zero new cases.
President Koroma described the visit as encouraging towards not only fighting Ebola but also in restoring and rekindling economic growth. He called for the isolation of the virus and not the country, adding that interventions in contact tracing, surveillance and social mobilization should be intensified.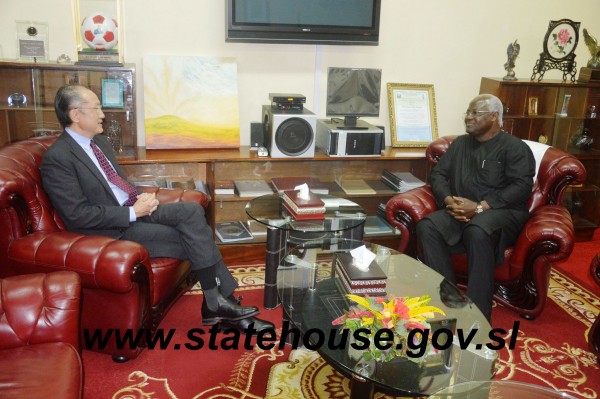 Dr Kim commended President Koroma for the leadership he has exhibited in response to the outbreak giving specific reference to his engagement with religious and traditional leaders to shore up efforts to tackling the epidemic. He explained that as the country moves towards getting zero cases, he pointed out the need to begin to work on economic recovery as the World Bank is committed to support Sierra Leone in emergency response as well as in long term economic recovery. "We plan to accelerate response to Sierra Leone and we plan to deliver a comprehensive economic recovery package in two years," he assured.
The World Bank Chief stated that the package covers five areas which includes One Hundred and Sixty Million United States Dollars (USD$160,000,000) committed to containing the crisis, boost the agricultural sector, improve basic services such as electricity to support the wellbeing of citizens, continue to work with the private sector to provide liquidity to local banks, especially Small Medium Enterprises (SMEs) and finally strengthen public financial management.
Dr Kim said Sierra Leone must emerge from the Ebola epidemic much stronger than it was before the outbreak. "We can build the infrastructure, we can train the health workers as much that we can do in responding to the epidemic that we think can enhance economic growth and recovery afterwards," he said.
In addition, he also pledged his commitment to providing sufficient resources to get to zero new cases and intensifying efforts and empowering District Level teams and sub-national emergency operations, particularly in the Western Area and Port Loko District to break the chain of transmission and identifying all contacts of those infected. He also mentioned to support the agriculture sector by constructing feeder roads to connect small farmers to the markets in order to ensure the current crisis is not followed by food shortage.