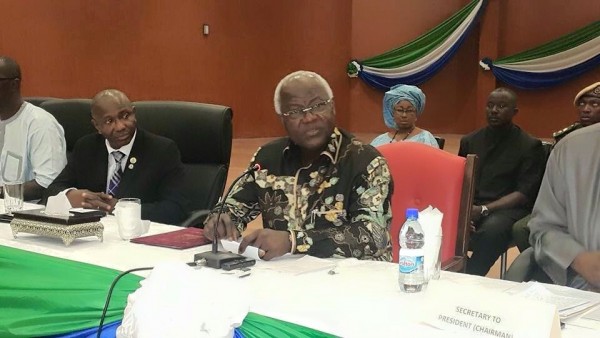 By Samuel Koroma
His Excellency President Comrade Dr Ernest Bai Koroma has past Friday extolled leaders of all ten registered political parties in the country, for what he described as the responsible manner in which they have been collaborating, especially on issues of national interest.
President Dr Ernest Bai Koroma made this commendation while responding to a position paper presented to him by the latter, requesting he(President Koroma) to relax some restrictions in the State of Emergency, which was invoked as a measure to stem the tide of the receding Ebola outbreak in the country.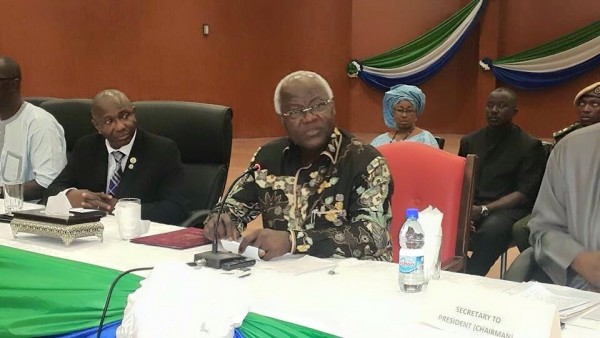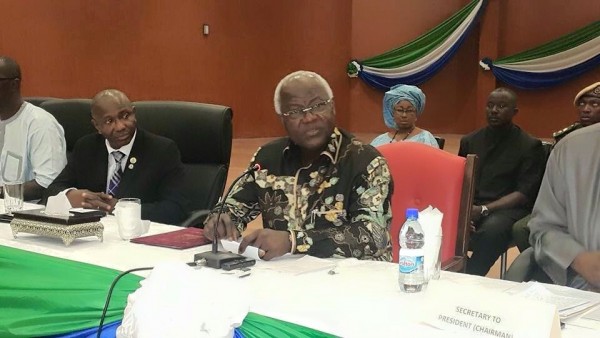 Let me commend all of you for sustaining the engagement and for taking it another step further. This is not the first time you have been coming with suggestions as to the way forward in pushing this country forward, said President Koroma, adding: This goes to show that as Sierra Leoneans we are capable of shifting engagement from one issue to another and that you are responsible political party representatives.
The intervention of political leaders, he noted, helped greatly in the Ebola fight and also noted will help even in post-Ebola era.
Please dont stop at this and let us continue the engagement, President Koroma encouraged political leaders.
About the issue of the lifting of the State of Emergency, President Dr Ernest Bai Koroma said it was not the making of government to have introduced the State of Emergency.
The State Emergency, he emphasized, was not invoked to intimidate or victimize any body or group of people.
Government, he said, is very much cautious this time so as to avert what happened sometimes this year in the Ebola fight, wherein government had to revert to, for example earlier restrictions after they had been lifted.
He also cited the case of Kambia District as one of such places where reports of unchecked entries into the country caused a big problem.
He said he is not oblivious of the suffering of the citizenry, but that he was going to engage with stakeholders in the Ebola fight and see what could be done in the area of extending business hours from 6am-10pm.
President Koroma adds: I am aware of the suffering and untold hardship that Ebola has brought. But I cant single handedly seat here and say to you that the restrictions will be lifted today or tomorrow. We will consult with the experts in the fight and tell you the way forward in not too distant future. As a matter of fact, your requests are not unreasonable.
Ebola, he said, has taught Sierra Leoneans to appreciate one and another, noting the disease cannot be completely eradicated by a single person or entity.
He pleaded with party representatives present to embrace government recovery programmes and help in making sure that the programmes are effectively implemented.
The position paper presented by APPAs Chairman, Mohamed Bangura highlighted issues including but not limited to: asking for an extension of business hour from 6am-10:00 pm everyday; and also for the President to fill vacant positions in various ministries, departments, and agencies, among the list of presented issues of national concern.
NEW CITIZEN