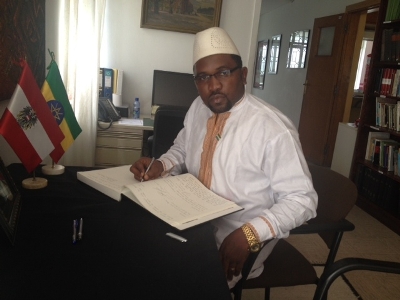 EMBASSY OF THE REPUBLIC OF SIERRA LEONE
P.O. BOX 5619, ADDIS ABABA, ETHIOPIA
A PRESENTATION ON THE INVOLVEMENT OF PRESS ATTACHES TO THE IMPLEMENTATION AND POPULARIZATION OF AFRICAN UNION AGENDA 2063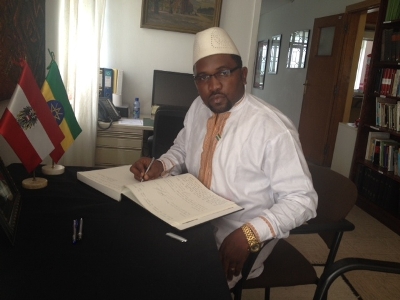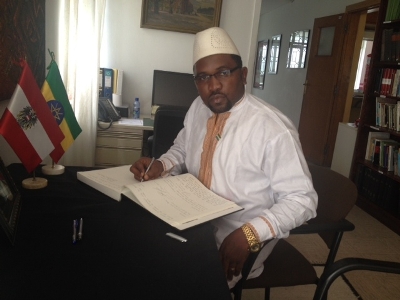 By Ambassador Ismael KOROMA, M.A, B.A (Hons.), FBC-USL
Sierra Leone's Deputy Permanent Representative to the African Union & the United Nations Economic Commission for Africa
AT THE WORKSHOP ON ENGAGING PRESS ATTACHES AND FOCAL PERSONS IN COMMUNICATION AT EMBASSIES OF THE AFRICAN UNION MEMBER STATES IN THE IMPLEMENTATION OF THE AU COMMUNICATION STRATEGY 2014-2017
THEME '' ENGAGING THE DIC WITH PRESS ATTACHES OF AU MEMBER STATE EMBASSIES IN A BID TO BROADEN OUTREACH OF THE AU AND EXPAND KNOWLEDEG ABOUT THE UNION IN THE VIEW OF AGENDA 2063''
Debrei-Zeit, Ethiopia   3rd – 5th December, 2014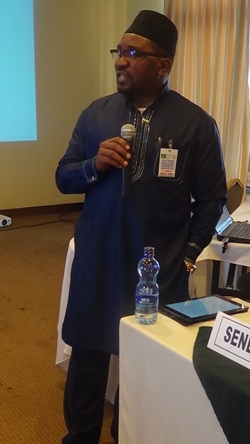 Ambassador Koroma delivering the lecture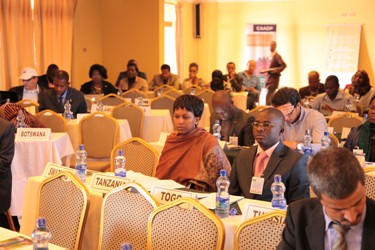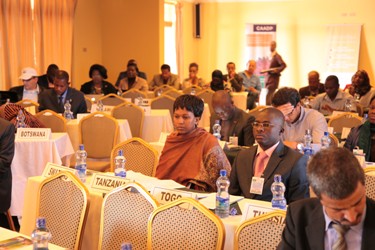 The audience
INVOLVEMENT OF PRESS ATTACHES TO THE IMPLEMENTATION AND POPULARISATION OF THE AFRICAN UNION AGENDA 2063
WORKSHOP FOR PRESS ATTACHES AND COMMUNICATION PERSONS IN EMBASSIES OF THE AU MEMBER STATES
SALUTATION
Madam Chairperson, Representative of the AU Chairperson, Representative of the PRC, Director of the AUC Information and Communication, Press Attaches and Communication Experts at Embassies of AU Member States, Distinguish Colleagues, and Ladies and Gentlemen.
 I would like to congratulate the astute leadership of the AU, especially the Directorate of Information and Communication on introducing this new initiative. I am truly impressed by your good leadership qualities shown so far, and the initiative of the Directorate of Information and Communication for organising this workshop on engaging Press Attaches and Focal Persons in Communication at Embassies of our Union Member States. I am equally gratified for the invitation extended to my humble-self to address this august body on our efforts in educating and informing our people about the African Union.
INTRODUCTION
Madam Chairperson, about nine months ago I left the classroom as a full time lecturer at the Department of Mass Communication, Fourah Bay College, University of Sierra Leone. My presence and task here today remind me about my job as a lecturer. Not surprising though, once a teacher; always a teacher.
While, I do not intend to convert this presentation into a classroom lecture, I would from time to time make reference to scholarly submissions bordering on the conceptual issues relating to the topic in question. I would also like to make this presentation an interactive session; where all of us will share knowledge and learn from each other.
First, I will examine the focus of this presentation- "Involvement of Press Attachés to the Implementation and Popularization of the African Union Agenda 2063."
The theme suggests that Press Attachés and Communication Persons in Embassies should be involved in implementing and popularizing the African Union Agenda 2063. To make such a suggestion means that a special role has been assigned to Press Attachés and Communication Persons in our Embassies.
PRESS ATTACHÉS AND COMMUNICATION EXPERTS
Madam Chairperson, within our world of diplomacy, an attaché is a person who is assigned ('attached') to the diplomatic or administrative staff of a higher placed person or another service or agency. In other words, an attaché is normally an official, under the authority of an Ambassador or other head of a diplomatic mission, who serves either as a diplomatic or as a member of the support staff.
When the word press is put in front of attaché, to make it become press attaché, it clearly points to the fact that the attaché in question performs the functions of a press officer. In other words, the assigned tasks are nothing but those related to media and communication. In traditional terms, journalism becomes the headword.
Invariably, because the work of attaché is to monitor various issues related to areas of intervention within the embassy or diplomatic office in question, the work of the press attaché resonates with that of information collection and dissemination.
To this end, press attaché may undertake the planning for decisions which will be taken and make all necessary arrangements, manage the agenda, conduct research for the study of particular matters, and act as representative when necessary.
Thus, our Press Attachés and Communication Persons have been called today to be fully involved in the business of implementing and popularizing the ''African Union Agenda 2063."
To perform the above assigned tasks would demand a number of things to be done efficiently and effectively. Principal among them is an understanding of the very African Union Agenda 2063. The task becomes a bit simple because literature abounds on the subject matter-including documentations on the work of the African Union.
AFRICAN UNION AGENDA 2063
 I have taken off some leaves from the literatures of the African Union. My first interest was on the very Agenda 2063. What is it? Why is it necessary and what it will be bringing, among others?
The literatures tell us that ''Agenda 2063'' is both a Vision and an Action Plan. It is a call for action to all segments of African society to work together to build a prosperous and united Africa based on shared values and a common destiny.
In their 50th Anniversary Solemn Declaration, the Heads of State and Governments of the African Union (AU), while acknowledging past successes and challenges, rededicated themselves to the continent's accelerated development and technological progress.
They laid down vision and eight ideals to serve as pillars for the continent in the foreseeable future, which Agenda 2063 will translate into concrete objectives, milestones, goals, targets and actions/measures.
Agenda 2063 strives to enable Africa remain focused and committed to the ideals envisaged in the context of a rapidly changing world.
On the rationale for such an Agenda, we are told that "The choice of a 50 year time must be understood within the context of the 50th Anniversary of the establishment of the OAU; and the need for the continent to take stock of achievements, successes/ failures and map out a long-term vision as well as set goals and targets."
In operational terms, the Agenda 2063 would be a rolling plan of 25 years, 10 years, 5 years and short term action plans. According to documents reviewed, this new effort to envision Africa's long-term development trajectory is timely for several compelling factors:
a)      Changing Global Context. Globalization and the information technology revolution have provided unprecedented opportunities for countries and regions with the right policies to make significant advances and lift huge sections of populations out of poverty, improve incomes and catalyze economic and social transformations. In addition, most African economies now have in place sound macro-economic and market-oriented economies which have spurred growth, trade and investment expansion.
b)     Building on the NEPAD experience. National, regional and global efforts made to implement NEPAD, unseen during the LPA and AT, have enabled AU to build institutions (e.g., APRM, etc.), demonstrate unprecedented commitment to implement agreed agenda, generate valuable lessons that present strong foundation for Agenda 2063. Indeed, Agenda 2063 is a logical and natural continuation of NEPAD and other initiatives.
c)      A more united and strong Africa. Africa today is more united a global power to reckon with, capable of rallying support around a common agenda and speaking with one voice with demonstrated strong capacity to negotiate and withstand the influence of forces that would like to see it divided.
d)     Strong and well functioning regional institutions. Africa's sub regional institutions have been rationalized and the eight officially AU recognized Regional Economic Communities (CEN-SAD, COMESA, EAC, ECCAS, ECOWAS, IGAD, SADC and UMA) are today strong development and political institutions that citizens' can count on and Agenda 2063 can stand on.
e)      New development and investment opportunities. Africa today is faced with a confluence of factors that present a great opportunity for consolidation and rapid progress. These include:
Unprecedented positive and sustained growth trajectory of many African countries resulting from sound macro-economic policies and strategies bolstered by high commodity prices
Significant reduction of armed conflicts, improved peace and stability, coupled with advances in democratic governance.
A fast rising broad based African entrepreneurial and middle class, coupled with the youth bulge, which can act as catalyst for further growth and technological progress.
Changes in the international finance architecture, the rise of the BRICS and improved flows of FDI to Africa beyond commodity producing sectors.
The above factors, documents point out, constitute a unique opportunity for Africa to capitalize upon. Agenda 2063 while seizing these opportunities, underlines the fact that success depends on unity of purpose; transparency; placing citizens' first; sound governance; willingness and capability to assess performance and correct mistakes timely.
Agenda 2063 should be seen as a logical continuation of recent developments with renewed and invigorated efforts to catalyze development and strengthen African integration and unity.
 It aims to build upon the achievements and draw lessons from earlier strategic planning efforts at the regional and sub-regional levels, including the Lagos Plan of Action, the Abuja Treaty and the NEPAD, to address new and emerging issues in the continent over the short, medium and long-term.
Indeed, Agenda 2063's guiding principle is continuity of actions, drawing appropriate lessons, building upon what has worked in the past; and in brief making every effort to do things better.
Thus Agenda 2063 should be seen as a unique opportunity to recreate the African narrative by putting it into perspective to energize the African population and harness citizen's creativity through a set of clear goals that citizens participate in setting for unity, peace and development in the 21st century.
The thrust of Agenda 2063 is a program of social, economic and political rejuvenation that links the past, present and the future in order to create a new generation of Pan Africanists that will harness the lessons learnt and use them as building blocks to consolidate the hope and promises of the founding parents for a true renaissance of Africa.
Agenda 2063 is expected to be a source of inspiration for development of national and regional sustainable development plans.
Through the Solemn Declaration of the Assembly of Heads of State and Government of the African Union at Addis Ababa, on 26th May 2013, Africa's top political leadership committed itself to long term national and continental development and technological transformation through a strategic planning and implementation process.
This is an encouraging starting point that offers a solid entry point to translate political statements and commitments into concrete actions, provide the means to track progress and take timely decisions on corrective measures.
Agenda 2063 envisions several measures at the national level that include: among others, designation of national focal points for Agenda 2063, integrating Agenda 2063 milestones/targets into national planning frameworks, as well as regular progress reports on Agenda 2063 to cabinet retreats and to National Assemblies/ Parliaments.
On the question of what are some of the critical success factors to be factored in the conception, design and implementation of Agenda 2063, I take keen interest in the point that "Agenda 2063 must be seen as a part of the African Renaissance which calls for changes in attitudes, mindsets to inculcate the right set of African values, i.e,, discipline, focus, honesty, integrity, transparency, hard work and love for Africa and its people.
Agenda 2063 provides the opportunity for Africa to break away from the syndrome of "always coming up with new ideas but no significant achievements" and set in motion high levels of productivity, growth, entrepreneurship and transformation." This is where the work of our Press Attachés and Communication Experts comes into play.
THE ROLE OF PRESS ATTACHES IN IMPLEMENTING AND POPULARIZING THE AU AGENDA 2063
I argue that the brilliant ideas suggested above would not be implemented in the absence of the availability of trained and experienced communication professionals, and well coordinated and robust communication strategy detailing among other things specific messages targeting specific audiences with specific results in mind.
The issue of changing attitudes and mindsets requires a thorough understanding of communication processes. For example, the utilization of the Diffusion Theory is apt in this instance. Diffusion theory says that people adopt an idea only after going through the following five discrete steps or stages. The stages are:
a)      Awareness (the individual has to have been exposed to the idea)
b)     Interest (The idea has to arouse the individual)
c)      Evaluation (The individual must consider the idea as potentially useful).
d)     Trial (The individual tries out the idea on others)
e)      Adoption (This represents final acceptance of the idea after having successfully passed through the four earlier stages).
This theory is useful for explaining how we reach important decisions— not acts of impulse." The mass media is important in using this model.
The decisions reached are manifested in the "public opinion''. Public opinion represents a consensus, which emerges over time, from all the expressed views that cluster around an issue in debate, and that this consensus exercises power." An opinion is the expression of an attitude on a particular topic. When attitudes become strong enough, they surface in the form of opinions.
If the Agenda 2063 should succeed, we must first of all expose the great ideas to the people. There can be no better set of people to disseminate the information than you and I the communicators who have been trained to do so. We cannot arouse people's interest on this great African Renaissance which calls for changes in attitudes, mindsets to inculcate the right set of African values, if we do not generate the interest of our great African compatriots.
To achieve our goals, I entreat our Press Attachés and Communication Persons to embark on thematic rather than episodic reporting and coverage of the Agenda 2063.
As Shanto Iyengar puts it "Episodic news parachutes the journalist and the audience into the middle of the already developed situation and puts the focus on the people who are in trouble or in conflict. By contrast, thematic news looks beyond the immediate human drama to explore the origins of the problem and the larger social, economic, or political contexts in which the immediate news story has developed." Iyengar's research shows that episodic news leaves people with shallow understanding s of the world around them.
The thematic approach would help in the implementation and popularisation of the African Union Agenda 2063. This is the approach that would enable our Press Attachés and Communication Persons to develop and come up with news and features stories without necessarily waiting for events to be convened by the African Union, Embassies or other similar organisations.
The danger in going episodic would mean that news articles would only surface when staged events take place.
CONCLUSION
In conclusion Madam Chairperson, let me humbly state that I have attempted to suggest ways in which Press Attachés and Communication Persons can contribute to the implementation and popularisation of the African Union Agenda 2063.
A discourse like this clearly exemplifies the fact that Communication Attachés could be effective conveyors of socio-political, economic and even cultural issues as they relate to the African Union
Why is this critical?  Because, like salesmen, they make saleable the ideals of the Union well beyond its border because of the tools they have at their disposal and the reverence that is given to anything that they disseminate back to their respective countries.
While Ambassadors and other Diplomatic Luminaries may be busy providing a roadmap for the vision of the Union, they in turn use their professionalism to articulate these owing to the fact that, like every good Public Relations or Communication expert, the tools of developing a communication strategy where platform like social media – i.e. the use of Embassy's websites, facebook page and twitter accounts also come in very handy.
We should also not forget the traditional use of Press Releases and other media events to convey critical issues affecting the Union far and wide.
Like the lines of a song by John Holt which says "no man is an island, no one stands alone," the role of Press Attaches could not be over emphasised. Take for example, while in heaven, God may not need the expertise of lawyers, doctors and other professionals. It is very critical that from time to time, information is communicated between us (communication specialists) who will be in Heaven and his angels for eventual dissemination to the Saints.
 The point is, media men (a class where our Press and Communication Attaches fall) will constantly be busy.
In essence , while God still has  use for them in Heaven; it goes without saying that we should also capitalise on their presence to keep information flowing
I must also end by stating that this is not a prescription to a problem, but rather an indicator as to how Africans can contribute to actualizing the beautiful dreams of our great continent.
Once more, let me congratulate the organizers of this forum, as I say thank you very much to my distinguish audience for your attention.