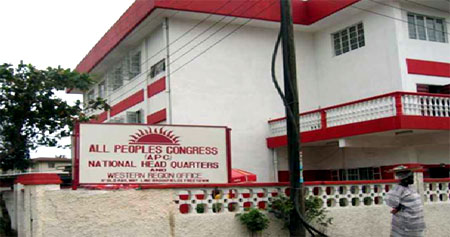 The ruling All People's Congress ( APC ) of Sierra Leone is spreading all over the world. Another powerful branch has just been opened in Sweden and the grand launching ceremony is slated for Saturday August 9, 2014.
The new branch has also invited Sierra Leone's Minister Plenipotentiary to the United Nations and Coordinator of the African Union Committee of 10  on UN Security Council Reform , Rev. Leeroy Wilfred Kabs-Kanu , to the launching program.
COCORIOKO  will provide a full, thorough and authoritative coverage of the ceremony and the goals and aspirations of this latest APC Branch in the diaspora, which is expected to be a tremendous success.
HERE IS THE INVITATION LETTER :

SCANDINAVIA  SWEDEN BRANCH
Rev. Leeroy Wilfred Kabs-Kanu
Minister Plenipotentiary to the Sierra Leone
Permanent Mission to the United Nations in
New York and Coordinator of the Africa Union Committee of 10
Dear Sir,
Invitation to the official launching ceremony of All People's Congress, Scandinavia, Sweden Branch.
We bring you greetings from the entire community of Sierra Leoneans and members of The All People's Congress (A.P.C) Scandinavia, Sweden Branch.
Sir, at a general meeting of enthusiastic and devoted members of The A.P.C in Sweden, held in Gävle on June 29th 2013, it was consensually agreed that we establish a party branch in the Nordic region. Born partly out of the desire to broaden the influence of our party beyond the sovereign territory of our home country, and to strengthen relations with Sweden, the Sweden Branch was formed. Our party and community members in general have over the years been very keen to see our government establish stronger bilateral relations with Sweden for the realization of its agenda for prosperity.
Under the leadership of our able Chairperson Madam Regina A. Cole, our interim executive aim to make a meaningful contribution to the political development of Sierra Leone. Hence, as members of the party and the broader Sierra Leonean community in Sweden, we seek not only to enhance better political communication and awareness in conformity with the values of our party and a free and developing democratic society, rather, we also intend to help create the link in promoting state diplomacy and nation branding. Through this platform, we also hope to promote a culture of equality, the rule of law, a sense of nationhood and to build a bridge across our nation's different ethnic groups.
In light of the above, members of our newly formed Branch and the community of Sierra Leoneans in Scandinavia and Nordic Region would be very much pleased to receive your presence at its launching ceremony which is slated on Saturday 9 August 2014, in Stockholm Sweden between 13:00-00:00
Sir, we firmly believe that your appointment as Minister Plenipotentiary to the Sierra Leone Permanent Mission to the United Nations in New York and Coordinator of the Africa Union Committee of 10 . is a visionary example of our president's ambition to transform the political culture in our home country. Your participation at this launching will not only be a huge moral boost for the occasion, but that it will also reinforce the notion that, A.P.C is a party of the people. While thanking you for your cooperation, we will be very willing to provide full information about the launching program as soon as you respond to this invitation. Looking forward to hearing from you soonest.
Yours Faithfully,                                                                                             Chairlady
Ahmed Timbo.                                                                                                Regina A. Cole
Office of the Secretary General
All People's Congress, Scandinavian