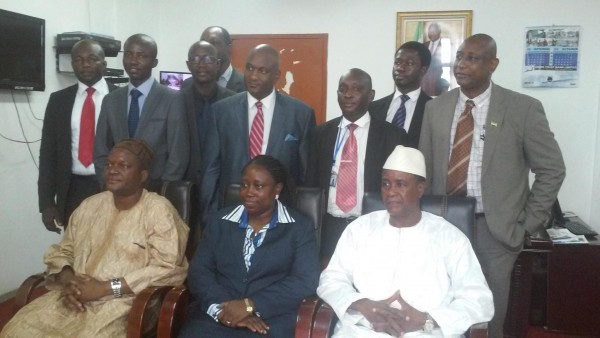 The Minister of Information and Communications hon. Alhaji Alpha B S Kanu has commended staff of the Legal Aid Board for the tremendous work they have been doing in providing legal aid for the less privileged who cannot afford the cost of hiring a lawyer to represent them in a court of law.
The Minister expressed his regards to the Board whilst addressing it staff that paid him a courtesy call at his Youyi Building Office on October 20, 2015. The Minister noted that the President in his wisdom thought it fit to establish the Legal Aid Board in order to provide legal support to the downtrodden who need to be supported with a competent legal team to represent them in a court of law.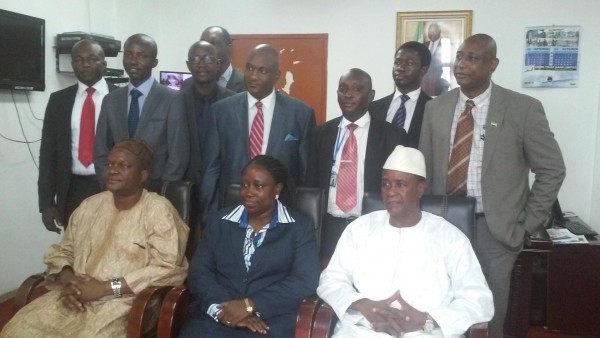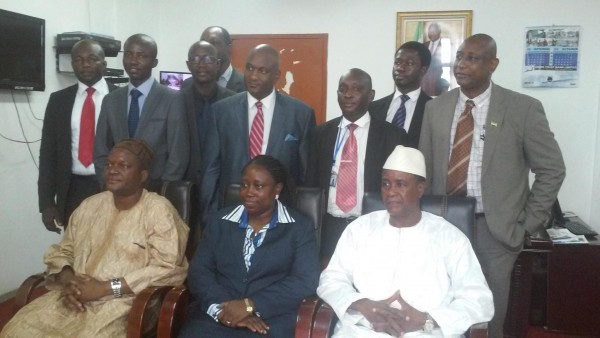 MINISTER ALPHA KANU SEATED FAR RIGHT
He said the establishment of the Legal Aid Board is one of several other institutions created by the President to strengthen the nascent democracy the country is developing. He therefore encouraged staff of the Board to keep the hard work and ensure that they give their best in supporting the less privileged.
The Legal Aid Board boss Claire Carlton Hanciles noted that the Board has been doing so much in ensuring that it provides the required legal aid for persons who do not have the privilege to afford a lawyer to represent them in a court of law.
She said the Board has been working with various stakeholders as they have signed a lot of partnership agreements to help facilitate their work. She further disclosed that the Board has secured the release of forty five (45) inmates recently who had been in detention but do not have the legal aid to represent them for their release.
She however noted that the Correctional Center at Pa Demba Road is crammed with over 1600 inmates whilst it was originally created to accommodate 340 people. She said the overcrowding is as a result of the fact that most of the inmates are being remanded for minor crimes but do not have a lawyer to represent them in order to secure their release. She further disclosed that the Board intends to send representatives across the country in all the 49 Chiefdoms to help expedite justice.
The Paramount Chief of Marampa Chiefdom, PC Bai Koblo-gueen applauded the board and encouraged them to take their work very seriously noting that the most vulnerable people are the ones in the provinces.