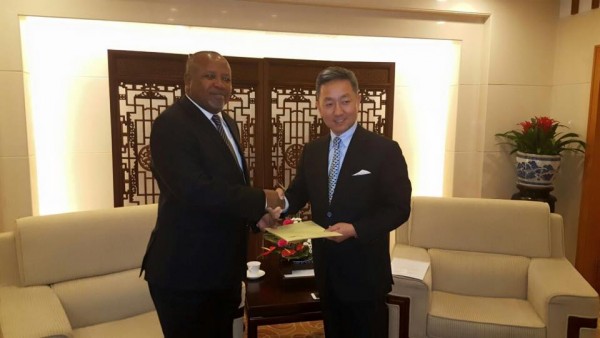 Sierra Leone's Ambassador designate to the People's Republic of China, Hon. Alimamy Philip Koroma will on May 17th, 2016, at the Great Wall of the People, meet with the President of the People's Republic of China, Xi Jinping to present his original Letters of Credence and those of Recall of his predecessor.
This was made known on 12th May, when Ambassador Koroma had gone to present copies of the said letters to the Deputy Director-General, Protocol Department, Chinese Ministry of Foreign Affairs, ZHANG Yiming.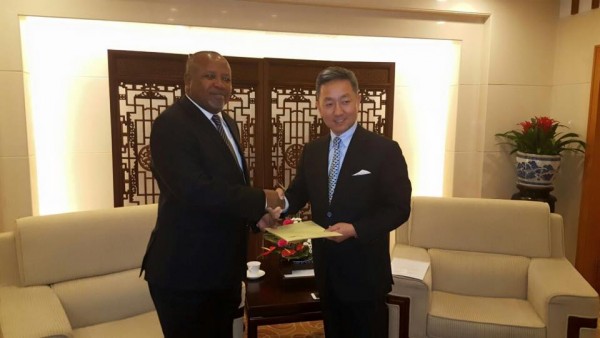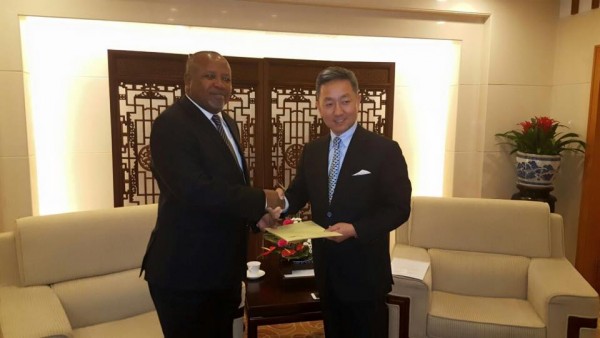 Ambassador Koroma thanked the Chinese Government for standing by Sierra Leone during the ebola period, referencing how years of diplomatic and people-to-people ties have continued to grow.
He paid glowing tribute to then President Siaka Stevens who had chosen to support China in the 70s, a decision, he said, continues to pay dividend in lifting the bars of cooperation ties between the two Republics, assuring the friendship between the two nations will continue to be cherished and valued.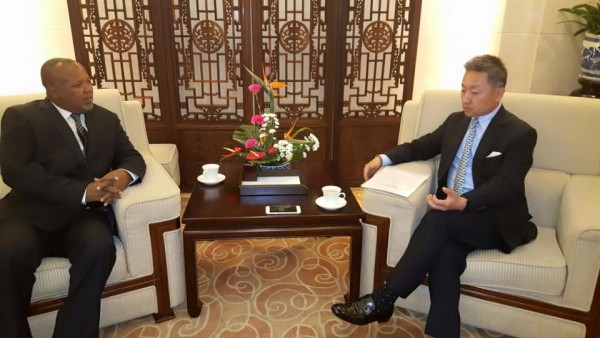 He was grateful to the Chinese Government, he said, for speedily approving his nomination and by "providence and coincidence, within a week", he would be able to present his credentials to President Xi Jinping.
Sierra Leone, Ambassador Koroma said, is a small country "but with big challenges" though the country has come a long way. "We are grateful for the role of China in the fight against ebola. Ebola is over, but problems left are still on. We continue to appeal to your government to continue to stand by us", Ambassador Koroma said.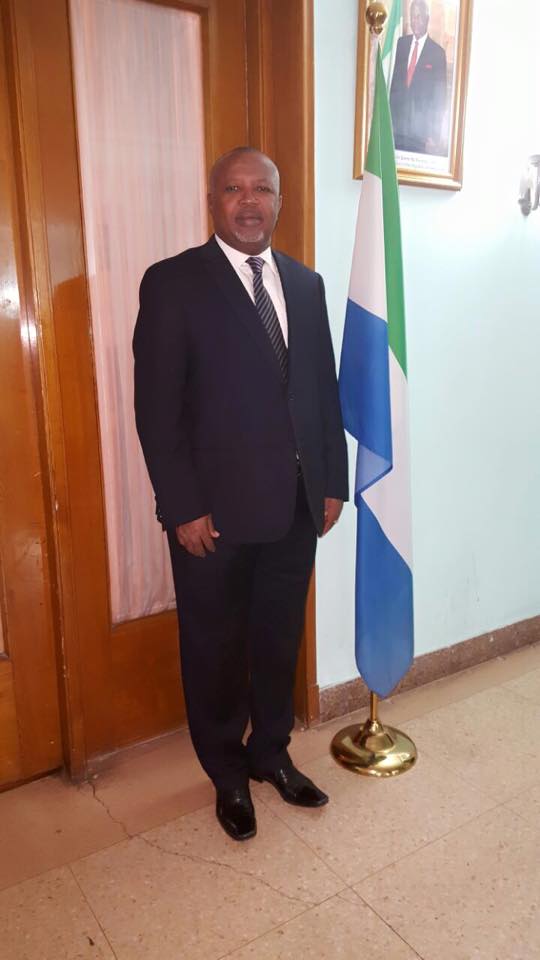 With the pending presentation of his Original Letters of Credence and Recall of his predecessor, he said, he was literally hitting the ground running, with no time to waste.
He appreciated suggestion by the Deputy Director-General that when he is settled, he should travel to the provinces, visit Local Government establishments and establish contacts with them.
Responding, ZHANG Yiming congratulated Ambassador Koroma on his appointment.
As a country, he said, China attaches great importance to his nomination as Ambassador given that his predecessor now serves as Sierra Leone's Vice President and was optimistic, Ambassador Koroma will further play a constructive role in enhancing cooperation between China and Sierra Leone.
Sierra Leone, ZHANG Yiming said is an important country and one with which China enjoys strong and excellent bilateral relationship with since 1971.
"We are grateful to your country for supporting China on many occasions" he said, further recalling the role it played in facilitating diplomatic ties between China and Liberia.
Because of the strong and unbroken ties with Sierra Leone, he said, China had to render strong support to Sierra Leone in the ebola war. "Our bilateral relationship is in the best period since we established diplomatic ties. Sierra Leone is not a large country but has rightful natural resource and we can do a lot", he said.
What China has been doing in decades since ties with Sierra Leone, ZHANG Yiming said, is a demonstration of true friendship with Sierra Leone and that notwithstanding the size of a country, they see all countries as equal partners.
John Baimba Sesay
Information/Press Attaché
Sierra Leone Embassy
People's Republic of China
+8615010707051