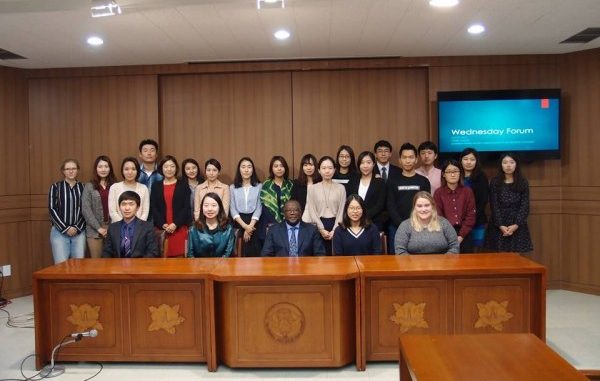 Sierra Leone's Ambassador to the Republic of Korea, His Excellency Ambassador Omrie Michael Golley, on Wednesday 7th October 2015 gave a Lecture to students of the Graduate Institute for Peace at Kyung Hee University, on 'Peace and Development' in Sierra Leone.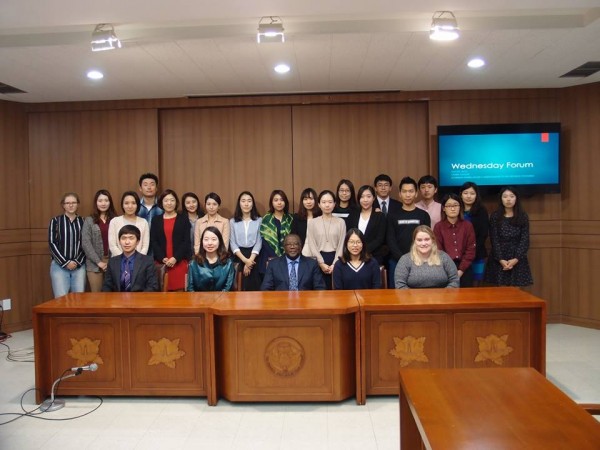 Kyung Hee University is a private research University with campuses in Seoul, Suwon and Gwangneung on the outskirts of Namyangju City in South Korea. Founded in 1949, Kyung Hee University has 24 colleges, 71 Departments and Majors, 65 Masters and 63 Doctoral Programs in Social Sciences, Medicine and applied Science. It's Graduate Institute for Peace conducts most of its Masters and Doctoral Programs in the English language.
His Excellency Ambassador Golley was welcomed by the Rector of Kyung Hee University, Dr. Gibung Kwon and University staff upon his arrival at the University, and went on to give a Lecture of an hour's duration, on Sierra Leone's national development strides from the attainment of peace in 2002 until the present. His talk focused on the progress made in constitutional democratic processes in the country and successes made in governance in the last decade.
At the conclusion of the Lecture, the Ambassador fielded questions from the audience.