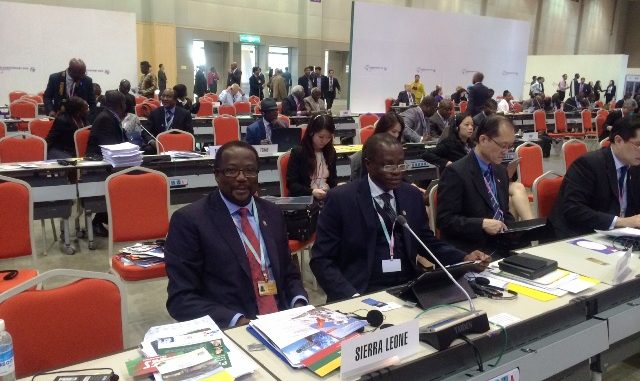 Sierra Leone's Ambassador to South Korea, His Excellency Omrie Michael
Golley is presently attending an International Telecommunications
Union Plenipotentiary Conference in Busan, Korea, representing Sierra
Leone's Minister of Information and Communication, Hon. alpha Kanu.
The conference, also attended by the Minister Plenipotentiary in the
Sierra Leone Embassy in South Korea, James Sawi, saw the election into
offices of various positions of the ITU.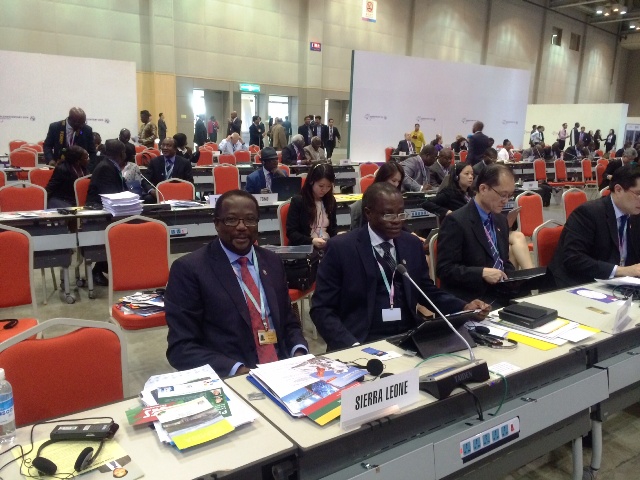 LEFT : AMBASSADOR GOLLEY
The Conference, commencing October 20th and ending on the 7th
November, will see Member States deciding the future role of the
organization, thus determining its ability to influence and affects
the development of information and communication technologies the
world over. Held once every four years, the ITU Plenipotentiary
Conference is the top policy making body of the organization and
attended by member states from across the globe.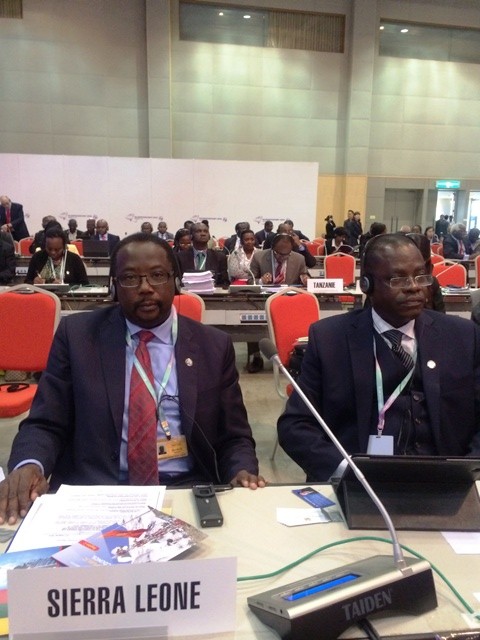 LEFT : AMBASSADOR GOLLEY
Ambassador Golley's statement at the Conference was based on the role
of ICT in the fight against the Ebola Virus Disease in Sierra Leone,
which he said, has become apparent crucial in dealing with the aspect
of communication access and  the general flow of information, given
the hundreds of people who have died as result of the virus.
AMBASSADOR GOLLEY ( RIGHT ) WITH THE OUTGOING ITU SECRETARY GENERAL, MR. MAMADOU TOURE ( IN GOWN )
Ambassador Omrie Golley informed participants at the Conference that
the Government of Sierra Leone views access to information "as a
central strategy in the fight against Ebola" and therefore requested
the support of the ITU in bolstering the flow of information in this
country.  "With your assistance,  deprived and isolated communities
can be enshrined in the ongoing sensitization programs, and we can
simultaneously   Complement the efforts of our Ministry of Education
in its distance learning program via radio broadcast to homes", he
said.
According to Ambassador Golley, the ultimate goal of the Sierra Leone
Government is to break the chain of transmission of the virus. but he,
however acknowledge that such a goal is very challenging to accomplish
especially in a country where people are used to handshakes, hugging
and washing of dead bodies before burial, wish are all means of
transmitting the virus.
His Excellency Omrie Golley also dilated on the socio-economic impact
of the virus in the country, which he said, "is well beyond our
imagination" He also referenced the stigma attached to the virus,
especially for survivors. Sierra Leone, he said will readily accept
whatever support available from the ITU, but which is pertinent to the
fight against the virus. "Your prompt and timely response to our
request could be vital at this crucial period", Ambassador Golley
concluded.
Written by Pa Baimba Sesay
Freetown Sierra Leone