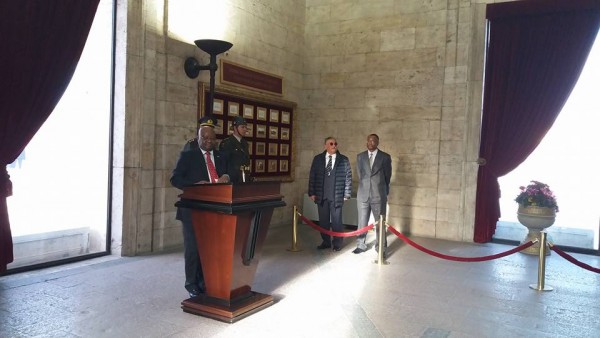 By Alhaji M.B. Jalloh, Press Attaché, Saudi Arabia, the Gulf States and Central Asia reports in Ankara
Sierra Leone's Ambassador to the United Arab Emirates  with accreditation to the Republic of Turkey on Monday, November 21, 2016, laid a wreath at the Anitkabir, the monument where the founding father of the Republic of Turkey, Mustafa Kemal Ataturk is buried.
The wreath laying ceremony precedes a traditional part of the presenting of Letters of Credence for Ambassadors to the President of Turkey, H.E President Recep Tayyib Erdoğan.
H.E Ambassador Siray Alpha Timbo, accompanied by his Acting Head of Chancery, Allieu Badarr Mansaray and Sierra Leone's Honorary Consul General based in Ankara, Sozer Ozel were warmly received by the Divisional Commander at the Atatürk Mausoleum, Captain Burak and a number of senior Government officials.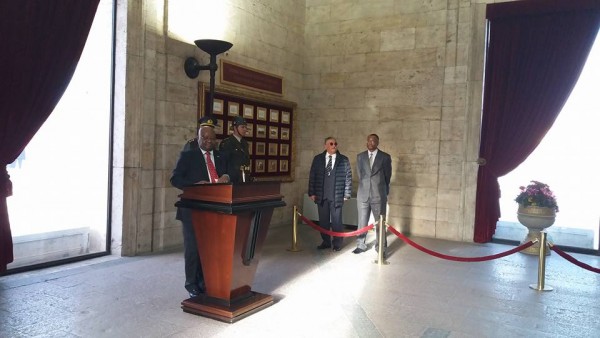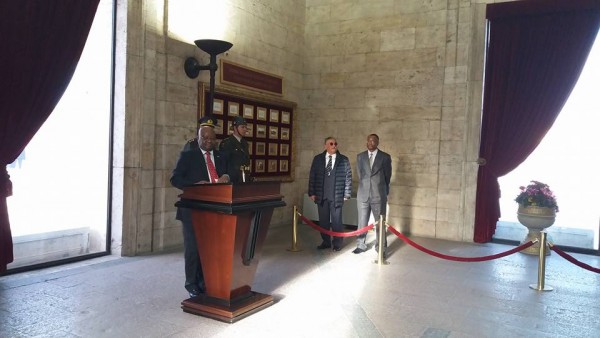 Amb. Timbo signing the book of honour in Turkey
The Ambassador laid the wreath and paid a silent tribute to the late founder of the great Republic of Turkey after joining the captain and his officers on a traditional 10 minutes march through the memorial grounds. The wreath laid by the Envoy was decorated with flowers with the name of his country boldly written on it. After the wreath-laying ceremony, the Ambassador signed the Book of Honour, observed one minute silence and a conducted tour of the Atatürk Museum climaxed the ceremony.
Mustafa Kemal Atatürk, according to Wikipedia, was a great Turkish army officer, revolutionary, and founder of the Republic of Turkey, serving as its first President from 1923 until his death in 1938. His surname, Atatürk (meaning "Father of the Turks"), was granted to him in 1934 and forbidden to any other person by the Turkish parliament.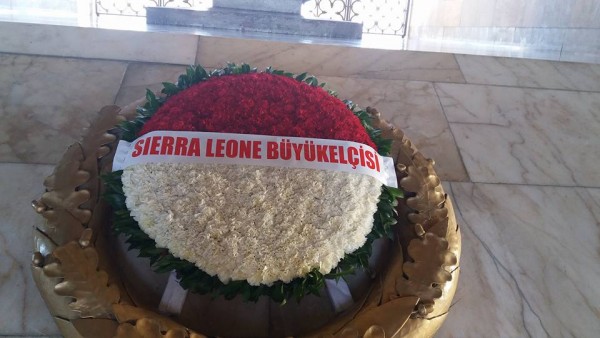 The wreath laid by Amb. Timbo
Atatürk was a career military officer in the Ottoman Empire, rising to the rank of general during World War I. Following the Empire's defeat and subsequent dissolution, he led the Turkish National Movement in the Turkish War of Independence. Having established a provisional government in Ankara, he defeated the forces sent by the Allies, eventually leading to victory in the Turkish War of Independence.
Atatürk then embarked upon a program of political, economic, and cultural reforms, seeking to transform the former Ottoman Empire into a modern and secular nation-state. Under his leadership, thousands of new schools were built, primary education was made free and compulsory, and women were given equal civil and political rights, while the burden of taxation on peasants was reduced.