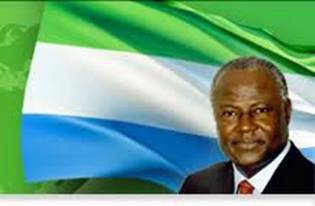 Independence Day Message
By His Excellency the President
Dr. Ernest Bai Koroma
April 27, 2015
Fellow Sierra Leoneans, this time last year we celebrated our Independence anniversary in very high spirits, our economy was moving forward, jobs were being created, incomes were on the rise, school attendance was up, and pregnant women, children and mothers were accessing healthcare in our hospitals more than ever before. There were still challenges, but we were building roads, increasing the pay of teachers, lecturers, security officers and civil servants; and many more Sierra Leoneans were in formal employment in the huge job creating investments in agriculture, mining, infrastructure development and public works. We still had a long way to go, but our country was being hailed the world over for its post conflict achievements and economic growth.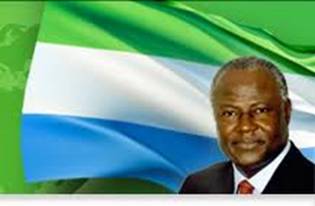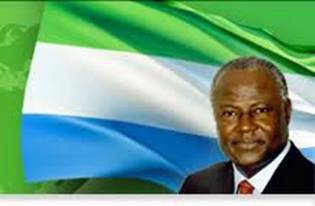 And then, Ebola, the greatest test to the very survival of our nation came unto us. We were not prepared for it; the Mano River countries were not prepared for it; the whole world was not prepared for it. The Ebola outbreak has been very tragic for the nation, thousands of our compatriots died, many economic activities were halted, fear like never before gripped the whole land, and many around the world panicked. Ebola attacked the very way we usually come together as a people to respond to tragedy, illness and death in our families and communities; Ebola is war against our very humanity.
But we are a resilient people. We fought back. With the dedication of heroism of our Ebola response workers, with the strength and expertise of our doctors, nurses and other health workers, and with support from our international friends, we commenced the biggest ever fight back for our humanity and our nation.
We lost many of our people to this fight; many of our doctors, nurses and other health workers fell in the midst of the battle. Today, we cannot celebrate our Independence as we used to because we are a nation that is grieving. In the coming few months, after finally sustaining zero cases for more than 42 days, and we declare our country Ebola free, we will set aside a day of thanksgiving to God for giving us the strength to carry on through; that day will be a day of remembrance for all those who died during this outbreak, and it shall be a day to honor the dedication and services of our national Ebola response workers and our international friends who stood with us in the hours of our greatest need.
But even as we look forward to that day, we must not forget that the fight back against Ebola is still on. Ebola is a very stubborn enemy. We must not be complacent, we must not relent, and we must continue to fight on until no one is infected with Ebola in our country and sub region. Victory can only be declared when we have zero cases for continuous 42 days.
In February the Presidents of Liberia and Guinea and I made a commitment to get to zero cases in April. Early in this very month of our independence, we began registering zero cases across our beloved country; this shows we are very much on our way to defeating Ebola. But we must remain on track, every individual, every family, every community, every district and region must remain on track. It takes only a single individual or family or community to reverse all the gains we have made, it takes only a single individual to prevent this country from being declared Ebola free. This is why every individual is responsible for the fate of this nation; every family is responsible for our collective destiny, for until every individual in every family in every community is declared Ebola free, this country cannot be declared Ebola free. Every body counts, everybody is responsible, this is the message I want every Sierra Leonean, and every friend of Sierra Leone to state over and over again. We now have the workers, the expertise and facilities to deal with Ebola. But that is only half the story of the fight against Ebola. The other half is our individual responsibility to obey the rules set out to fight Ebola.
Government is not in every room where people fall sick, government is not in every place where people lose their loved ones, so government on its own cannot stop people from touching the sick and the dead. Individuals and families must themselves stop themselves from touching the sick and the dead. Government and health workers can tell you what to do, but only you can do it.
Ebola challenged our resilience, and sought to control our destiny, but we must be determined to place our destiny in our hands again. That is why even as we work very hard to get to and maintain zero cases, we are putting in place a Post Ebola Plan, and the implementation of a number of aspects of this plan has started.
Our post Ebola Plan has four clear-cut priorities: health, education, social protection and economic recovery through private sector development and revamping of the agricultural sector. Our plan follows the framework agreed upon by our sister republics in the Mano River Union, and it has attracted great support from our international partners.
Fellow Sierra Leoneans, during the course of this outbreak, we have demonstrated resilience and heroism, victory is in sight because we have collectively adapted our behavior to fighting this disease as individuals, as families, as communities and as a nation. We must sustain these behaviors and habits. Let us continue to call 117 and health workers as soon as we notice Ebola symptoms, let us continue to call Ebola response workers to take care of our sick and safely bury our dead with dignity; let us continue to show adherence to the warning of health authorities. It is only when we sustain these measures that we can ensure that Sierra Leone rise again and continue in her transformative drive.
Long Live Sierra Leone!
God Bless You!