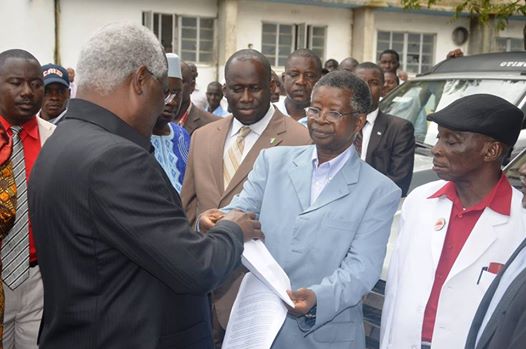 By State House Communications Unit :
A delegation from the ruling All Peoples Congress (APC) National Secretariat led by the Deputy Chairman and Leader, Alhaji Minkailu Mansaray and National Sec…retary General, Ambassador Osman Foday Yansaneh, on Tuesday 26th August handed over keys to four new vehicles to President Ernest Bai Koroma as part of the party's follow up contributions towards government's effort in curbing the spread of Ebola virus disease (EVD) in the country.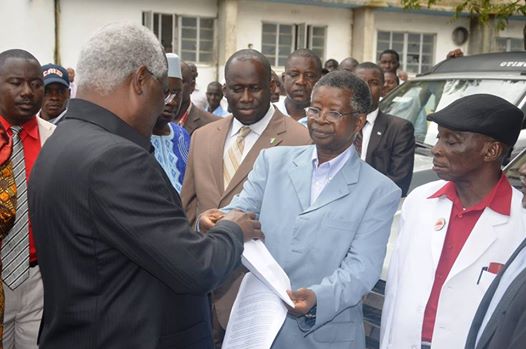 PRESIDENT KOROMA ( LEFT ) AND AMBASSADOR OSMAN YANSANEH
Presenting the keys to President Koroma, Ambassador Yansaneh said that the APC party cannot just sit by looking at the President and government fighting the dreadful disease alone. According to Ambassador Yansaneh, the donation of two Pick-up Vans worth USD$30,000 (Thirty Thousand United States Dollars) each and two Sport Utility Vehicles (SUVs) worth USD$40,000 (Forty Thousand United States Dollars) each, is part of their contribution to the logistical needs of the Ministry of Health and Sanitation to halt the spread of the virus.
President Koroma in response said that in fighting Ebola government has to address at least the treatment of those that are infected at treatment centres, the areas of stopping person to person transmission and within that there has to be contact tracers, social mobilization and surveillance officers, all of which require effective coordination.
He underscored the need for more contact tracers, surveillance officers and people that are engaged in sensitization and burial teams to coordinate an effective approach, adding that all aspect of these activities require to move huge numbers of people from one location to the other. He also reiterated that quarantined homes need to have surveillance officers to ensure that it becomes an effective action.
The President further noted that when somebody is infected there is also the need to trace the people he/she may have been in contact with by ensuring they don't expose themselves to infection or infect other people as well.
He said government has purchased twenty new ambulances from Kuwait and Dubai that are expected to be in by Thursday, but was however quick to note that they would not be enough because "we require at least two or three ambulances per district".
In a related development, Prosperity Women led by the APC Women's Congress President, Elizabeth Mans also made a cheque donation of Le.25 million and a cash donation of Le.5.5 million as their contribution to boost the fight against EVD. She lauded the efforts of government and the personal leadership of President Koroma to contain the outbreak. See More