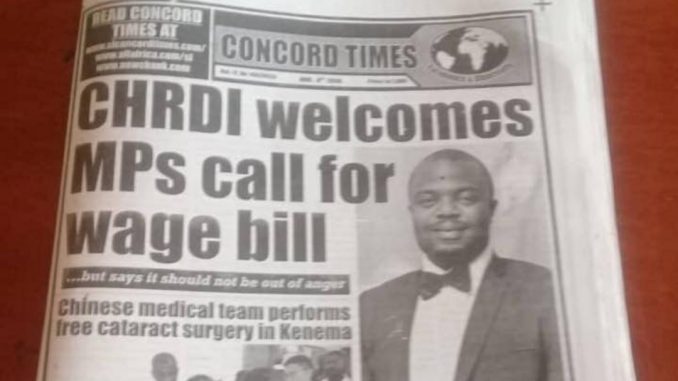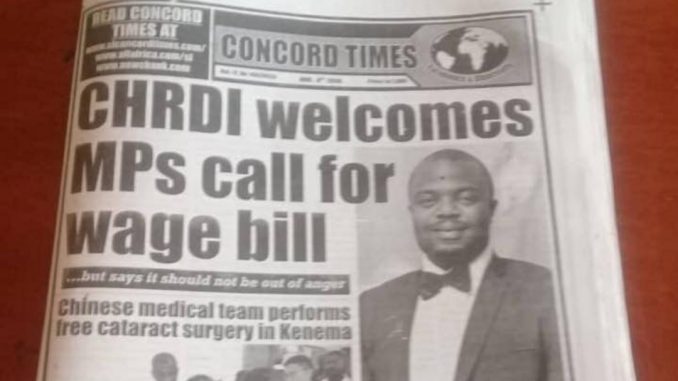 By Ibrahim Tarawallie
The campaign for human rights and development international has welcomed the move by lawmakers to request for the wage bill of government workers across all sectors with a view of reviewing it to ensure harmonization.
The organization's Chief Executive, Abdul M. Fatoma, said the issues and questions that will be raised therein will be of interest to all those interested in how democratic parliament undertake one of their functions.
"We are grateful to the parliament for requesting for the review and further possible consideration of public service providers' salaries across all sectors of government," he said.
Few days after a public outcry regarding their sudden proposal to increase their salary and other benefits, members of the Welfare Committee in parliament requested the wage bill from the Financial Secretary in the ministry of finance for it to be restructured and harmonized in line with the salaries of ministries, department and agencies.
While many view the move as retaliation to a leaked memo from MPs relating to improved conditions of service, which was opposed by the public and civil society organizations, Chairman of the Committee, Hon. Daniel B. Koroma said they want salaries for both public and civil servants be looked into with a view of harmonizing it in the best interest of the public.
However, Mr. Fatoma cautioned lawmakers not to call for salary disclosures out of anger than value for money and in the public interest.
He noted that the move by parliament is what they as an organization have been advocating for committees in parliament with function relating to the audit of public accounts, to engage in some form of 'value for money' scrutiny.
"Parliament has for a long time played a central role in our country's governance system, acting as the forum in which government must explain itself and be held to account," Mr. Fatoma stated.
According to him, parliament should not be a congress of ambassadors from different and hostile interests but rather an assembly of one nation, with one interest, where local prejudices ought not to be a guide but represents the general good.
Nevertheless, we are deeply concerned about the lack of willingness on the part of Parliament to account for donor funds they received on behalf of the people of Sierra Leone and the failure of government to implement the recommendations of the National Audit Service on government officials and civil servants who have failed to account for stolen public funds.