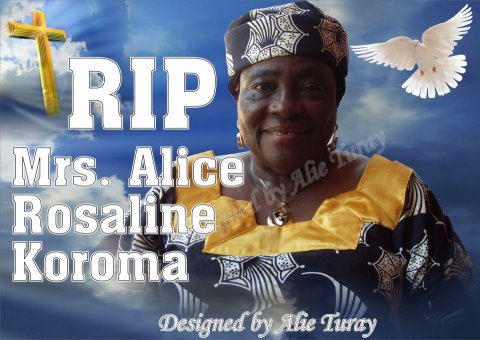 The Minister of Information and Communications, Alhaji Ibrahim Ben Kargbo,  has provided  some official details of the funeral arrangements for the First Mother of the Nation, Mrs. Alice Florence Koroma, the mother of President Ernest Bai Koroma . Mrs. Koroma passed away early last Friday morning in Makeni.
The Information Minister told Cocorioko that on Thursday June 12, 2012, the  body will laid in state in Freetown. It will be a civic ceremony  in recognition of Madam Koroma's role as a community activist and a  former teacher who served the nation faithfully as an educator. The civil ceremony will be followed by a huge vigil in Makeni before the funeral on Sunday July 15, 2012 . The whole country will assemble in Makeni to take part in this vigil and the funeral at the American Weslyan Church at Rogbane Road, Makeni. According to Minister Kargbo, President Koroma's family is  fully involved in organizing the funeral.
MEANWHILE, President Koroma has set up a funeral committee to organize and oversee the funeral of  his late mother, Mrs. Alice Florence Koroma .The Committee is chaired by the Vice-President, Alhaji Samuel Sam-Sumana and co-chaired by the Minister of Information and Communications, Alhaji I.B. Kargbo .
ALSO, the Minister of Political Affairs, Hon. Alpha S. Kanu , has extended thanks and appreciation to the opposition  Sierra Leone People's Party ( SLPP )  for what he described as their show of responsibility and magnanimity . The Minister commended the SLPP  for their obituary to the Koroma family  and fine sentiments expressed  about the late Madam Koroma in their newspapers and listserve .
The Minister of Information, Hon. I. B. Kargbo , will provide more details about the funeral tomorrow.