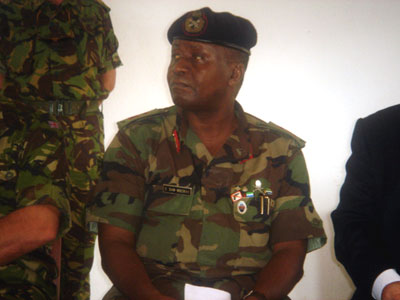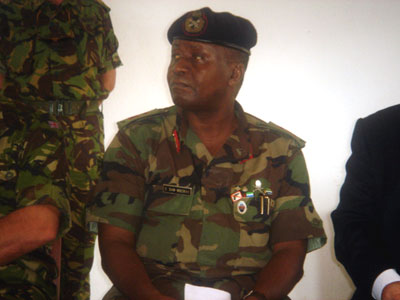 GEN. SAM MBOMA
Top executive member of the Concerned Citizens for the Restoration of Democracy in Sierra Leone ( New Jersey Branch ), Morgage Banker Mr. Foday Mansaray yesterday welcomed and praised the stand taken by the Chief of Defence Staff of the Sierra Leone Army, Major General Sam M'Boma on the  recent threat made against one of the country's political parties by former junta leader Maada Bio.
It must be recalled that two weeks ago Maada Bio told a Radio Talk Show in Freetown that he did not regret helping to overthrow the APC  government and that if the APC won the forthcoming General Elections and did the same things that caused the coup, he would overthrow them again. Since Maada's statement, there has been a flurry of articles in newspapers condemning or supporting the former Army strongman.
Talking to COCORIOKO, Mr. Mansaray first of all said that he did not mind the attacks he had been getting from supporters of Bio since he and some Concerned Citizens members in New Jersey condemned Bio for his statement and called for his arrest and trial for Treason. Mr.Mansaray said that people were entitled to their opinions.
He told this newspaper that he was however not taking the statements made by Maada lightly because Maada's threats were not only directedat a political party but at the survival of the nation. He recalled how he and many patriots braved the adverse weather in 1997-1998  to hold meetings and rallies to procure international support for reversing the Johnny Paul Koroma coup and restoring President Ahmad Tejan Kabbah after his overthrow by the RUF/AFRC. He said that a military coup will not only reverse the gains of multi-party democracy but  will destroy the economy and cause more suffering in the country.
Mr. Mansaray stated that Bio's statement should not be underestimated because he had the capacity to carry out his threats, i.e. overthrow any government in Sierra Leone. He renewed his call for Bio to be arrested and tried for Treason. Mr. Mansaray also called on President Kabbah to address the concerns of the Concerned Citizens because they affected the fate of the country.
On Friday, the Army Chief of Defence Staff , General M'Boma expressed disappointment with Bio's utterance and described it as unfortunate. He too warned that Bio's statement should not be regarded as a joke or a slip of the tongue because it ammounted to a security threat.