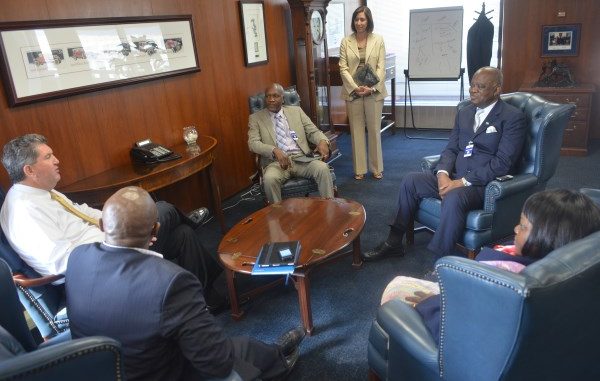 By  Pasco Temple  and Kabs Kanu:
Sierra Leone's Deputy Information and Communications Minister and Co- Government Spokesman Hon. Theo Nicol has appreciated the United States Postal Services (USPS) for its assistance towards the resuscitating of the beleaguered Sierra Leone Postal Services (SALPOST) and its subsequent expansion of operations from its original nomenclature of posting letters- to that of an International Telecommunications resource center.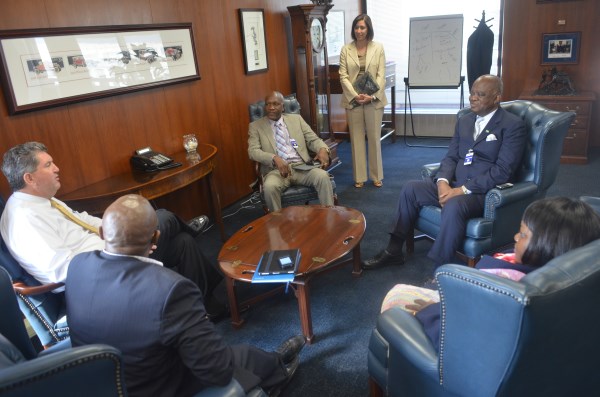 Speaking at a meeting between SALPOST's Consultant Managing Director Mr. Samuel Koroma, Deputy Ambassador I. S. Conteh, Head of Chancery Mrs. Isatu Sillah, Information attaché Pasco Gerald Temple and the management team of USPS including Postmaster General of the United States of America Patrick R. Donahoe, Hon. Theo Nicol said "SALPOST has started making progress.
"The Government of President Ernest Bai Koroma has provided funds that has paid almost ninety five percent(95%) of inherited debt from past government – including backlog salaries, wages, benefits and bills owed by SALPOST, and the institution is going through reforms.
He said the institution also has money- provided by the government to enable it invest to prevent any form of bankruptcy. Hence the transformation of SALPOST.
"We have identified twenty two (22) out of two hundred and forty two (242) post offices for conversion into business centers where letters can be typed, documents processed, data can be processed, and binding and photocopying can take place and also access internet facility."
In particular the Hon. Minister thanked the United States Postmaster General for the "trust and respect you (USPS) have for Sierra Leone's Consultant Managing Director Mr. Samuel Koroma, and the reasonable quantum of expensive equipment and logistics USPS donated – that will not only capacitate different sections of SALPOST, but will also help rebrand the image of the Country.
"Some of the equipment and logistics will make SALPOST meet some international criteria regarding overseas shipment of mails – as stated by Universal Postal Union – and when installed, some mails and parcels coming from Sierra Leone will no longer be rejected by some major Airlines."
Reacting, the USPS postmaster General welcomed the Sierra Leone delegation and thanked them for making it to his office. He gave a brief background of the USPS and said it was founded on July 26 1775, with its first Post Master General as Benjamin Franklin.
According to International Postal Affairs Specialist Global Business – USPS Barry W. Clatt, the logistics include 20 Desktop Computers, 20 Laptop Computers, Printers (table type), Printers (floor type) mass production, Copying Machines, X-Ray Machine, Handheld BC Scanners, Label Printers (IPS light), Cancelling Machines, Fist Stamp, engraved, Round daters, Hammer Stamp, Roller Stamp, Plastic bag sealing Machine, Letter Sorting Cabinets and Hampers/Trolleys.
USPS executive Director international Postal Affairs Lea Emerson recalled the past twelve years, when Mr. Samuel Koroma worked for USPS and described him as "a very capable officer who "we will always support where we can – hoping that he will turn around things."
Several other senior personnel of USPS including managing Director Global Business and Vice President USPS Giselle Valera spoke highly of Mr. Koroma and assured him of continuous support.
She said the Forty feet (40') load container is expected to leave the shores of the United States of America for Sierra Leone anytime from September 15th 2013.
According to Mr. Samuel Koroma, one of the scanners will be deployed at Lungi international Airport while the other will be at SALPOST headquarters on Gloucester/Siaka Stevens Street in Freetown.
He said the X ray Machine, scanners, Close Circuit Television (CCTV) Cameras will further strengthen security and equip SALPOST to any modern post office: after which, it stands ready for full operation and competition. "With these equipment and logistics, customers will be in a position to track their luggage, letters and parcels."
The Consultant Managing Director promised his former employer that he will make do with his expertise at the United States Postal Services to not only transform Sierra Leone Postal Services to be productive, but also to be amongst the number of highly rated postal services in the world.
He said the forty feet container will depart by mid of September 2013 and SALPOST is paying the cost of shipment.
In his contribution, Ambassador I.S Conteh thanked the USPS for its support to SALPOST and expressed delight at the positive comments made about Mr. Koroma.
In another development, Mr. Samuel Koroma  led the Hon. Minister and delegation to the office of the Post office Inspector General in charge of maintaining integrity and accountability of America's postal Service, its revenue, Investigation and Audit, where he worked for additional three years.
On arrival, the delegation was received by Deputy Assistant Inspector General Darrell Benjamin who not only welcomed the delegation, but also gave a brief history of its formation in 1978 and the subsequent amendment of its act in 1996 which not only gave it independence, but also put it in charge of personnel, preserve sanctity of the mail, determine the efficiency and cost effectiveness of postal programs and operations, prevent and detect fraud. The delegation was also taken to the Inspector General Dave Williams, who utilized two hours updating the delegation about the activities of his office, while expressing his willingness to help SALPOST anytime possible.
Pasco Gerald Temple
Information attaché
Embassy of Sierra Leone
Washington DC
20009 USA
Tel- 2024466958
pasco_temple@outlook.com