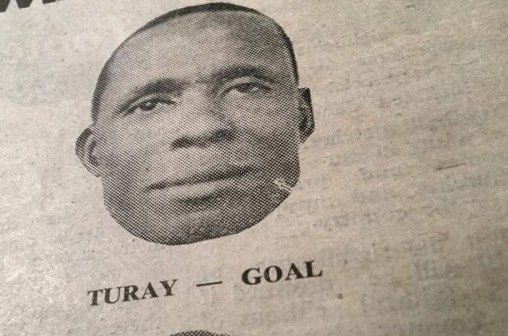 By KABS KANU
While Sierra Leoneans were busy celebrating the Easter and the glorious Leone Stars' 1-0 victory over Gabon, a very sad event had also happened in Maryland, USA.
One of the men who made Sierra Leone football– The iconic goalkeeper who took the mantle from the equally iconic and legendary Goaler Queen and in turn handed the mantle to another heroic phenomenon, Amadu Kargbo–passed away in Maryland last week
MAHMOUD TURAY ,  the great Sierra Leone custodian of the posts , who became famous throughout West Africa for his goalkeeping heroics, went to be with his Maker after a recent illness. He was the captain of the Sierra Leone National Team. He was 82 years old.
He enjoyed a long life ( Thank God )  because Turay played along with other soccer legends like Sylvanus Morris, Edward Akar, Boye Johnson, Ormassa Kamara, Weah Sawyerr, Gbatieh Davies etc, most  of whom had predeceased him. He kept goal for the famous RAILWAY GAMES CLUB, the soccer outfit of the Sierra Leone Railway Department —a great side that were bitter derby rivals of East End Lions before Ports Authority came into the equation in 1966.
The Railway team was extinct by 1966 so M. Turay became Ports' first goalkeeper when they gained promotion to Division 1 that year and he led Ports to become the first team in the history of  the SLFA to become champions during their first year in the First Division.
As was common with the sports icons of those days, Mr. Turay was also an international cricketer , playing for Middleton Cricket Club and Sierra Leone during our glory d1960s when we dominated the game in West in the Africa.
Mr. Turay suffered unspeakable horror when the RUF  rebels entered Freetown in February 1999. His hand was horridly slashed by the rebels and he could be seen  holding his bleeding hand and crying and telling people that he was the former national goalkeeper of Sierra Leone . God saved his life and he moved over to the U.S. in 2002.
A devout muslim and natural leader, Pa Turay became an Imam before his death. Imam of The Sierra Leone Muslim Jamaat formally known as Ebilleh Jamaat.
Date of Birth:09/01/34
Date of Death:03/24/16
Place of birth:Freetown
Previous Occupations: Railway, Ports Authority N.D.M.C and retired from Bank of Sierra Leone
Migrated to U.S.A 2002
Children in U.S  : Mamudu Turay, Haja Tity Kamara(Phili), Zainab Turay-Jalloh,Olaymatou Fallay,  Fatmata Selu and Balu Conteh.
Freetown:Aminata Turay, Rukoh Turay, Alhaji Lamin, Ashim Turay of Senegal ,  Munna Turay
Of Liberia and Abu Lamin of Australia.
Grand children in USA : Alieu Koroma, Alimie Hadiru Koroma, Mohamed Kamara, Anthony Johnson, Memunatu Numu Bangura and many more in Africa.
Occupation: Imam of The Sierra Leone Muslim Jamaat formally known as Ebilleh Jamaat.
May his soul rest in peace.
FUNERAL ARRANGEMENTS FOR THE LATE IMAM ALHAJI MAHMOUD TURAY IS AS FOLLOWS.
FRIDAY APRIL 1ST FULL QURANIC READING AT THE SIERRA LEONE MUSLIM JAMAAT FORMERLY EBILLEH JAMAAT
3307 HUBBARD RD, LANDOVER MD 20785 STARTING AT 6PM.
SUNDAY APRIL 3RD JANAZA PRAYERS AND BURIAL. THE CORPSE WILL BE AT THE MASJID AT 9AM.
INTERMENT AT THE LAUREL CEMETRY -ROUTE 1 AND REPAST AT THE HAMPTON CONFERENCE CENTRE 207 W HAMPTON PLACE CAPITOL HEIGHTS MARYLAND 20743 12:00Pm
________________________
COCORIOKO NEWSPAPER BRINGS YOU VINTAGE OLD PHOTOS OF IMAM TURAY AS NATIONAL GOALKEEPER OF SIERRA LEONE