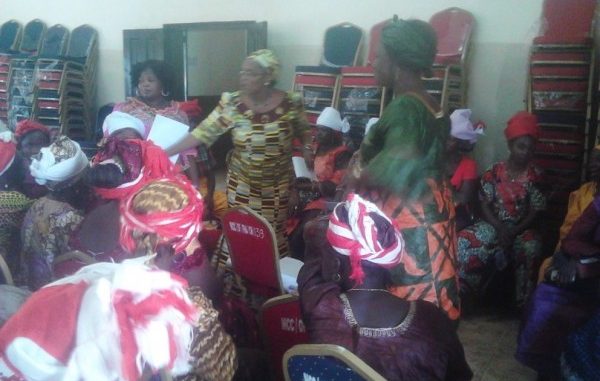 By Abdul R. Bedor Kamara
Forum Against Harmful Practices, with support from the Wallace Global Fund, on Friday 20th November, 2015 concluded a day's consultative conference with 'Soweis' at the Makeni City Council Hall on the theme "The New Beginning, Protect Women and Girls from Female Genital Mutilation."
Paramount Chief Bai Shebora Kasaghna II said that only fools do not change asserting that there is no law preventing the practice of 'Bondo' and 'Sowie' initiation that was suspended due to the Ebola outbreak reiterating that 'Bondo', among other secret societies, are part of our culture but that initiates must attain the age of 18.
Madam Rugiatu Neneh Turay called on 'Sowies' to adhere to the 90 days Ebola prevention and other health precautions to maintain an Ebola-free Sierra Leone noting that the outbreak has prevented 'Soweis' from practicing their source of income and appealed to them to focus on educating their children.
One of the "Soweis" Targaray revealed that if 'Bondo' is banned in the country, they would be unable to educate their children, have a source of income and appealed to Government to provide them with alternative sources of income like skills training for women and girls, formulate bye-laws for 'Bondo' and 'Soweis', discrimination against women and their empowerment.
Targaray further appealed for retired 'Soweis' to receive pension, free quality education for their children and employment opportunities for the young ones.
A total of seven-five participated on the conference five in each district
Other speakers included Madam Yasmin Jusu Sheriff and the Human Rights Commissioner, North.
Presentation of group work and recommendations climaxed the ceremony.