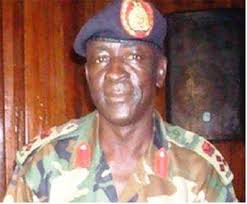 Major-General Robert Yira Koroma, the Former Chief of Defence Staff. Of the Sierra Leone Armed forces of Sierra Leone has died .
He was one of the gallant Soldiers in Sierra Leone.
WE BRING YOU A WRITE-UP ON HIM BY  RETIRED COLONEL BASHIRU CONTEH.
Oh truly my friend and brother, Yirah is gone!
Major General Robert Yirah Koroma was a member of 2nd Trained Regular Officer Cadets from the Egyptian Military Academy. In Cairo, Egypt.
His mates include late Lieutenant General Samuel Omar Williams, late Brigadier General Mohamed Ali Sesay, late Colonel Augustine Claude Kenny, late SAL Momodu, late James Moinama, late Peter Foday, late Sahr Roland Kamanda, late Lieutenant Colonel Soriba Kamara, late Major Henry Karro-Kamara, late Julius Sesay, late Captain Funti Kanu, late Captain Fredrick Thomson, late Captain Samuel Ola Wellington, late Lieutenant Fullah Kay.
Those alive include Brigadier General (rtd) Daniel Yapo Sesay, Brigadier General (rtd) Foday Kassim Kamara, Colonel ( rtd) Sahr Sina, Colonel ( rtd) Falla Sewa , Colonel ( Rtd) Samuel Tunde Davis, Colonel ( rtd) TS Gbanga, Col (Rtd) Hassan Jalloh, Lieutenant Colonel ((Rtd) Kamanda Lahai, Lieutenant Colonel (Rtd) Christopher Desmond Buck, Captain (rtd ) Tamba James Tengeh, Captain ( rtd) Augustine Samai Tarmoh, Captain ( rtd) Sammy Conteh , Captain(Rtd) Thomas B George, Captain ( Rtd) Sam Gborie, Captain ( Rtd) Victor Coker among others.
Myself and Yirah were not course mates.
We met at the Benguma Training Center ( BTC) in 1979 when I was withdrawn from Officer Cadet Training from the Ghana Military Academy ( GMA) with 6 others on late President Stevens' directives when some of our Academy Instructors got involved in the June 4 , 1979 Political Upheaval which brought one of them as the new leader, and Yirah and his mates were taken to BTC for Orientation Training.
After our training, we were posted to 2RSLR , Teko Barracks in Makeni under late Colonel AO Kamara .
Since then we became very close friends and brothers together SO Williams .
Myself and Yirah did so many things together, and appreciated and respected each other . He wanted me to replace him as Commander Joint Force In 2008 . At the 34 Military Hospital, he encouraged me to go along with him to State House to be appointed Joint Force Commander and promoted to the rank of Brigadier General, but I was in acute pain as a result my motor road accident which nearly claimed my life, so I told him I was unable. I saw tears in his eyes, and I assured him I will be fine with time. I have never wept like a small boy after my the death of my beloved mom, but this afternoon I couldn't control my emotion and tears. I have lost a brother and a friend indeed.
Before he became Chief of Defense Staff, Yirah held several command and staff appointments which include Platoon Command, Company Command , Battalion Command during war and peace , Brigade Command in the field , Joint Force Command , Deputy Chief of Defence Staff.
His Staff appointments were Adjutant , Brigade Major, Colonel General Staff among others.
He did Command and General Staff Course In Jaji, War College in Abuja .
He professional qualifications are Diploma in Combat Engineering from US, Psc and fwc . ,He is holder of MSc from University of Ibadan , Oyo State in the Federal Republic of Nigeria.
He was very frank and friendly, but also a fearless and a disciplinarian . He commands love and respect among his personnel , his family members and friends.
He was also a very good trainer of military personnel.
In 1991 when I replaced him as Adjutant and Ops Officer in Monrovia, he was withdrawn from the Monrovia Liberia ECOMOG Operations to train the present Generals –
Lieutenant General Brima Sesay ( CDS) Major General DTO Taluva ( DCDS) , Major General SI Sesay ( Joint Force Commander) , Brigadier General RB Harleston ( ACDS Operations & Plans) Brigadier PK Lavahun ( Military Sec & ACDS Personnel) , Brigadier General Osman Turay ( ACDS Log) Brigadier General Jomo ( Commander 5 Brigade South ) Brigadier General Al-Hassan Bangura among others. He was assisted by another erudite Officer, Col ( Rtd) RD Glover.
I will miss Yirah very much.
My heartfelt condolences to his wife ,Mrs Jebbeh Jane Koroma, and my sincere thanks and appreciation to her for being very supportive and caring for my friend and brother for the past nine challenging years or so. She stood very strong by him. I respect and salute Mrs Koroma.
My sympathy to all the kids, my nephews and nieces and other family members including the personnel of the Republic of Sierra Leone Armed Forces which he was the head ( Chief of Defense Staff) before he got sick in 2011.
May his soul and all other fallen heroes continue to Rest In Peace.
BS Conteh ( SL 300)
Col ( rtd) but not tired
A friend a brother and a Patriot