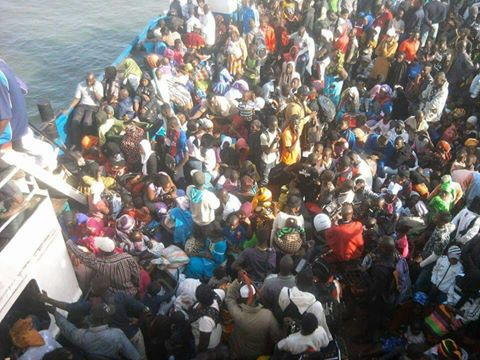 COCORIOKO SPECIAL COVERAGE OF GAMBIA CRISIS FROM VARIOUS SOURCES

Gambia Latest Updates : 18Jan. 2018
Chaos Begins in Banjul!
By Idrissa Conteh :
Thousands of Gambians and foreign nationals mostly tourists have been fleeing the country since this morning ahead of tomorrow's deadline for President Yahya Jammeh to step down and hand over power to Adama Barrow.
The airport of full of passengers mainly tourists being evacuated by their governments through special flights.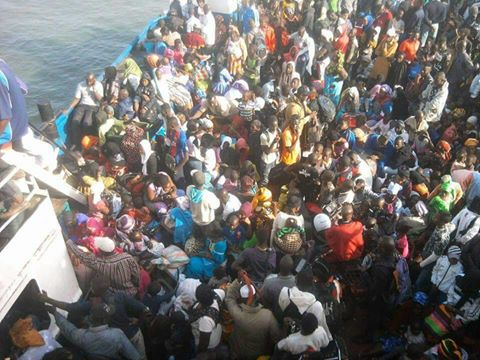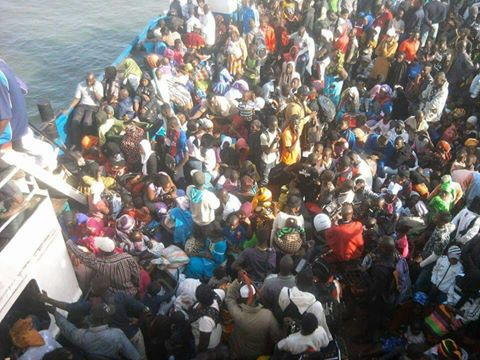 Sierra Leone has over 7000 registered citizens who are on their own as if they have no government or no country of origin.
Meanwhile,ECOWAS says it would use force to oust President Jammeh if he refuses to step down as scheduled for tomorrow.
Fighting now looks imminent and inevitable as the stand off continues to tick with the clock towards January 19.
In the meantime, President elect, Adama Barrow speaking from Senegal has vowed to enter The Gambia tomorrow for his inauguration. Where and how this would happen under the present political climate remains unclear.
Gambia Latest Updates: 18 Jan .2017
Nigerian ECOMOG Ship Arrives in Gambian Waters!!!
Reports coming from Abuja say the much expected Nigerian ECOMOG troops who have been sailing through the Atlantic Ocean from Nigeria have finally arrived in Gambian waters in the early morning hours of Wednesday January 18!
The troops are said to be equipped with Alpha Jets and helicopter gunships.
Analysts say Gambian troops may be destabilised and forced to surrender after a few warning shots from the warship to be to be backed by the Alpha Jets and attack helicopters!
Meanwhile, credible reports just filtering in say President Jammeh has instructed his pilots to fuel the presidential jet and get in ready on the tarmac.
It is not yet clear whether President Jammeh would like to flee the country without hanging over.
The ship, according to reports, is one of the newest bought by the Nigerian government and is said to be equipped with latest GPS systems that wound allow it to fire upon its target with 100% accuracy!
Jammeh has no honourable exit from the current crisis. Fighting will do him harm. Holding on to power will compromise his security! Fleeing will land him in more trouble! What a sad end for a man who has transformed the destiny of his country that attracts tourists and other Western Africans in search of greener pastures!!!!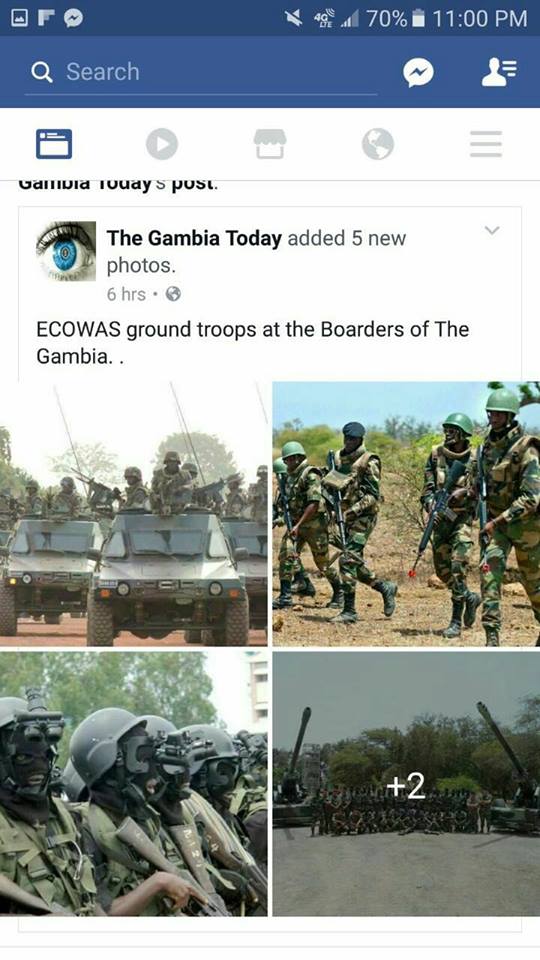 Large numbers of Gambians have fled their homes and soldiers from neighbouring Senegal have begun moving towards the borders amid a deepening political crisis.
Yahya Jammeh, who lost a December 1 presidential vote to opposition leader Adama Barrow, is refusing to step down, despite international condemnation and a threat of a military intervention by West African countries to enforce his election defeat.
The president's mandate expires on Thursday, and Barrow – who is currently in Senegal – has pledged to go ahead with his inauguration on Gambian soil on Thursday though he has not offered any details.
 Banjul International Airport this afternoon. Tourists and Gambian who can afford it are leaving the country. This is what happens when a leader is determined to destroy his country for selfish reasons.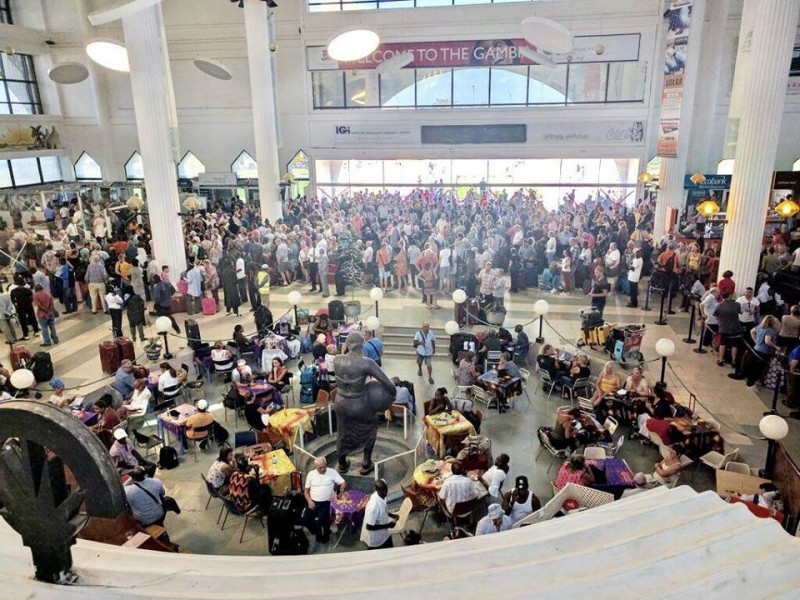 Gambia's Vice President resigns hours before Jammeh's mandate ends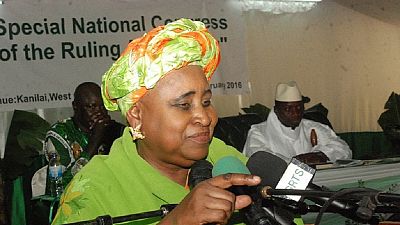 Gambia's Vice President has joined eight cabinet ministers to resign in the face of the political impasse in the country sparked by President Yahya Jammeh's refusal to step down.
Vice President Isatou Njie-Saidy resigned on Wednesday, same day as Minister of Higher Education, Research, Science, Technology & Religious Affairs, Abubacar Senghore, who is the eighth cabinet member to leave the government this month.
#Gambia: Abubacar Senghore, Minister of Higher Education, Research, Science, Technology & Religious Affairs resigns pic.twitter.com/TqW4gjNWsJ

— Alhagie Jobe (@freejobe39) January 18, 2017
Their resignation comes hours before the mandate of Yahya Jammeh and his government comes to an end.
According to Gambian journalist Alhagie Jobe who confirmed the resignation, thousands of tourists and foreign nationals have also flooded the Banjul airport in an effort to return home as the crisis deepens.
#Gambia's airport full of western tourists returning home as country on brink of war amidst political impasse pic.twitter.com/3vYU2ugbkA

— Alhagie Jobe (@freejobe39) January 18, 2017
The United States, United Kingdom and other European countries advised their citizens in the country to leave immediately.
President Yahya Jammeh declared a three-month state of emergency on Tuesday starting from January 17 to April 17, 2017.
He also ordered the security forces, who pledged allegiance to him, to maintain law and order in the country during the period.
The resolution was passed by the country's National Assembly after a motion was tabled by Majority Leader Fabakary Jatta on Tuesday morning. the Assembly also approved a resolution extending its life for 90 days effective from April 11 to July 11, 2017.
President Yahya Jammeh's petitions at the Supreme Court to annul and rerun the December 1 polls, as well as halt the inauguration have not yielded any fruit as a result of the unavailability of judges who only sit in May and November.
ECOWAS has attempted resolving the issue by convincing Jammeh to step down, yet mediation efforts remain inconclusive.
Gambia is completely surrounded by Senegal and the Atlantic Ocean.
Late on Wednesday, witnesses reported seeing Senegalese soldiers in both the Kaolack region of Senegal to the north of Gambia, and in the southern Senegalese region of Casamance.
Colonel Abdou Ndiaye, a spokesman for the Senegal army, told Reuters news agency that Senegalese troops arrived at the Gambian border late on Wednesday.
"We are ready and are awaiting the deadline at midnight. If no political solution is found, we will step in," Ndiaye said.
Al Jazeera's Ahmed Idris, reporting from Nigeria's capital, Abuja, said that according to multiple security sources, a "deployment comprising of air component, the navy as well as ground troops was under way to go to Gambia.
"A ship of the Nigerian navy is off the coast of Ghana on the way to Gambia, and there are also reports that Ghana may also be contributing to the troops' deployment to Gambia, in additional to Senegal.
READ MORE: Exiled Gambians ponder return to troubled homeland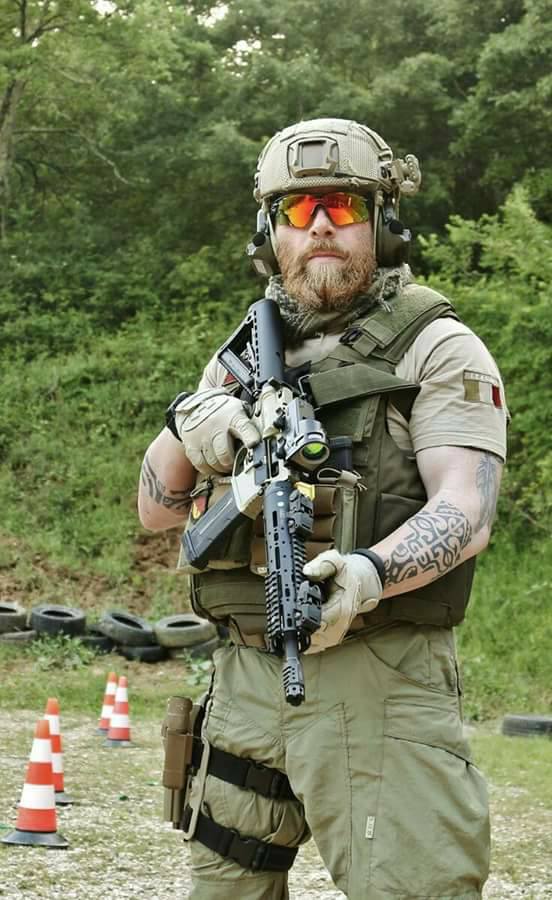 "The next thing is whether or not Jammeh will heed calls by ECOWAS [Economic Community of West African States] and the African Union to stand down or leave office at the expiration of his term."
In a Facebook post, Mai Ahmad Fatty, Barrow's special adviser, advised Gambians to stay indoors.
"Those who resist peaceful change effective 12 midnight tonight shall face definite consequences, to their peril," he wrote.
"Anyone with firearms tonight shall be deemed a rebel, and will certainly become a legitimate target."
As the crisis has deepened, hundreds of tourists have departed from Gambia, a popular winter destination in West Africa for visitors, especially from Britain, the former colonial power.
The streets of the capital, Banjul, were largely empty by late afternoon on Wednesday.
"The town today has been calm, especially downtown has been almost deserted," Katerina Hoije, a Banjul-based journalist, told Al Jazeera.
"Shopkeepers have kept their stores closed while police and military have been patrolling the neighbourhouds in the city centre.
"In other neighbourhoods of the town, further away from the government buildings, life goes on as usual but of course there is an anticipation of what is going to happen on Thursday."
INSIDE STORY: What's causing the unrest in The Gambia?
At least 26,000 people have fled Gambia for Senegal since the start of the crisis fearing unrest, the UN's refugee agency UNHCR said on Wednesday, citing Senegalese government figures.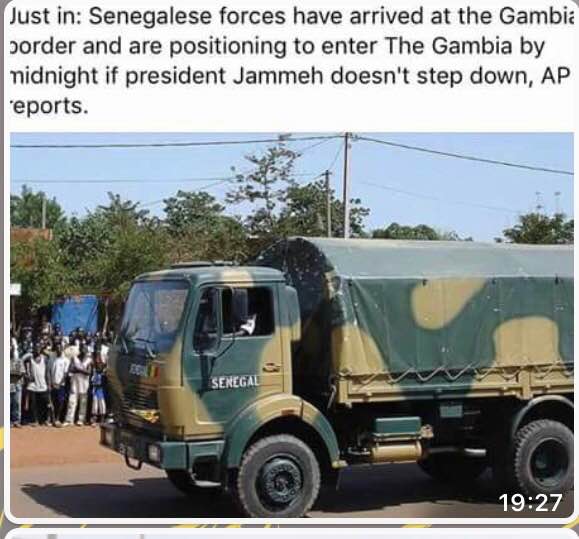 At the sandy Bundung Garage bus station in Banjul, women carrying infants strapped to their backs queued up to get the belongings they had salvaged onto buses bound for the southern border with Senegal.
Men and children sat patiently amid piles of suitcases, rolled up foam mattresses, bags of rice and bottles of cooking oil.
Others fled on pirogues across the river that splits the country down the middle.
Term extended
A former coup leader who has ruled the small West African country since 1994, Jammeh initially conceded defeat but a week later contested the poll's results stating irregularities.
In a sign he is digging in, Gambia's National Assembly passed a resolution  on Wednesday to allow Jammeh to stay in office for three more months from Wednesday.
The decision came a day after Jammeh declared a 90-day state of emergency, alleging "unprecedented and extraordinary amount of foreign interference" in the country's internal affairs.
But Jammeh's allies have deserted in their droves – at least eight ministers have so far resigned of whom four quit in the past 48 hours – and it is unclear how many of his own armed forces will be willing to defend him once his mandate expires.
Gambia is one of Africa's smallest countries and has had just two rulers since independence in 1965.
Source: Al Jazeera and news agencies
___________________________________
Col. Abdoul Ndiaye, spokesman for the #Senegalese army says his troops will strike any moment from midnight tonight if #Gambia President Jammeh does not step down. No reaction yet from Gambian authorities. Umaru Fofanah BBC news reporter.
NIGERIAN GOVERNMENT CONFIRMS DEPLOYMENT OF FIGHTER JETS AND 200 SOLDIERS
The Nigerian government has confirmed that it has deployed fighter jets and at least 200 soldiers to join their Senegalese counterparts for a Gambian mission.
The spokesperson of the Nigerian Air Force, Ayodele Famuyiwa, confirmed the deployment in a statement sent to the media.
"The Nigerian Air Force (NAF) has deployed to Senegal as part of Nigerian contingent of Economic Community of West African States Military Intervention in Gambia (ECOMIG) – a standby force tasked by ECOWAS Heads of State to enforce the December 1, 2016 election mandate in the The Gambia," Mr. Famuyiwa, a Group Captain, said.
"The NAF today moved a contingent of 200 men and air assets comprising fighter jets, transport aircraft, Light Utility Helicopter as well as Intelligence, Surveillance and Reconnaissance aircraft to Dakar from where it is expected to operate into Gambia."
ECOWAS had indicated its intention to forcefully remove President Yahya Jammeh from office should he decide to remain in power beyond Thursday, January 19, the date he is constitutionally expected to handover to President-elect Adama Barrow.
Mr. Jammeh has remained defiant, saying he would not leave office until the Supreme Court hears his petition challenging Mr. Barrow's widely acclaimed victory.
The Supreme Court has said it cannot hear the matter as it does not have the 5 judges required to form a quorum
Any ECOWAS military mission is expected to be led by Senegal, Gambia's immediate neighbour, and the country to which the Nigerian troops arrived.
Senegal moves troops near Gambia as Jammeh remains defiant
The Nigerian Air Force (NAF) has deployed to Senegal as part of Nigerian contingent of Economic Community of West African States Military Intervention in Gambia (ECOMIG) – a standby force tasked by ECOWAS Heads of State to enforce the December 1, 2016 election mandate in the The Gambia.
The NAF today moved a contingent of 200 men and air assets comprising fighter jets, transport aircraft, Light Utility Helicopter as well as Intelligence, Surveillance and Reconnaissance aircraft to Dakar from where it is expected to operate into Gambia. The deployment is also to forestall hostilities or breakdown of law and order that may result from the current political impasse in The Gambia.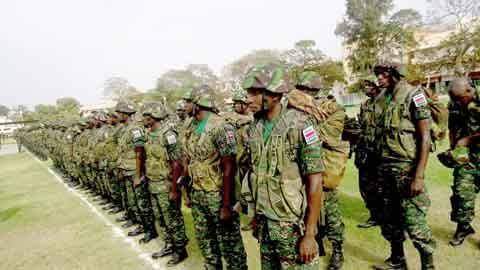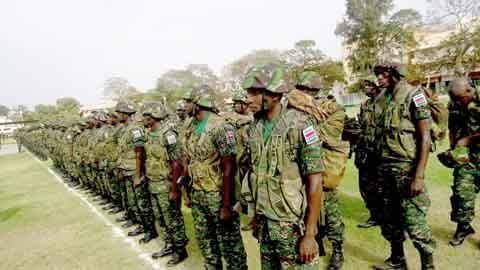 Addressing the contingent before departure, the Chief of the Air Staff, Air Marshal Sadique Baba Abubakar urged the troops to maintain discipline and be professional in their conduct. Reminding them to be good ambassadors of Nigeria, the CAS stated that no act of indiscipline by the contingent would be tolerated. The contingent, led by Air Cdre Tajudeen Yusuf, was airlifted this morning from 117 Air Combat Training Group Kainji. Other troop contributing countries include Senegal, Ghana and countries within the sub-region.
You are please requested to disseminate the information through your medium for the awareness of the general public. Thank you for your usual support and cooperation.  PREMIUM NEWS OF NIGERIA
U.S  GOVERNMENT WARNS DICTATOR TO STEP DOWN
The US government Tuesday called on President Yahya Jammeh to step aside peacefully to prevent "potential chaos" in the small West African nation.
Mr Jammeh's mandate ends at midnight but is refusing to handover power to opposition candidate Adama Barrow, who was declared winner of last month's election. And as the standoff deepens, he has declared a state of emergency in the country due to what he called unprecedented foreign interference in the country's internal affairs.
But John Kirby, US State Department spokesman  said Mr  President Jammeh is losing opportunities to respect the will of the Gambian people and to peacefully hand over power to the president-elect, which is supposed to happen on Thursday.
"Doing so would allow him to leave office with his head held high and to protect the Gambian people from potential chaos. Failure to do so will put his legacy – and, more importantly, the Gambia – in peril, and we have been clear about this," he said.
"I don't know what interference he's referring to, but we obviously want to see the Gambia succeed and we want to see the president-elect properly installed and to have in place a government which is responsible for and responsive to the needs of the Gambian people."
Mr Jammeh, 51, who has ruled the Gambia for 22 years has rejected the election results  after accusing the country's electoral commission of  it rigging the election in favour of the opposition.
His attempt to overturn the election result at the Supreme Court has been delayed because of a shortage of judges as most of the judges come from neighbouring countries.
The regional group, Ecowas, which tried unsuccessfully to convince Mr Jammeh to handover power peacefully has warned of serious consequences if Mr Barrow's is blocked on Thursday.
And as the deadline nears, Nigeria has deployed its newest warship, the NNS Unity, to the Gambia ahead of a planned military intervention to enforce the outcome of  the election results.