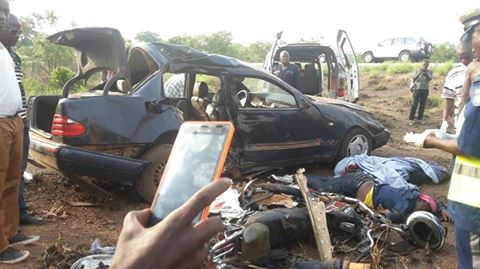 The Paramount Chief Member of Parliament Of Malen Chiefdom,  Pujehun District, Hon. PC Victor Kebbie,  escaped death today in a ghastly accident on the Makeni-Freetown Road. However, three  people unfortunately died as a result of the accident.
Chief kebbie  is currently admitted at Mabeseneh Hospital in  Lunsar after his Mercedes Benz vehicle got involved in a road accident close to Gbomsamba village in the Buya Romende Chiefdom,  Port Loko District.
Three people including a lady and two men died on the spot.
According to eyewitnesses,  Chief Kebbie was traveling  from Makeni to Freetown when one of the tyres of his vehicle fired.
Not being able to control Chief kebbie s vehicle,  his driver is said to have moved to the other end of the road where he  hit a motorbike on which one person was riding with a passenger.
The motorbike rider and his passenger died on the spot.
A lady  said to be sitting at the back of Chief Kebbie 's vehicle was killed when the motorbike went airborne after being hit and crashed into the passenger side of the car.
Meanwhile police officers from Makeni who rushed to the scene were finding it difficult to remove the bodies from the scene of the accident as no ambulances were available,  despite their frantic efforts to secure one.
At the scene of the accident we found property of the deceased persons stolen from them probably by nearby villagers.
The driver of Chief Kbbie's vehicle has gone into hiding.
© Pastor Mohamed Sesay journalist editor of the Comment newspaper