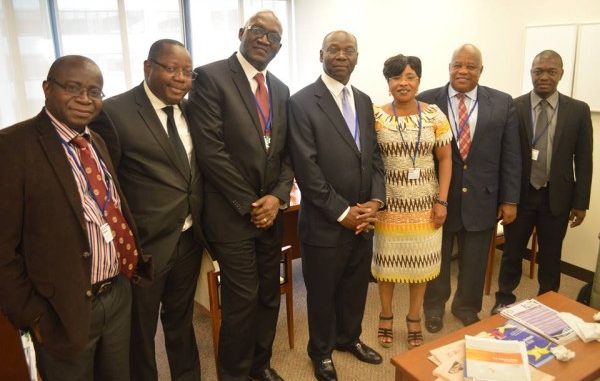 Sierra Leone Government officials including Madam Haja Kallah – Kamara the Commissioner General of Sierra Leone's National Revenue Authority (NRA) charged with the duties of assessing and collection of National revenue have successfully defended the first review of the existing International Monetary Fund (IMF) Program for revenue related quantitative and structural benchmarks at this year's just concluded IMF/World Bank Spring meeting held in Washington DC United States of America.
According to Haja Kallah-Kamara the Commissioner General, "the National Revenue Authority met all revenue collection deadlines set by the IMF/World Bank for the 2013 fiscal year.
"Our 2013 performance record has been received by the IMF and World Bank with satisfaction. "Our focus now is to ensure that we replicate last year's performance for the year 2014."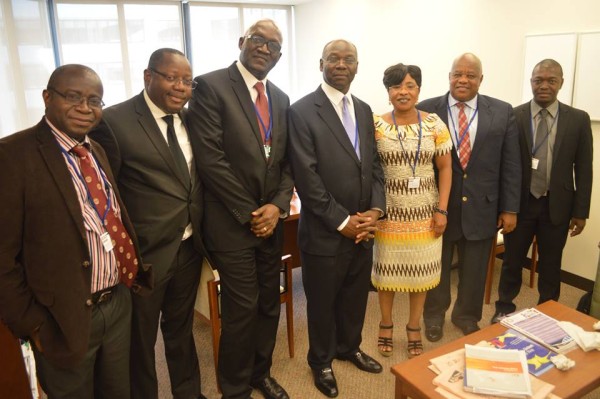 The One week meeting held between the first and second week of April 2014 saw tens of different meetings taking place at different conference rooms and also at the margins of the World Bank meeting.
Every Spring season, the IMF/World Bank organize meetings for their One Hundred and Eighty Eight (188) members including Sierra Leone, to meet and discuss their respective development challenges and further deliberate on solutions to those challenges, with the aim of encouraging policies that promotes economic stability, reduce vulnerability to economic and financial crises and raise living standards.
These meetings help member Countries understand the global economic outlook in terms of growth levels, economic and political challenges and how such challenges could impact on domestic economies.
"With our economy being largely driven by natural resource investment, we are more likely to be affected by the demand for and prices of these resources in the global market.
"These are issues that are normally discussed by World leaders and Lead economists present at these meetings. Said Haja Kallah-Kamara.
She said these meetings also provide room for technical and financial assistance given by the World Bank, IMF and other donor partners to member countries in a bid to "strengthen our capacity, design and implement effective policies."
According to her, technical assistance is offered in several areas, including tax policy and administration, expenditure management, monetary and exchange rate policies, banking and financial system supervision and regulation, legislative frameworks, and statistics.
"We met with several potential donors with the intention of seeking assistance for reforms in revenue administration in tune with our strategic plan, and Indications are positive: hopefully we will follow-up with them to ensure they deliver as promised. Said the Commissioner General.
The NRA forms an integral part of the economic management team in Sierra Leone and usually support the Minister of Finance who heads the Sierra Leone delegation to discuss revenue performance over a specified period and highlight pending strategies for revenue collection.
From these discussions, the donors usually advise, and in most cases provide technical assistance when available to the NRA to support reforms and efficient revenue administration.
In terms of fiscal policy, the NRA collects the revenues that finance a greater part of government expenditures. As such, if revenue mobilization policies are not robust there will be little chance of meeting budgeted revenues.