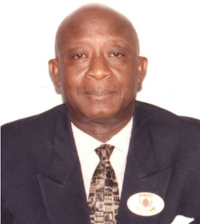 EVENTS IN BO TOWN DURING
THE WEEKEND OF
FRIDAY 18TH NOVEMBER, 2005.
EVENTS IN BO TOWN DURING THE WEEKEND OF FRIDAY
18TH NOVEMBER, 2005.
I left Freetown in the company of others for Bo on Thursday 17th November2005, to attend the prize giving ceremony and Speech day of my Alma mater, Christ the King College (CKC) grounds Bo and other related activities.
On Friday 19th November 2005, I left the Sahara Guest House situated along Gerehun Road, Bo for my compound at Shell
mingo on the Bo-Kenema Highway, where I briefed P.M.D.C. supporters on progress made in an effort to register the Movement as a Political Party. I then left the compound accompanied by jubilant supporters for Christ the King College (CKC) compound where we arrived at 1:55pm.
The Prize-Giving and Speech day ceremony started at approximately 2:35pm. At 5:45pm, I decided to retire and headed for my vehicle. On leaving the stage where I was seated with other guests, the Vice President's convey arrived and I walked passed it and entered my vehicle. As my vehicle drove off, the crowed followed, again in a jubilant mood. Driving for about two to three hundred yards from the compound, I noticed from the left side mirror of my vehicle that the Vice President's dispatch riders were heading in the same direction and I instructed my driver to pull to the right hand side of the road to make way for them to pass, which they did. We waited for a few minutes, thinking that the Vice President would follow.
On turning back, I observed that the Vice President was driving some distance behind my vehicle. We then continued our journey and finally arrived at the Guest House.
To my greatest surprise, listening to the radio (Kiss 104FM, BO) it was alleged by the Vice President that he was molested by supporters of mine, in consequence whereof, he summoned all Ministers, Members of Parliament, Paramount Chiefs and S.L.P.P Party faithfuls to an emergency meeting at the residence of the Resident Minister, Southern Province, Dr. S.U.M. Jah. That very night, three members of the P.M.D.C Movement were arrested by the Police, presumably on the orders of the Vice President, followed by my arrest on Saturday morning. I was charged along with the others to appear court on Tuesday on the allegations of: –
Processing through the streets of Bo without lawful authority
Disorderly behaviour likely to provoke a breach of the peace.
I might here say that this whole incident was planned in Freetown with the involvement of President Kabbah geared towards frustrating the registration of P.M.D.C as a Political Party.
Tension had rising in Bo following my arrest heightened by the firing of tear-gas and live ammunition by the Police who disregarded command from the Assistant Commissioner of Police, Southern Province, to cease firing. The firing occurred in the presence of the Residence Minister, Dr. S.U.M. Jah.
Thanks to IMATT and Rev. Bob Kandeh who intervened and together, we were able to pacify the crowed and avert what would otherwise have been a disaster. This kind of reckless behaviour by the authorities will definitely not augur well for the maintenance of stability in our beloved country.
I believe we must all strive regardless of our personal interest, to consolidate the peace, especially as UNAMSIL is about to take their exit.
                                                                        CHARLES F. MARGAI ESQ
                                                                        22ND NOVEMBER, 2005
   C.C.
      1. AMERICAN EMBASSY
BRITISH HIGH COMMISSIONER
S.R.S.G. AMBASSADOR VICTOR ANGELO
HON. ERNEST BAI KOROMA
HON. MOHAMED FOFANAH SLPP
HON. MOHAMED IDRISS-PLP
HON. SPEAKER OF PARLIAMENT
DEPUTY SPEAKER OF PARLIAMENT
CHAIRMAN NEC
S.L BAR ASSOCIATION
S.L. LABOUR CONGRESS
COALITION OF CIVIL SOCIETY
MR SOLOMON BEREWA VICE PRESIDENT
I.G.P.
C.D.S.