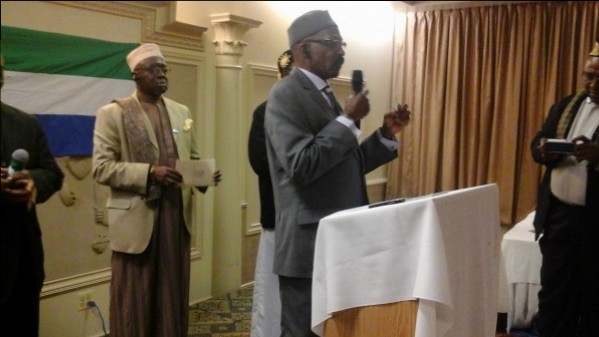 By ABDUL HARDY GABISI 
Once again, concerned Sierra Leoneans in New Jersey, on Saturday January 10th, at the Clarion Inn of North Brunswick, New Jersey held a very successful interfaith prayer service, to eradicate Ebola out of their beloved country Sierra Leone, the sub region of West Africa, and the world for that matter. In did this idea truly in the hearts of many was manifested by Mr. Yunisa Alharazim, alias "boy Uni" at their Fourah Bay Foundation meeting.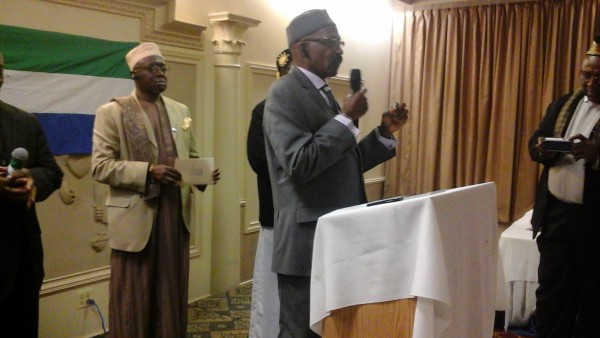 The idea was unanimously embraced by concerned Sierra Leoneans from both the Christian and Muslim denomination. In did the interfaith prayer to eradicate Ebola, reaffirmed Sierra Leoneans love for their country and an unwavering belief that with almighty God intervention, Ebola will soon be history.
Around 5pm the event was call to order by Alhaji Mohamed Bakaar, who thanked all present in heeding to this call and called upon Bishop Patrick Manages to give the Christian opening prayer followed by Alhaji Shamsu Deen Cole for the Muslim opening prayer. In line with protocols both the United States and the Sierra Leone National Anthem were done with Mr. Busairi Savage leading the congregation.
The Chairman Alg Shamsu Deen Cole gave a brief opening remark emphasizing that we are all the same. Also, he reminded us that Sierra Leoneans known for their strong religious tolerance have demonstrated this as a way of life back home. He gladly introduced his co chair Rev. Dr. Victor Fakondo, a community Icon in our society. Both individuals for nearly forty years have made meaningful contribution to the Community.
The prayer service started with the Muslim denomination, which comprised of Da'awatu Islamia and Jamatul Haaq both in Somerset New Jersey.Suratul Yasin(The heart of The Quran) was recited followed by recitation of two pertinent  surahs.Alpha Ballah Barrie read Suratul Al Rahman(The Beneficent) whilst Alg Bakaar read Suratul Mulk(The Sovereignty).This was followed by the entire Muslim congregation reciting the last ten Surahs of the Al Quran.
With the belief that by praising Allah, the omnipotent, the omnipresence he does intercede and hears the call of his servants, Zikir was done by the Muslim clergy .Alg Abdulai Karim Savage,Imam of Jamatul Haaq gave an address with a prayer for almighty God  intervention in eradicating the Ebola disease.
True to the interfaith spirit, Imam Savage referenced the Bible, paraphrasing "call upon me and I will answer you", a belief deeply rooted in the Al Quran. Several mention was made of how generation afflicted by disease, e.g. 1918 H1 N1, Spanish flu virus was over come. How in Sierra Leone prayers invoking God's protection did eradicate the disease. Specific use of verse 128-129, in chapter 9, of the Quran, abridged "La khadija Akum" to be recited 3 or 7 times. With this he concluded the Muslim prayer with a fervent belief that God almighty will hear our supplications.
Furthermore with the belief that faith without action is dead, Dr. Mufida Swaray presently employed by RWJ(Robert Wood Johnson) Hospital, did give concise precautionary measures that if heeded will help eradicate Ebola. She believed that if we here make calls to our loved ones and remind them of this simple instructions, they will listen. Presently the stubbornness in adhering to these rules is contributing to the death toll. In brief, immediately a person start having the symptoms medical help should be sought and physical interaction without protection with such individuals should stop. Much so the dying and dead from this killer disease are most contagious.  The audience was well pleased with her presentation.
Reverend Victor Fakondo coordinated the Christian Clergy prayer service. This comprised of seven Christian leaders namely Rev. Chika Ademu- John, Pastor Bongay, Apostle Emmanuel Kamara,Pastor Emmanuel Tucker,Rev. Leroy Kabbs- Kanu, Bishop Patrick Manages and Rev Fakondo. In brief the service was again very inclusive of the entire congregation, and the atmosphere was charged with the belief that with God all things are possible.
Hymns namely, "Great are thy faithfulness" and "Pass me not oh gentle", were sang. Also two great Psalms, Psalm 23 and 46 were respectively read by Rev Manning and Bishop Manages. Again each of the seven Christian leaders emphatically stated and emotionally prayed for God's intervention. The congregation was truly moved and also participated in the service. Rev. Dr. Fakondo was indid very passionate throughout the service. Rev Chika Ademu- John believes that we are children of Ishmael and Isaac and as President Obama stated we should fight Ebola from its root. Each member of the clergy did make remarkable utterances in beseeching divine intervention.
Rev Kabbs kanu reminded the audience that he is a member of the Christian clergy but also representing H.E the President of Sierra Leone Dr. Ernest Bai koroma. He did submit apologies from the Ambassador, Bockarie Stevens,  who due to other engagement could not be present. People should not believe that God is punishing us for our ill deed. If that was the case there are many other countries, not wanting to name any, that fit this position. Rev. Kabbs- kanu conveyed to the congregation that the president was very pleased of this responsible move taken by Sierra Leoneans in New Jersey to seek God intervention in the eradication of Ebola. Surely, during his forthcoming trip to The USA, New Jersey will be one of the States he will visit.
The acrimony of EBOLA was well stated, concern of actions that should be taken towards the aftermath of Ebola socio economic effect was mentioned and definitely Sierra Leoneans should continue with this interfaith prayer service. The congregation made their humble donation to the event.
Concluding, the congregation had both quantity and quality, and as stated by Alg Shamsu Deen Cole this were people who truly have love for their country. Mr. Mohamed Conteh kindly photographed this memorable event and the organizers were highly commended for their self less work by the chairman.  Alpha Yunisa Alharazim gave the vote of thanks and a befitted closing prayer was given by Bishop Manages and Alhaji Brima Rahman.
Prepared by
Abdul Hardy Gabisi