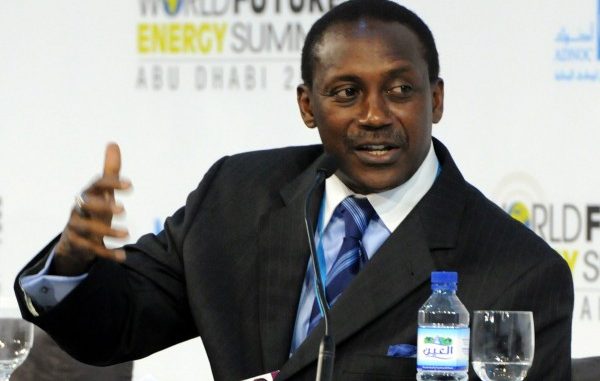 By Mohamed Sankoh (One Drop) :
With accusations and counter-accusations flying and countered by each and every one against each and every one within the Sierra Leone People's Party (SLPP) of each and every one receiving monies from President Ernest Bai Koroma to destabilize the SLPP; the SLPPers are now giving the inferable impression that their party is the best opposition money can buy.
After the SLPP current Leader and Chairman, ex-Paramount Chief Somano Kapen, began to be clay-footed towards the Maadarites' agenda; he was and still is being accused of receiving monies from President Koroma and his ruling All People's Congress (APC) to bulwark the so-called popularity of Julius Maada Bio. Some supporters within his party were, at some point, so suspicious of him that they even believed that he was the one who was leaking inside information to the APC for a fee.
When Dr Kandeh Kolleh Yumkella first mooted the idea of going for the flagbearership of the SLPP, supporters of Maada Bio accused him openly of him being the sponsored candidate of State Lodge. He was also accused of being a Fifth Columnist in the SLPP with the aim of diking the Maada Bio and John Benjamin tsunamis.
Again, when Andrew Keili reared his head again for him to be counted as one of the would-bes for the next presidential election, accusations of using monies from State House to finance his campaign emerged from other SLPP factions. He was even accused of being a sell-out for merely accepting a presidential appointment to serve in a Board.
And when John Oponjo Benjamin fired several salvos which accurately pin-holed the suitability of Julius Maada Bio to mascot the SLPP in the 2018 presidential election; he was accused by many members of the SLPP of being sponsored by President Koroma who was his college mate and still his friend.
Now, if almost all the SLPP presidential aspirants are accusing each other of receiving monies from President Koroma to destabilize their own party; then it logically follows that each of them must have got concrete evidence of each and every one receiving monies from the President. Or do they all have access to the State Lodge logbook of the President's "Midnight Appointments"?
What is making this comedy of errors more interesting is the fact that while each presidential aspirant in the SLPP is accusing the others of receiving monies from the Leader and Chairman of the APC; President Koroma is publicly and emphatically saying that "there is no opposition in Sierra Leone". To those who are good at surface-scratching; such a statement from a man who has generosity as part of his DNA means that he must have finally found out the Achilles heel of each of the current front runners of the SLPP flagbearership.
And I may be tempted to believe that President Koroma might have finally found Maada Bio's Achilles heel. For there is no logical explanation for Maada Bio's 390 degrees about-face-turn in terms of his former vociferous and anti-Koroma stance prior to him meeting the President about two weeks ago. Throughout his nationwide "Ebola sensitization tours" last week; I followed Maada Bio, who once-upon-a-time was anti-everything APC and Koroma, sounding more pro-Koroma and APC than even Mohamed Bangura of the United Democratic Movement (UDM). Maada Bio has even adopted and adapted President Koroma's "this is not the time for politics" as his personal mantra!
I'm not inferring anything here. But was that last State House meeting with President Koroma Maada Bio's "Damascus" where he eventually saw the "light"? Was his about thirty minutes close door meeting (after which he had an open door meeting) with the President convinced him that all what he was saying about and doing against President Koroma and his APC-led government were all wrong and that he had always been misinformed about the President's handling of the Ebola funds? Or is Maada Bio now playing the Edward Bernstein's "Objective Thinker" who is expected to alter his original conclusions when new facts come to light? What are the new facts that have suddenly metamorphosed Maada Bio from a chronic anti-Koroma basher to a newfound praise-singer? Or does Maada Bio current flip-flopping status has anything to do with him being a London-based jobless-babysitting father?
Can the real Maada Bio stand up, please? Is Bio suffering from what I will call the Ernest Koroma Effect? Just after the 2012 elections, Maada screamed blue murder that President Koroma stole his victory but recanted that stance immediately after meeting with the President at State House. Before now, according to Bio and his caboodles, President Koroma mismanaged the Ebola funds but commended President Koroma for his sagacious handling of the Ebola funds and crisis immediately after meeting with him at State House.
The tragic thing about politicians is that their statements and activities are always archived for future reference(s). So, in 2018 when the APC would be telling the electorate that they handled the Ebola funds with sagacity and the SLPP would want to dispute that assertion; the APC might just insert the video clip of Maada Bio commending President Koroma and his APC for their sagacious handling of the Ebola funds!
And knowing President Koroma as I do; if he is really interested in running for a third term he would definitely get it on an SLPP platter. Just as how the SLPP Minority Leader in Parliament, Dr Bernadette Lahai, nominated APC Chernor Bah to be Deputy Speaker; so she might also propose an amendment to the Constitution to allow the President run a third term. And with Maada Bio now sounding more pro-Koroma than even the Koromaists; he might be tasked to do the nationwide sensitizations on the President's would-be third term bid as he now seems to be a specialist in "sensitizations". And when one takes into cognisance that Dr Yumkella, John Benjamin and Andrew Keili are very good friends of President Koroma; then you could ask yourself the question: what will stop President Koroma from getting a third term if he really wants to?
What the SLPP is now suffering from is the Ernest Koroma Effect. This is because all the SLPP leaders always become pro-Koroma and soft-pedal their original anti-government stance every time they meet with the President face-to-face (whether in camera or open door). And with supporters of Maada Bio, Dr Yumkella, John Benjamin and Andrew Keili now accusing their presidential aspirants as receiving financial sponsorships from the President; the inference is that the SLPP is the best opposition money can buy! And I would not be surprised, tomorrow, if I see the SLPP selling shares on the New York Stock Exchange.
medsankoh@yahoo.com/+232-76-611-986