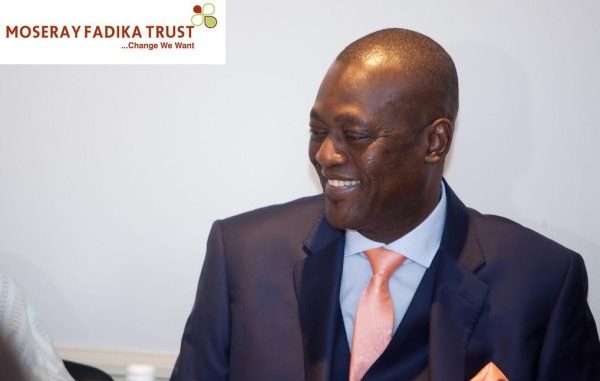 PRESS RELEASE
MOSERAY FADIKA TRUST REFUTES ALLEGATIONS OF ATTACKS AGAINST AMBASSADOR MOSERAY FADIKA IN MILE 91 TOWN.
Freetown, 27 June 2016: The Moseray Fadika Trust (MFT) strongly refutes allegations being circulated in the social media in which Pipul Pikin Media erroneously reported that His Excellency Ambassador Gibril Santigie Moseray Fadika was "admitted in hospital following a deadly attack by alleged thugs of a Government Minister in Mile 91 town". These reports are untrue.
MFT would like to state that at about 1.00 pm on Friday, 24 June 2016, His Excellency Ambassador Gibril Santigie Moseray Fadika, was on a visit to Mile 91 Town, where he was warmly welcomed by a large number of young people and community leaders.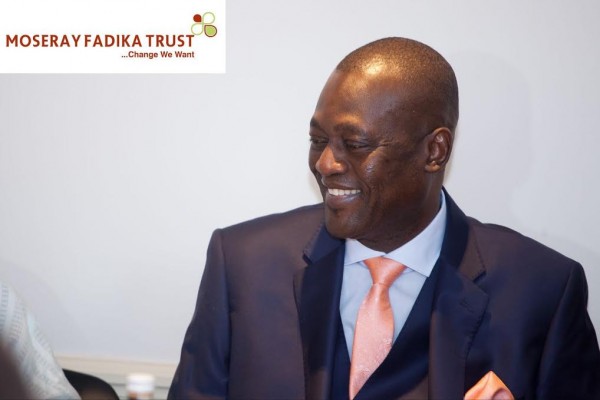 MFT notes that the Central Mosque where Ambassador Fadika was expected to perform the "Jumma Prayers" was closed, allegedly on the instruction of a Government Minister, according to reports by a local youth group. The Imams later opened the Central Mosque and invited Ambassador Fadika to join them in prayers, but the Ambassador and his entourage were unable to pray in the Central Mosque due to the delay.
Ambassador Fadika performed ''Jumma Prayers'' in another Mosque and later held meetings with the people in Mile 91 Town. The meetings were very productive and successful, with a high turnout. There were no attacks against Ambassador Fadika as erroneously described by Pipul Pikin Media reports. Ambassador Fadika and his entourage returned back to Freetown safe and sound.
It is important to also mention the fact that Ambassador Moseray Fadika was not admitted in the hospital. The Ambassador, however, sought medical consultation as part of a routine medical arrangement.
For the avoidance of doubt, MFT would like to reiterate that, in line with its Public Engagement Policy (PEP) which is in consonance with His Excellency President Dr. Ernest Bai Koroma's Agenda for Prosperity, Ambassador Fadika is committed to promoting peace and development in the country. Ambassador Fadika is in good terms with members of the All Peoples Congress (APC) Party and has a very great relationship with Government Ministers.
Allegations that a Government Minister allegedly instructed thugs to prevent Ambassador Fadika from praying at the Central Mosque in Mile 91 cannot be substantiated. MFT is, however, investigating and monitoring the situation to ascertain whether any Government Minister was involved. We will provide additional information as and when appropriate.
And it is in this regard that in this particular event, MFT categorically denounces Pipul Pikin Media devious allegation, especially as Ambassador Fadika and his entourage were not attacked in Mile 91 Town. Ambassador Fadika will continue to travel across the country to engage poor people and community groups including youth and women, with a view to support their local projects and help them work their way out of poverty through job creation and business development.
END For More Information:
1 Fadika Drive, Off Regent Road, Hill Station, Freetown, Sierra Leone Phone: +232 78845765 Email: info@moserayfadika.org …We Are Born Poor, But We Must Not Die Poor.
Communications Department
Moseray Fadika Trust (MFT)
1 Fadika Drive, Off Regent Road, Hill Station
Freetown, Sierra Leone
Phone (direct): +232 78845765
Mobile (WhatsApp only):+23288096487