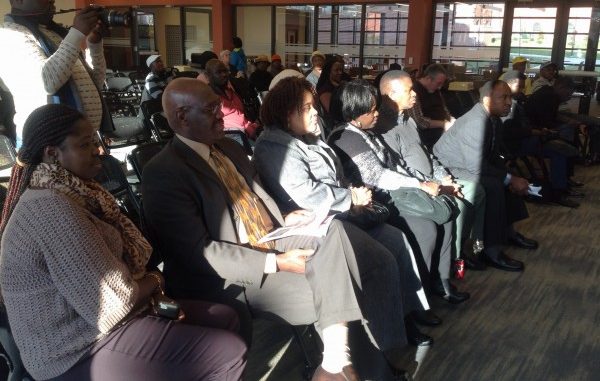 CLICK THE LINK BELOW TO WATCH THE MEETING :
https://www.youtube.com/watch?v=GB-XZ35SdGo&list=UUMJyRYXWwT5Xkx8EAx-VScg
Last Saturday, the New Jersey community organized an Ebola Awareness and Sensitization meeting  at 35 Seminary Place, Rutgers University , sponsored by Dr. Mafudia Swaray and Mr. Jawa Thomas of the Robertwood Johnson University Hospital in New Brunswick , in collaboration with the umbrella organization, the Sierra Leone Community of New Jersey ( SLCNJ).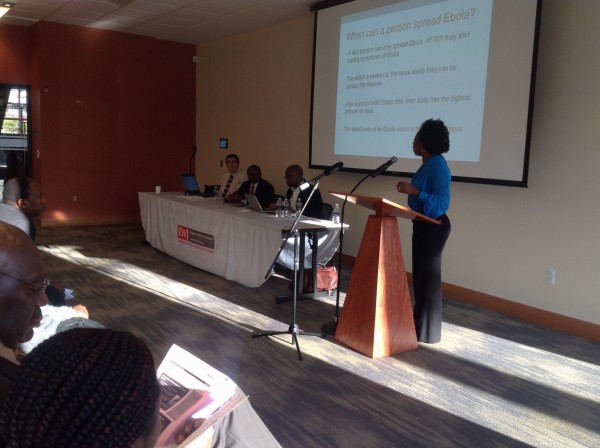 DR. MAFUDIA SWARAY DELIVERING HER LECTURE
The highlight of the meeting  was  an inspiring community lecture on by Dr. Mafudia Swaray, a medical practitioner and lecturer at the Rutgers University and  on Ebola  prevention and containment and what to do if anyone in the community ever gets infected by the deadly disease.   The lecture and the question -and-answer series that followed  will  certainly boost  not only community  sensitization efforts, but has helped immensely with valuable information about how the community would break the chain of transmission if anybody ever got infected in the community.
Members of the panel included Dr. Swaray, Mr. Thomas , his wife , Mrs. Admire Thomas ( of the NJ Department of Health )  , community activist Mr. Pavi Jalloh and a representative of the New Jersey Department of Health .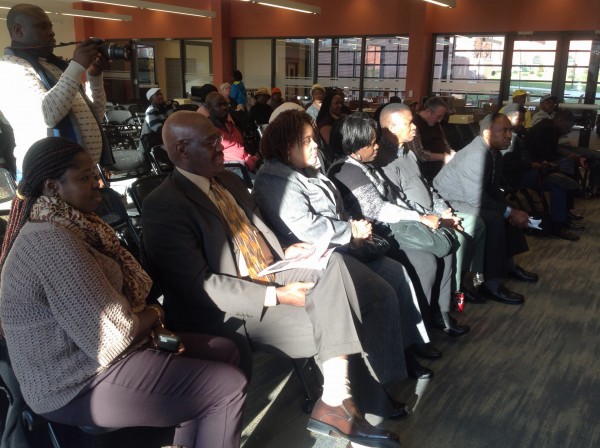 SIERRA LEONEANS AT THE MEETING : FROM LEFT INEZ KONJOH AND LAMIN ALHARAZIM
The meeting was very important and it buttressed the undeniable fact that Ebola is an international problem, and not just an African predicament. This is especially so considering the fact that some Sierra Leoneans continue to host visitors from back home. It was good to educate Sierra Leoneans about the screening protocols at the airport and the 21-day health monitoring of the visitors, the signs of Ebola infection and what Sierra Leoneans should do if they have have ebola -infected visitors ( Ptotocols and places of help to contact ).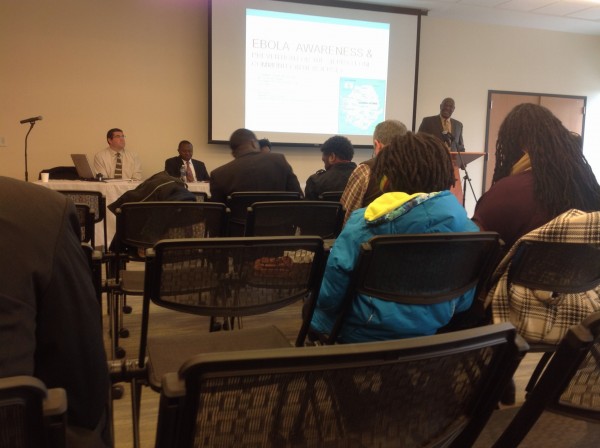 MR. ALHARAZIM ON THE PODIUM 
The question-and-answer segment of the program gave Sierra Leoneans the opportunity to express their fears and concerns and to ask questions whose answers would help keep them and their families  and the community safe.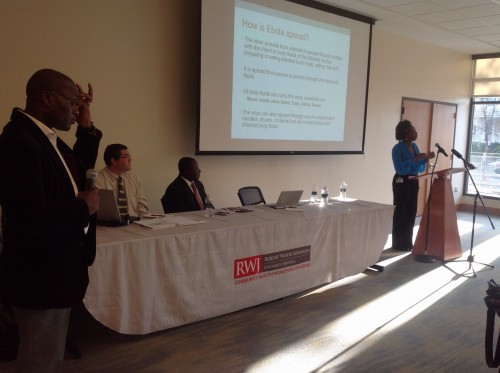 MR. JAWA THOMAS ( LEFT )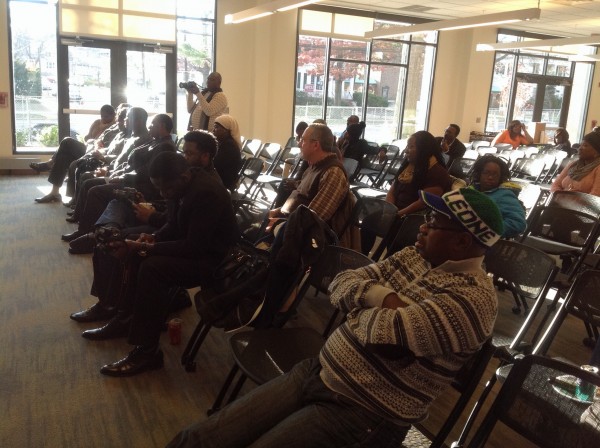 COCORIOKO  takes this opportunity to commend and thank Mr. Jawa Thomas and Dr. Mafudia Swaray for the initiative. We also thank the Robertwood Johnson University Hospital for its part in staging the program. We also commend the efforts of the SLCNJ in helping to facilitate the program. All thanks to the Chairman of SLCNJ , Mr. Lamin Alharazim , his secretary General, Mr. Hardy Gabisi and other officials of the  organization for working very hard to ensure the success of the program.
FAR RIGHT MR. HARDY GABISI OF SLCNJ 
THE PROGRAM WAS STREAMED LIVE  and placed on U-TUBE BY Mr. Hamjat Jolomy Bah .  CLICK THE LINK BELOW TO WATCH THE MEETING :
https://www.youtube.com/watch?v=GB-XZ35SdGo&list=UUMJyRYXWwT5Xkx8EAx-VScg