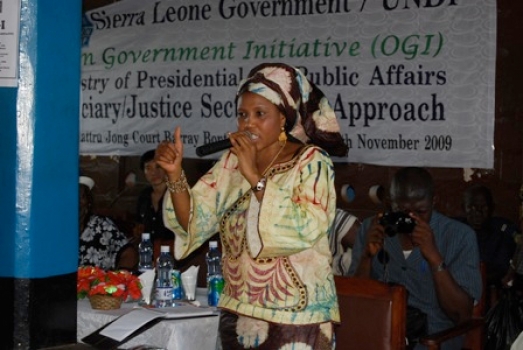 The Director of the Open Government Initiative ( OGI ),  Madam Khadija Sesay has told COCORIOKO  that the OGI is seeking to establish transparency and accountability about Sierra Leone Government operations in the diaspora.  Madam Sesay, who has been in the U.S.  for the past one month, has been holding key meetings of the Open Government Partnership ( OGP )   at the State Department in Washington DC.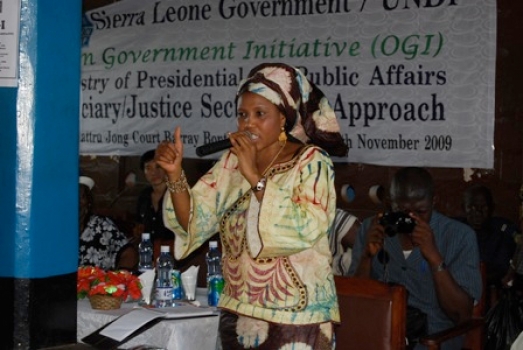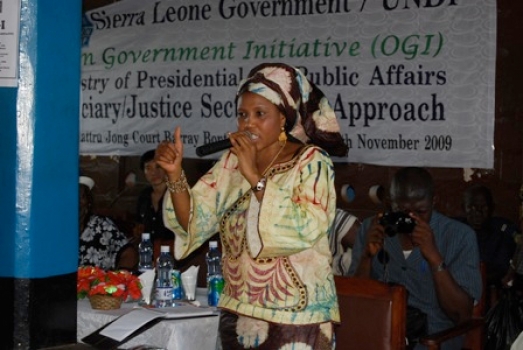 MADAM KHADIJA SESAY
According to Khadija Sesay , the OGI is bringing the Sierra Leone Government to citizens in the diaspora and Sierra Leone's stakeholders. To facilitate the process,  the OGI is now a member of the global  Open Government Partnership , which according to information in its website , "was launched in 2011 to provide an international platform for domestic reformers committed to making their governments more open, accountable, and responsive to citizens."  According to the website , since   2011   the OGP " has grown from 8 countries to the 65 participating countries ", with Sierra Leone being one of them .  "In all of these countries, government and civil society are working together to develop and implement ambitious open government reforms", the website further stated.
At the time of joining the partnership last year, the Government of Sierra Leone wrote :  " Sierra Leone will join 60 countries world-wide, which are currently members of this initiative. The initiative seeks to achieve improved governance based on active involvement of civil society and the media, as well as enhance effective public management, through increased level of transparency, mutual trust and accountability in State-citizen relationships. "
The Sierra Leone Government statement went on : "This new multi-lateral initiative aims to secure concrete commitments from Governments to promote transparency, empower citizens, fight corruption and enhance new technologies to strengthen governance. By joining the initiative, the Government of Sierra Leone continues to reaffirm its commitment to embrace an open government declaration; deliver a concrete action plan, develop with public consultation and feedback and commit to independent reporting on progress, going forward."
The statement also said that : "At the same time, the Open Government Initiative (OGI) in Sierra Leone, established five years ago is making big strides in this direction through a partnership involving the civil society, the media, Parliament and the judiciary. "
KABS KANU AND PASCO TEMPLE WILL BE BRINGING YOU REPORTS ON THE OGI'S RECENT ENGAGEMENTS IN WASHINGTON DC.