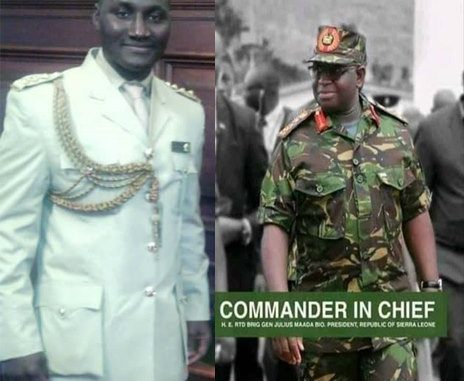 By Musa D. Ronsho
Sierra Leone's military appears to be engaged in a cover-up resulting from the disappearance of Captain Patrick Edwin Kamara. Their press releases are plagued with inconsistencies. To a trained eye, they read as nothing more but tainted literature. Allow me to expose a few of these discrepancies. We must keep in mind that this matter is of utmost importance and must not be taken lightly at all by Government of Sierra Leone. In their first press release, it was five military guards who were being questioned about the alleged escape. Who are they? Facing mountain pressure from the public, their most recent press release states seven military guards. So, which is which, 5 or 7? This switch gives the impression that the military is making things up as they go. They are doing so in a desperate struggle to mislead and misinform the public over the grave matter of the missing Captain. Their story is not straight at all.
Additionally, their press release states, "seven military personnel are currently being investigated at the country's Criminal Investigation Department (CID) in relation to the escape of Captain Patrick Edwin Kamara." Pay close attention to this. The charges Captain Kamara and two others are facing are so severe, they were court Marshalled and held at a military detention center, prosecuted and being tried in a military courtroom. So, again why the sudden switch? With military police, military intelligence officers, surveillance specialist, detectives, etc., is the military incapable of investigating a high-profiled detainee with possible access to plentiful weapons and ammunitions? How safe is Sierra Leone when the military cannot police itself? Are there no surveillance cameras around the premises to show when and how Captain Patrick Kamara made his final escape? Is Sierra Leone's military indirectly stating that CID officials are more superior to them?
The unsettledness of downgrading the investigations to the CID, indicates that our "forces for good" might still be bad and far from being good at all. This becomes clearer from their latest press release. Which is nothing more than a spin to prompt public sympathy for them by putting into monetary value the forged quantity of military grade weaponry assumed missing. They said the total amount of "ammunition is eighty thousand, four hundred and two dollars and thirty cents (US$80,402 30)." Remember the phony forensic audit report conference stage-managed by the Ministry of Finance? When Sierra Leoneans finally found out that it was a lie, JJ Blood buried his head in shame. He was caught red-handed misleading the public, framing others and putting the lives of political opponents in jeopardy. Similarly, the Ministry of Defense copied this propaganda tactics and is engaged in circulating lies over the matter of the missing captain Patrick Edwin Kamara.
Furthermore, one week after Captain Kamara's disappearance, what we hear about is how his brother died of an "infectious disease," and not how he escaped if indeed he did. When an entire army of a sovereign nation, begin to talk about "coincidences" citizens must start to get worried and consider taking safeguard measures. Today, Sierra Leone is not safe all. The next coincidence might be me or anyone the government perceives as an "enemy-opponent." Considering the list of weapons, grenades, shells, and ammunitions that are alleged missing, the Republic of Sierra Leone is undeniably not a safe country to live in at this time. Why haven't the MOD released the names of the military guards under whose watch the Captain "escaped?" The public ought to know. If they were serious about their investigations, with such an info, the public might be able to link one or all of them to Captain Kamara in ways that might speed up his apprehension. But that is in fact if he "escaped."
In the absence of any solid evidence showing Captain Kamara escaped, his disappearance must be considered as a crime against humanity committed by the Julius Maada Bio Government of Sierra Leone. As such, we must call on the UK, EU, and other nations to cut-off military funding to the government of Sierra Leone until the missing Captain is captured and the matter resolved. Also, peace loving Sierra Leoneans must petition the UN and global institutions to pass sweeping sanctions denying the Government of Julius Maada Bio access to international funds. It is these funds that they use to give a free rein to terror on Sierra Leoneans. They use such funds to engage in crimes against humanity, violate the human rights of the people, and carry out cruel vigilante acts of extrajudicial massacres. The global community must make it categorically clear to President Bio that he will be held accountable for the loss of lives and questionable disappearances under his watch.