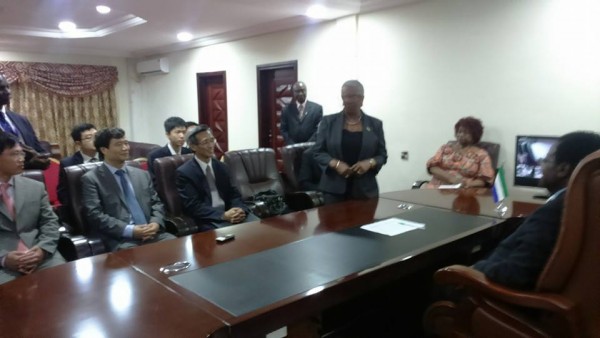 John Baimba Sesay-
Freetown  : Ambassador Lin Songtian, Special Representative to Chinese Foreign Minister, H.E Mr. Wang Yi and who also doubles as Director-General, Department of African Affairs, Ministry of Foreign Affairs of China, on Monday 19th April, paid a courtesy call on Vice President Ambassador Victor Bockarie Foh in his office at Tower Hill, Freetown.
Accompanied by the Ambassador of the People's Republic of China to Sierra Leone, Ambassador Songtian, who is also Secretary-General of the Chinese Follow-Up Committee of the Forum on China-Africa Cooperation (FOCAC), congratulated Vice President Foh on his recent appointment as Vice President by His Excellency President Ernest Bai Koroma. "We (China) are proud of your appointment", he said.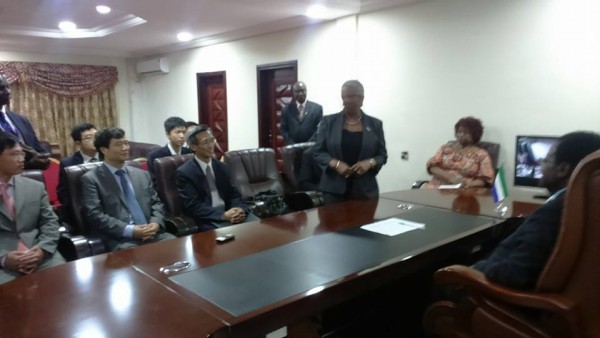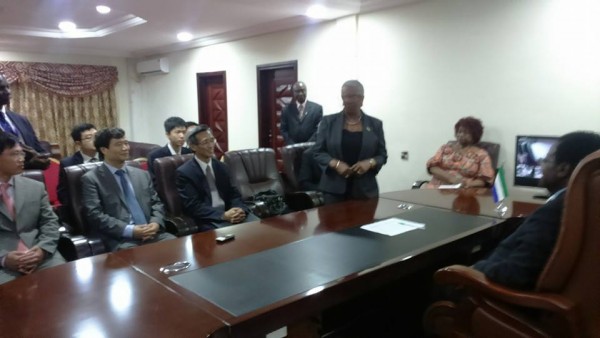 China, he said, was informed about the appointment of Ambassador Foh as Vice President of Sierra Leone and that he believes, now was the right time for Ambassador Victor Bockarie Foh to take his right position as Vice President of his country. Ambassador Lin Songtian said he was in Sierra Leone to assure all and sundry that Sierra Leone is a friend of China and that Vice President Foh is a brother of China. The Envoy committed PR China's continued preparedness to support Sierra Leone in her drive to Prosperity.
Responding, Vice President Victor Bockarie Foh extended Sierra Leone's gratitude to the Government of PR China for their outstanding support to Sierra Leone's development, saying, "If Sierra Leone could today be referred to as a Works Yard, it is as a result of the support of PR China."
Speaking on the Chinese support in the fight against the Ebola Virus Disease, Vice President Foh said, the Chinese were the first to come in with meaningful support to Sierra Leone "for which Sierra Leone is grateful". Vice President Foh recalled the support Sierra Leone gave to PR China in 1972 when they were striving to be accredited a Permanent Member of the UN Security Country. "That was a time when few countries knew China would be a Giant of the World. Sierra Leone at that time was wise to see tremendous potentials in China, a sleeping giant then", he said.
The Vice President called on the People's Republic of China, through her Special Envoy, not to relent in her support to Sierra Leone, adding that even though China has done extremely well in supporting Sierra Leone's development agenda, more assistance is needed, because "Sierra Leone is in hurry for her post Ebola development"
Since the establishment of Diplomatic relations between the two countries, China has remained a steadfast all weather friend of Sierra Leone. Over the many years, PR China has played a lead role in Sierra Leone's development agenda especially in the areas of infrastructure, agriculture and health.
During his two years tour as Sierra Leone's Ambassador Extraordinary and Plenipotentiary to People's Republic of China leading to his recent appointment as Sierra Leone's Vice President, Ambassador Victor Bockarie Foh played a strategic role in lifting high the bars of cooperation between the two countries, at the diplomatic front as well as at the political spectrum.