By State House Communications Unit
A three-day consultative dialogue on setting the vision for Environment, Science, Technology and Innovation in promoting agriculture, fisheries and industrial development in Sierra Leone ended yesterday 13th November at the Bintumani Hotel, Aberdeen, Freetown.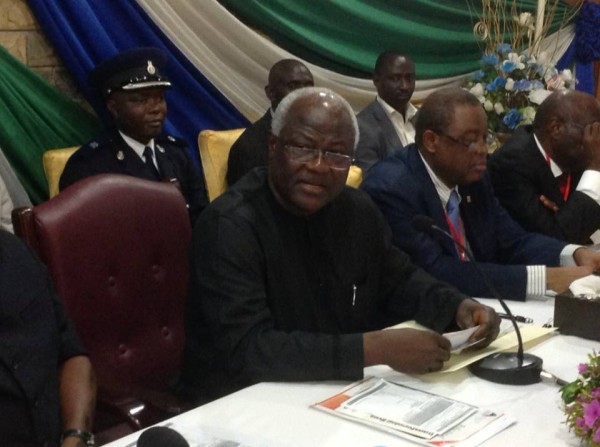 Over 200 participants, including cabinet ministers, heads of MDAs, development partners, members of parliament, private sector players, farmers' organizations and civil society activists participated in the dialogue.
The mandate of the conference, President Koroma noted in his closing address, was to set out a five year integrated and comprehensive program and action plan for promoting agriculture, fisheries and industry in Sierra Leone.
He told the participants: "I am reliably informed that all participants have demonstrated great commitment to achieving this objective, and we now have a rough draft of what needs to be done. I applaud all of you for your worthy contributions". The president paid glowing tribute to the cooperation of development partners who participated in the dialogue, including World Bank, CGIAR, FARA and CORAF. "We also applaud the contributions of our compatriots, the special advisers, my minsters and staff of the MDAs. You have all done a great job", he said.
President Koroma reiterated government's commitment to meeting the objectives of the three-day landmark conference with regards to all challenges that the workshop is trying to address, adding that it is only in an ideal world of unlimited resources and capacities that we can do all that needs to be done.
According to Professor Monty Jones, Coordinator of the conference, the consultative dialogue discussed various issues and to come up with actions and activities needed to develop the comprehensive and inclusive five year program which will be implemented through collaboration among several arms of Government and ministries: Ministry of Agriculture, Forestry and Food Security, Ministry of Fisheries and Marine Resources, Ministry of Trade and Industry, Ministry of Education, Science and Technology, Ministry of Health and Sanitation and Ministry of Youth Affairs.
According to the representative of IFAD, Shantanu Mathur, the dialogue is a watershed moment for Sierra Leone's agricultural sector. Agriculture, he said should be seen as a business and make it viable for especially the youth. "For the past three days most of the discussions have been underpinned by the value chain in the process. How to position the smallholder to get the best prices in the value chain", he asked? IFAD will continue to work with Sierra Leone to realize the vision of the country in the agricultural sector, he pledged.
The World Bank Country Manager, Ato Brown in his submission noted that farmers and investors want to see real substance from the policy makers in the policies formulated to transform the agricultural sector. He urged that government endeavours to balance it with other activities as the economic agenda is very important, saying that government should be congratulated for managing the economy in the last year as change is not easy. Paraphrasing the words of Ted Turner, Mr. Brown said you either lead or follow or get out of the way of the farmers so that they too can live better lives.
"Throughout this workshop a lot of emphasis has been placed on the youth in terms of skills development and job creation. As a Bank, we strongly recognize this and upheld the notion that skills development is central to the drive towards transformation and industrial development in Sierra Leone. In this regard, as a Bank, we are hoping that the Government will soon make effective use of the 8 Vocational Training Centres in Magburaka, Kabala, Makeni, Bo, Kailahun, Moyamba, Kono and Kenema that were built, equipped and furnished by our now completed education project. These facilities can kickstart the Government's skills development drive", said Dr Yero Baldeh, Resident Representative of the African Development Bank.
FAO Sierra Leone Representative Gabriel Rugalema stated that when the concept of the dialogue was first mooted to his office, "we received it with open hands". He added that having worked consistently with government over many years the FAO was convinced that the time is ripe for a dialogue of this kind. "Under your leadership Mr. President, a number of key policies and programs have been formulated and implemented (NSADP, SCP), a number of appropriate legislation have either been put in place or are in the advanced stage of being approved (Fisheries and Aquaculture Development Act, Bioenergy and Food Security Guidelines, etc), actionable field programs have started showing results (increased in food production, agri-business centres, improved physical infrastructure in the rural areas, reduction of incidences of unlicensed, unregulated, illegal fishing and many more). This foundation is key for moving forward. It is the base on which to build the program that will emerge from this dialogue. And I want to commend you Mr. President of this progress", said Mr. Rugalema.
The GIZ representative Marina Mdaibli stated that GIZ is focusing its support to Government and the people of Sierra Leone on the promotion of youth employment in rural areas by supporting the development of the National Employment Policy, strengthening agricultural value chain and supporting the TVET system in training farmers and small business people in best Agricultural practices, value addition and entrepreneurship. "We commend the participants of this forum for the comprehensive and practical recommendations to the Government. With a proper prioritization of issues, the Government of Germany and we from GIZ pledge our continued support to the development of Sierra Leone and the well being of its people", she stressed.
Dr Marco Wopereis, deputy Director General of Africa Rice Center said the CGIAR supports the workshop and will work with the government for the implementation of the strategy for rice and cassava.
Zou Xiao Ming, Counsellor at the Chinese Embassy, said the three day consultative dialogue is a good beginning for the country, adding that as Sierra Leone is today striding to become a middle-income country by 2035, "We are willing to share our resources, experience and development benefits with our true friends". He pledged that China will continue to provide more financial support to develop the agricultural sector in Sierra Leone, exchange views with Sierra Leone counterparts in order to set up perfect development strategies and action plans, to promote more agricultural cooperation projects between the two countries, and to encourage more Chinese agribusiness investment in Sierra Leone.
Meanwhile, at the end of the dialogue, a Memorandum of Understanding for Scientific and Technical Cooperation in Agricultural Research and Capacity Building between the Ministry of Agriculture, Forestry and Food Security (MAFFS) of the Republic of Sierra Leone and The International Centre for Research in Agroforestry (ICRAF) was signed committing themselves to among other things the generation of Agroforestry Knowledge: that is engage in strategic research, which provides solutions to problems contextualized in Sierra Leone and generate international public goods on Agroforestry;
and strengthening the concept of Knowledge to Action: that is to strengthen our joint capacity to leverage interest and investment in facilitating uptake and scaling-up of agriculture, agroforestry and forestry innovations derived from joint research.