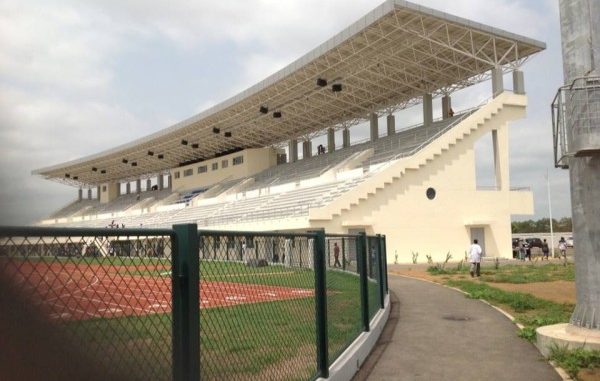 By KABS KANU :
One of President Ernest  Koroma's enduring legacies that will forever remain indelible footprints in the sands of time is his foresight and commitment to spread his socio-economic and political developments around the country. This is a rare quality that must be emphasized and celebrated.
Whereas many African leaders deliver development projects only in their so-called strongholds, President Koroma has been very liberal in ensuring that no region is left out of his development projects. Stronghold or no stronghold, as far as President Koroma is concerned, once it has the name SIERRA LEONE on it, that city, town, hamlet or region should get a liberal taste of his socio-economic and political developments. This is why President Koroma will remain the most popular Head of State to have ever walked the nation.
HE IS A TRUE NATIONAL LEADER WHO CARES FOR EVERY REGION IN SIERRA LEONE : NO WONDER HE WILL EVER REMAIN POPULAR EVERYWHERE IN THE NATION
The other day, it was in Pujehun, a very strong opposition Sierra Leone People's Party ( SLPP )  stronghold. According to one of the sons of that district, Social Welfare, Children's and Gender Minister Hon. Moijueh Kai-Kai, Where the APC Government of President Ernest Koroma left the coal tar , at the edge of the town, that was where it remained" . Only another APC Government has moved it into the main town, paving the streets. During the past months , President Koroma has paved the streets of Pujehun.
Then it was Moyamba , another bastion of the SLPP. That was one of the most neglected towns in the country. The streets had become potholes and gutters and vehicles faced the risk of damage plying them. As for the dust, it was so oppressive it had coated buildings and trees making life unhealthy for residents. But thanks to President Koroma, the streets of Moyamba are now paved.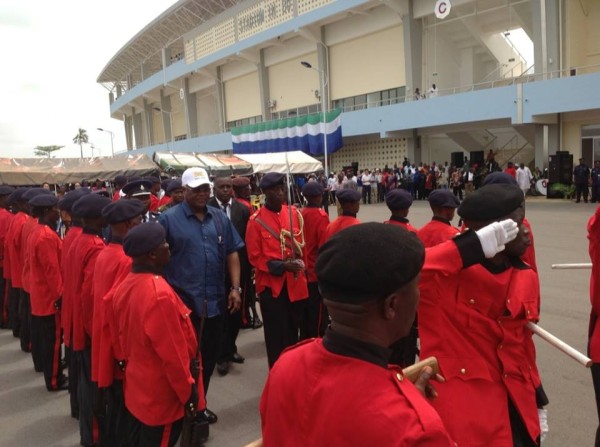 PRESIDENT KOROMA ARRIVES TO COMMISSION THE BO STADIUM  : PHOTO BY JOSEPH KAMANDA
Yesterday,  President Koroma added to the infrastructural development he had already carried to Bo ( Paved roads and street light ). He commissioned the new modern stadium built by the Chinese. Now, Sierra Leone has the oppportunity to now stage some of her international matches in the interior as is done by other West African nations, like Ghana, which use the Accra Sports Stadium and the Baba Yarrah Stadium in Kumasi interchangeably.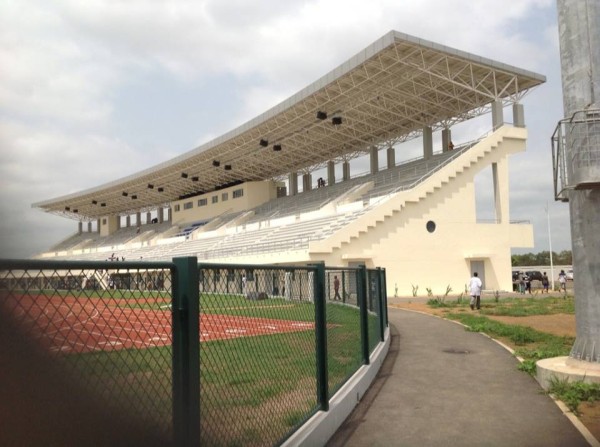 MAJESTIC STADIUM INDEED THAT WILL BRING BUSINESS AND COMMERCE TO BO BECAUSE OF THE INTERNATIONAL MATCHES THAT WILL NOW BE STAGED HERE : PHOTO BY JOSEPH KAMANDA
The question of strongholds would not have arisen , except for three reasons : Firstly, SLPP  supporters never acknowledge and appreciate the good work President Koroma is doing. Since he came to power in 2007, President Koroma has transformed a once stone age country into a beautiful nation that has made many Sierra Leoneans proud. He has built modern highways, erected majestic infrastructure , brought solar-powered street lights even in remote outposts and water supply in some towns. But instead of commending the President for his efforts, they look at the gift horse in the mouth , engage in sour grapes rationalizations or lie through their teeth that it was their projects.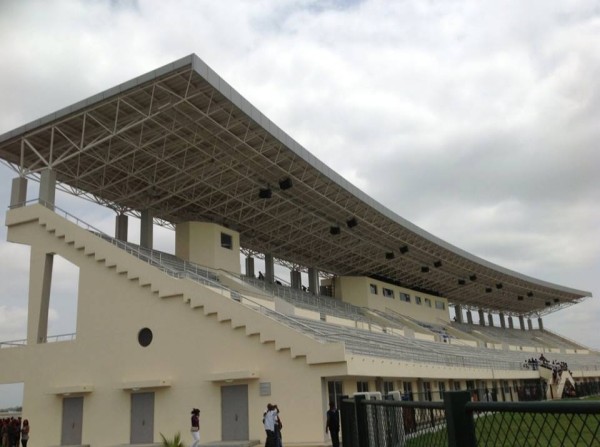 If that was how the late President Kabbah conducted business — not completing anything he started– he must have been a real lousy and terrible leader. And the SLPP  should not be proud of that at all. If what they say is true ( That it was their projects that President Koroma was busy completing ), then it graphically confirmed what we have often said about the SLPP that they are worthless and hopeless. What responsible government would have kept starting projects ( If it was true ) and not completing them ?  When President Koroma came to power in 2007, Sierra Leone was completely backward. No wonder we were at the bottom of the UN Human Development Index. As far as we know, the country was completely neglected.  President Koroma had to start from scratch. We therefore do not believe any useless propaganda about these projects.
The second reason that talk of strongholds is necessary is that the SLPP  did not only neglect Sierra Leone. They neglected even their own strongholds. Look at the state of the roads in Kailahun, Segbwema, Kono, Moyamba, Bo , Pujehin , before President Koroma came to power. Since the SLPP  suffers from selective amnesia and do not want to acknowledge what President Koroma has done in the country ,  We want it to be on record that it was President Koroma who carried development even to their strongholds. This is why we stress it in our write-ups on the development projects being initiated by President Koroma.
Thirdly, out of mischief and political perfidy, SLPP zealots have been lying whoopingly that the President Koroma Government is ethnocentric and that it is catering only for the Northern Region of Sierra Leone. One of their musicians, the very discredited Emmerson Bockarie, in one unfortunate song, made many misleading conclusions that only Temnes were benefitting from President Koroma's reign. It is people who have no respect or fear for God that make or ascribe to these false statements. If Emmerson fears God, he will one day apologise to President Koroma for lying about hium. The fact is that the SLPP South/Eastern stronghold has benefited more from President Koroma's reign than the North, and these development projects we keep highlighting are graphic demonstration of this fact.  Even in the area of employment, South/ Easterners have benefited more from this government than Northerners.
A look at the postings to our diplomatic missions abroad and the personnel lists in all our MDA s ( Ministries, Departments and Agencies ) show that most of the jobs are held by South/Easterners. They control all the mainline ministries, outnumbering Northerners by a ratio of 5 to 1 in many cases. We know that the APC Government is doing its best to provide developments and employment opportunities for all Sierra Leoneans across the board, and that this problem was created by late President Kabbah' 11 year reign of NEPOTISM ,  REGIONALISM and CRONYISM . The truth is   that South/Eaterners  predominate . So where is the Ernest Koroma administration the Bombali Wusum Stars or Temne Government ? Don't we fear God to tell these wicked lies ? Let us realize that there is a God that takes account of everything.
We hope neutral Sierra Leoneans will take note of these developments in our country.
The most gratifying thing is that South/ Easterners who do not play partisan politics appreciate what President Koroma is doing in their region. They are very good people who deserve these projects and they have demonstrated their gratefulness during the 2007 and 2012 elections , with support that ensured that the APC Government won overwhelming majority votes at these elections.
We at COCORIOKO want to thank President Koroma once again for making socio-economic and political developments possible to all regions of Sierra Leone. That is what makes him the outstanding leader and statesman he will ever be.