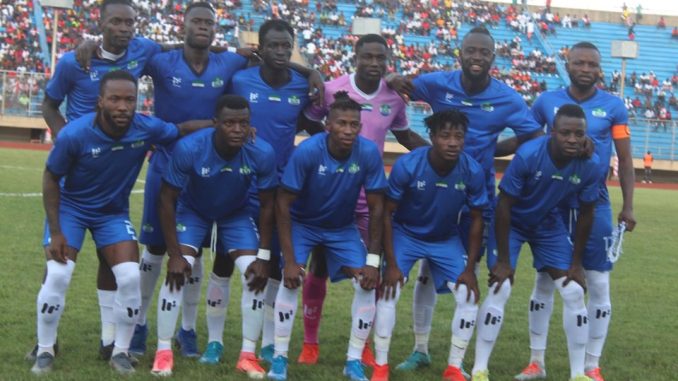 Preview of Do-or-Die World Cup battle in Freetown……
LEONE STARS OUT TO WIN AND RESTORE SIERRA LEONE'S NATIONAL PRIDE TOMORROW
By Kabs Kanu ( Veteran sports analyst and promoter)
Sierra Leoneans are holding their breath and anxiety has spread through the nation  as the clock ticks for one of the biggest soccer battles ever fought at the Siaka Stevens Stadium in Freetown.
The nation's pride–Leone Stars–will be doing battle with  arch-rivals  Liberia's Lone Star  hoping to overturn the 3-1 defeat they suffered in the first leg of their World Cup  Qualifying series at the Samuel Karyon Doe Sports Stadium in Monrovia on Wednesday.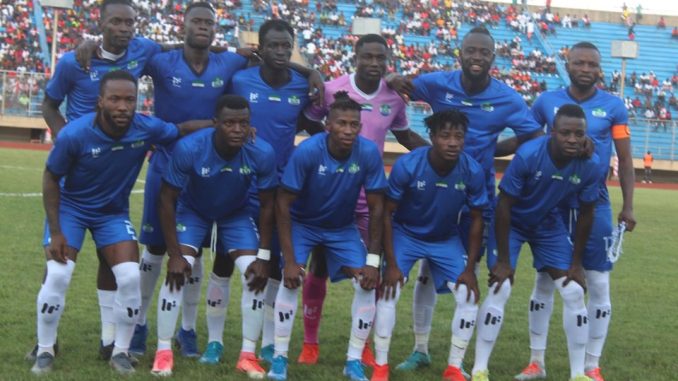 LEONE STARS
That defeat hurt the pride of the nation and many Sierra Leoneans took to social media to express their disappointment and tomorrow thousands of them will storm the Siaka Stevens Stadium to provide popular support for the Leone Stars to ensure that they beat the Liberians by a two-goal margin, without conceding, not only to qualify for the group stage but to restore the nation's pride.
Overturning  that two-goal disadvantage looks like a monumental task for the Leone Stars but looking at the way the match was played in Monrovia last Wednesday and the reasons for their defeat ( Two penalties awarded Liberia by the Beninoise referee and a catastrophic defensive blunder in the dying minutes by Mustapha Dumbuya and goalkeeper Morris ) , it is not beyond Leone Stars to accomplish it.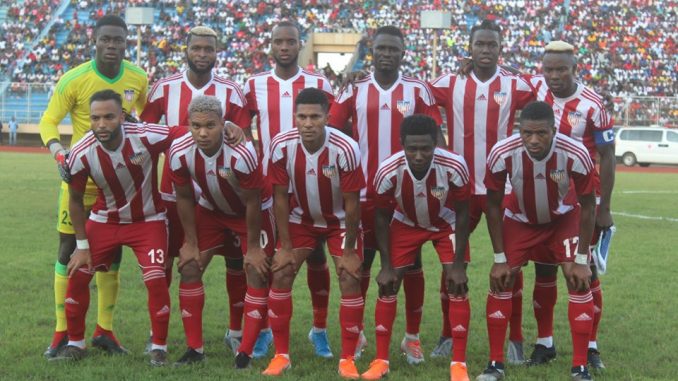 LONE STAR
Liberia did not actually outplay the Leone Stars. The balance of play was even and it looked like a 1-1 draw until the referee pointed to the spot and awarded Liberia their second penalty in the 82nd minute , followed later by that defensive blunder in the 89th minute. Leone Stars need to win 2-0 and it is something that they could accomplish, given their home advantage .
However, for Leone Stars to do it, they need to play far better than they did in Monrovia on Wednesday. Frankly speaking, the Leone Stars we saw played far  below expectation . There was no cohesion or understanding between the players , having been hastily assembled in the last moment and not training together enough to develop understanding .  The star players in the team did not turn up . They all played well below their abilities.This must change at the Siaka Stevens Stadium tomorrow.
Sierra Leoneans will be looking forward to watch the Leone Stars that put up thrilling performances in previous World Cup and African Nations Cup qualifying matches against stronger and more accomplished opponents like Tunisia, Egypt, Cameroun, South Africa, Egypt, Ivory Coast and DR Congo.
Playing before their home crowd , the nation expects goals from the likes of phenomenal strikers Kei Kamara, Kwame Quee ( Both of whom are professionals playing abroad )  and Musa Tombo Kamara . If these men are not wasteful, live up to expectations and  take their chances, Leone Stars stand a great chance to make it, especially if Coach Sellas Tetteh tightens the defence which was loose during the Monrovia debacle last Wednesday.
But the Liberians must not be underestimated . Lone Star seems to play better away than at home as was seen during the African Nations Cup qualifiers when they almost got through but for a last day defeat away to DR Congo.
The Liberian team is studded with brilliant professional players and Leone Stars will again have to deal with the threat of Liberia's big striker, Sam Johnson, who has the ability to change the match. During Wednesday's match, Leone Staes had serious problems containing him.  He will be a thorn-in-the-flesh to the Leone Stars defence tomorrow.
It will be another bruising Leone Stars/ Lone Star showdown and Sierra Leone's national pride will be at stake.  Leone Stars will die fighting to win, but unless they make good use of their goal scoring chances and put up a solid defensive performance, the going will not be easy for them.
GOOD LUCK, LEONE STARS.