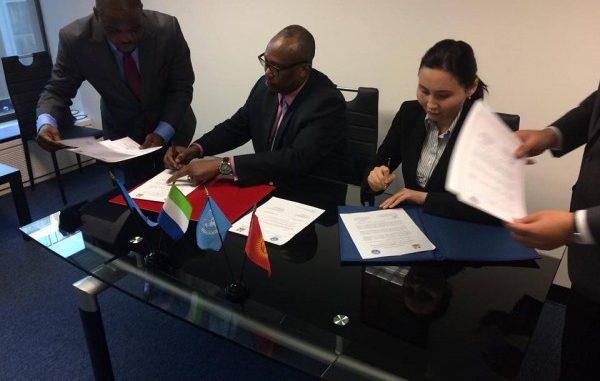 By KABS KANU :
Sierra Leone and Kyrgyzstan have established diplomatic relations.
The signing ceremony of the joint communique  formalizing the relations took place at the Kyrgyzstan Mission to the UN,  New York,  yesterday.
Sierra Leone's Permanent Representative to the United Nations, Ambassador Adikalie Foday Sumah and his counterpart of  Kyrgyzstan, Ambassador Mirgul Moldoisaeva signed on behalf of their respective nations.
Kyrgyzstan is a central Asian country sharing common borders  with China , Kazakhstan , Tajikistan  and  Uzbekistan .

While Sierra Leone is noted for her diamonds, gold, bauxite and iron ore, the natural resources of Kyrgyzstan include abundant hydropower; gold, rare earth metals; locally exploitable coal, oil, and natural gas;  deposits of nepheline, mercury, bismuth, lead, and zinc.
The population of Sierra Leone is 5,  868 000 ( 2010 ) while Kyrgyzstan's is 5.957 million.

Ambassador Sumah was accompanied to the signing ceremony by Counselor Franklyn Fawundu.
HERE ARE PHOTOS OF THE SIGNING CEREMONY :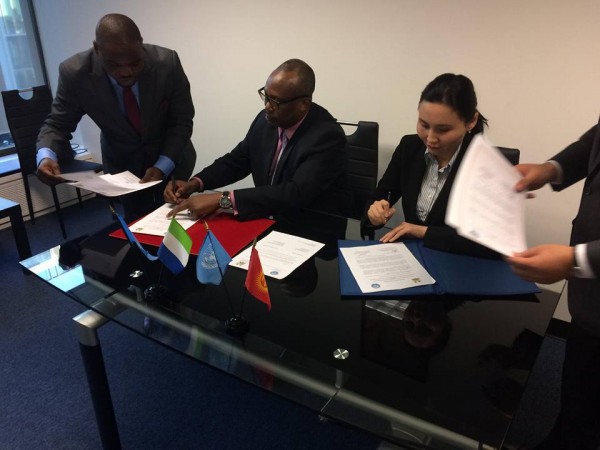 THE TWO AMBASSADORS SIGNING THE DOCUMENTS
THE TWO AMBASSADORS HOLDING COPIES OF THE COMMUNIQUE