By ODA Communications Unit
Two Diaspora led organizations including Ripsta Culture GEDO, Hope 4 Ebola Orphans and their partners Embracing children Adoption Services USA have fed over 170 children in Mabrown, Newton Community.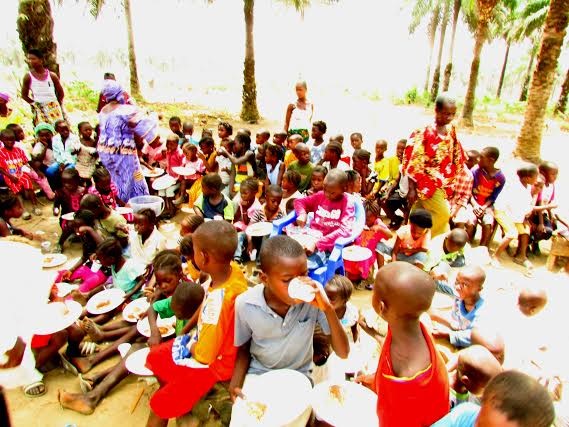 Photo of children during the meal event at Mabrown Village
These less privileged pupils were provided with cooked rice at a special meal event on Tuesday 1st March 2016 at Mabrown village.
Speaking at the event, the CEO of Ripsta Culture Global Education Development Organization, Sorie Obai Kamara (Obi phrase) who happens to be the Sierra Leone Music Ambassador to Europe expressed his organization's commitment to improve the lives of the less privileged pupils and Ebola Orphans at Mabrown Village and its environs. '' This meal event is a continuation of the good things we are doing for this community'' Obi phrase pointed out. Whilst emphasizing the need to do more for the children, he also thanked Mr. Steve who gave them support to undertake such a school feeding event for these Ebola Orphans and less privileged children of Mabrown and its surrounding villages
The Founder of Hope 4 Ebola Orphans Madam Mayilla Yansaneh thanked guardians and caregivers for taking care of the children, especially those children who are orphans. She said they are able to provide food for the children as a result of financial support they received from one Mr. Steve from England. '' The last time when we came at Mabrown we took some photos of the children and put them on our website, and Mr. steve was among those who saw these pictures and decided to help us with some money , so that we will buy some food stuff which we have done accordingly" Mammy Yansaneh explained.
The Founder of Hope 4 Ebola Orphans furthered that they are also there to start preliminary investigation and facts finding to identify children who are real orphans. '' we are very much concern about children who have lost both parents'' she added.
One of the social worker of Hope 4 Ebola Orphans, Osman Kamara said that they are going to undertake an effective investigation exercise in order to identify the real orphans, and that care givers should be prepared and willing to provide them accurate information about the children upon request.
The Head man of the Village Obai Kamara expressed his gratitude to members of Ripsta Culture, Hope 4 Ebola Orphans, their partners Embracing Children Adoption Services and Mr. Steve for the gesture. Mr. Kamara also appealed to other philanthropists to support Hope 4 Ebola Orphans, Ripsta Culture and their partners Embracing Children Adoption Services so that these organizations will continue to help his community.
The Director, Office of Diaspora Affairs Kallay Musa Conteh has praised Ripsta Culture, Hope for Ebola Orphans Charity Foundation, who he said are among other Diaspora led organizations that are contributing significantly to the country's development.
Meanwhile, the Consortium of Helpers which is made up of Hope 4 Ebola Orphans, Embracing children Adoption Services and Ripsta Culture GEDO have done a lot of good things for Mabrown Newton Community. Among these good things include: the donation of used clothes, provision of medical aid, organizing school feeding event and the construction of a make shift educational facility in order for these less privileged children and children orphaned by the Ebola virus to gain access to primary Education.
In an interview with this press, John D. Sankoh who is one of the Volunteer teachers of the School said that the school is really in need of help, adding that they don't even have enough teachers, permanent school structure, school materials and other items to keep the school running effectively and efficiently. He appealed to well-wishers to help salvage their situation.